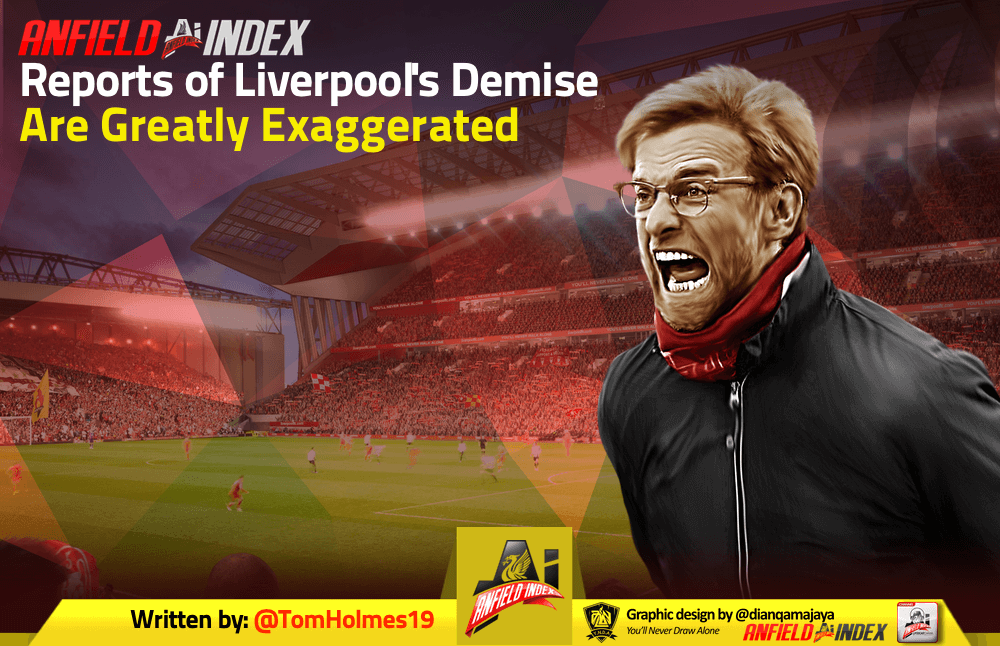 Reports of Liverpool's Demise Are Greatly Exaggerated
So Liverpool have bottled the title eh? Well that was a crazy six days. The title was already won on Tuesday, back in the balance on Wednesday, and completely lost by Monday. What a week.
All facetiousness aside, the change in media narrative after what was essentially two back to back below par performances from Liverpool has been absolutely massive. Waking up Wednesday morning, most people were ready to crown Liverpool champions after Man City lamely fell apart against Newcastle. However, with Liverpool stuttering to draws against Leicester and West Ham, City were back in the driving seat – despite being still behind the Reds on Monday night as the gap was still three points – and they are now going to surge and win their final 13 games and take the title, whilst Liverpool might not make the top four.
Seriously. Okay, so that last point was probably a troll and not a real Liverpool fan, but every single thing I've put forward in that last paragraph are things that I've seen people say.

Make no mistake, before I get accused of being too optimistic or policing the fan-base, there are absolutely plenty of causes for concern. I want to start with those. Liverpool's performances against West Ham and Leicester were arguably their two worst league performances of the season, and for them to occur when Liverpool had the opportunity to move comfortably clear in the title race and ramp the pressure up on City is extremely frustrating.
Moreover, it's entirely fair to point out criticisms of the squad size, of the lack of January work and of the loaning of Nathaniel Clyne. They may not be criticisms that I entirely agree with, or that I think are necessarily the root cause of Liverpool's poor form, but they're absolutely legitimate points to make, and I don't have any issues with people making them. We certainly could have handled ourselves better and put ourselves in a better position.
As for the question of bottle, I think that that's a really hard thing to tangibly quantify. Did nerves affect Liverpool's performances against Leicester and West Ham? Quite possibly. Was this a case of Liverpool's mental fragility throwing away what was the best opportunity to win the title in decades? I certainly think that that's a stretch.
Part of the issue is how the English media and in turn English social media fans, present everything as a matter of bottle. Spurs' failure to win a trophy in the last five years despite overachieving on a shoestring budget, having inferior players and consistently failing to beat teams that have generally been far superior is seen as bottling. Likewise, Liverpool losing to Real Madrid, widely considered to be not just the best team in Europe when it comes to the Champions League but arguably one of the greatest squads in the history of the competition, is also a bottle-job, partly inspired because their keeper picked up a serious concussion.
Every single big game or passage of games in the past ten years of English football has had a bottling narrative attached to it one way or the other, and Liverpool's inability to seize control of the title race in the last week or so is no exception.
So what has actually gone wrong then? Since clearly something has. Well it's partly down to injuries, but opening that can of worms is certainly not going to be fun. The bottom line for me is that Liverpool still have their five or six best or most important players fit – if not at their best – and whilst the food poisoning that has ravaged our midfield hasn't helped, we need to be flexible and stronger than this. If Salah, Van Dijk, Mané, Firmino and Alisson are all on the pitch then we should have enough to win – especially since West Ham were missing more of their key players than we were.
Luck? Has that played a part? Well to an extent. Refereeing decisions could have gone our way against Leicester, but we were fortunate against West Ham with the officiating and overall, whilst it is fair to say that things didn't quite come together in the way that the Reds would like it in these two games, saying that we were unlucky definitely doesn't explain how poor we were over the two games.
One element I think isn't necessarily being said enough is how much credit the opposition deserve. Yes, Liverpool were not at their best, but they haven't been at their best on other occasions this season and have come out with the results. Both Claude Puel and Manuel Pellegrini are very good managers, who set up their teams extremely well. Both defended absolutely superbly, and both found intelligent ways to hurt us on the counter and on set-pieces. West Ham and Leicester are not two of the best teams in the Premier League, but they're certainly both top half material, and on their day, both are capable of giving top teams trouble – and both carried out their game plans very effectively.
One thing I mentioned in the above paragraph is set-pieces, and that has been a problem for Liverpool lately – shipping more goals from set-pieces in their last three league games than in the previous 25.
Is that partly down to a lack of structure having to chop and change certain players and their positions? Klopp has argued that but it's not the first time Liverpool have been forced to do it this season. Is it partly down to whatever happened in Dubai knocking Van Dijk off his game? Unquestionably. But is it also that teams have started to find ways around a set-piece set up that worked initially well but has been faltering? That certainly tracks too.
So in short, there's a lot of reasons that the last two games happened. The big question is, what next? The title race certainly isn't over, with the Reds top of the Premier League at the end of Gameweek 25 but aware that they might not be top when they play again against Bournemouth, and may need to get at least a point at Old Trafford in a few weeks' time to stay there.
Well I don't think that City are in the box-seat, not yet at least. Liverpool have suffered a serious blip, but City have hardly been faultless in the middle third of the season, and there's plenty of evidence that both sides will drop points in the final third of the season.
Starting with Liverpool though, and I think there are some worrying trends that need to be halted. Injury concerns can be hopefully dealt with between now and the trip to Old Trafford, but we were supposed to come into the Leicester and West Ham games refreshed and the opposite has happened.
The set-piece concerns for me remain among the biggest alarm bells, because that's something that needs to be stopped quickly if we want to remain an elite defence. The Reds have largely coped okay with Joe Gomez's absence, but I am concerned that the Matip/Van Dijk pairing isn't the best partnership, even though Matip himself has been largely solid since coming in.
In terms of bottle and mentality costing us the league, I think that that's something that there's simply no predicting. For what it's worth I think it will only take a couple of decent wins to screw our heads back on and get us back in the game, and I genuinely think that the Old Trafford trip has come at the right time, but what state will the league be in when we do get those results?
The issue is, of course, that the league could have looked a lot different to the way that it does now, and suddenly the threat of the City juggernaut seems more real, especially if they're able to get ahead of Liverpool and start to pile the pressure on.
Nevertheless, I think that the idea of the City juggernaut remains slightly exaggerated, and there's certainly scope for Liverpool fans to be optimistic that they're not the only side who've struggled to find form in recent weeks. City's win against Arsenal was reasonably emphatic, but Arsenal are a side who have an appalling record away against the top six, and played perfectly into City's hands.
Newcastle, on the other hand, showed the exact blueprint of how to hurt City and regardless of what you think of Liverpool's title challenge, there simply isn't evidence to suggest that City are untouchable right now. It's been only just over a week since they turned in a worse performance and worse result than either of Liverpool's stutters, and they have plenty of potential banana skins left.
Moreover, whilst everyone talks about City's mental strength and experience in winning titles, the majority of this squad haven't won one in difficult circumstances. Some have, the likes of Kompany, Aguero and David Silva, but under Pep and this squad as a whole, their win last year came when they were completely unchallenged. In the high-pressure games in the back end of last season – twice against Liverpool in the UCL, against United in the Premier League when they had the chance to seal the title, and in the FA Cup against Wigan – City showed that they too have their fragile moments, and I have no doubt that they will have their wobbles between now and May.
Pep himself of course is a huge winner, and has won three of Europe's top five leagues, but Jürgen Klopp also knows how to win the league, and in underdog circumstances such as the current season, where Liverpool have been huge underdogs compared to City since the start.
Overall, I think there's plenty of justifiable reasons to be concerned at how Liverpool haven't been able to put their foot down at a critical time of the season and motor into pole position to win the title. But equally, with thirteen league games left, they're still in the box seat, still in with a great chance and still have it all in their own hands.
Of course the situation is a little less rosy than it was last Wednesday morning, but it's a title race. We were never going to have it all our own way from Christmas until May. And yes, the fact remains that this is a slide that Klopp needs to halt quickly, because if City can put their foot on the accelerator, then Liverpool could find themselves being blown away before they have a chance to recover.
All of this to say. It's early February, and Liverpool are in a title race. Things could have been better, and they could easily get worse if we don't change things, but there's a mountain of playing time left, the race is far, far from over, and just about anything can happen.
The shift in narrative over the last week or so tells us that for free.
But in my opinion, reports of Liverpool's demise have been greatly exaggerated.