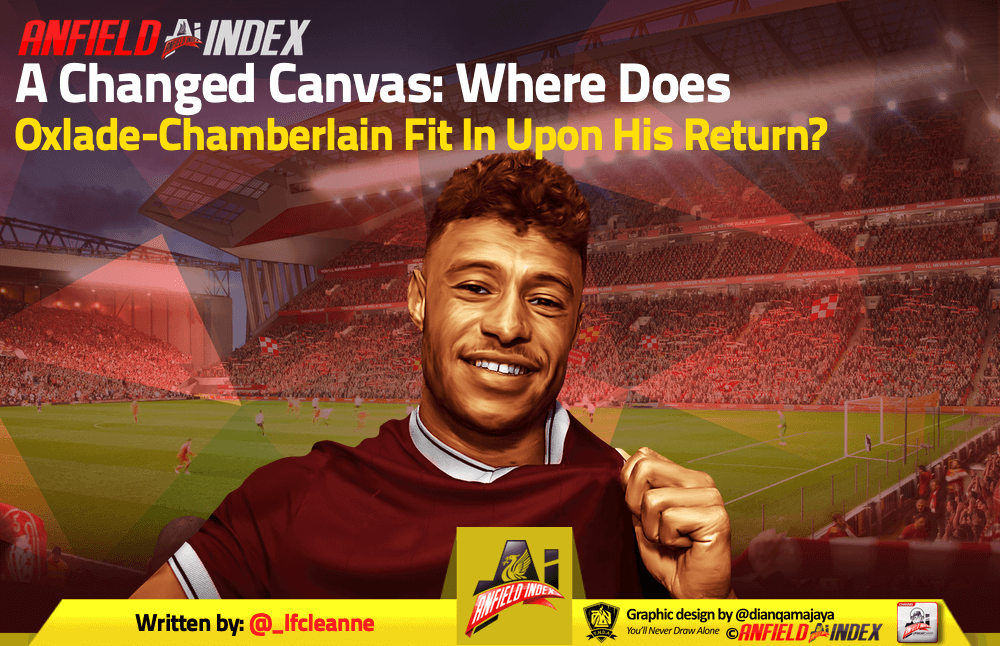 A Changed Canvas: Where Does Oxlade-Chamberlain Fit In Upon His Return?

We've all heard the phrase 'absence makes the heart grow fonder'.
In a footballing context, Alex Oxlade-Chamberlain is the proof in the pudding, with Liverpool fans longing for his return in the build-up to the Premier League and Champions League run-in in the hopes it'll provide a crucial boost in attempts to pip Manchester City to the title while offering another chance at No.6.
Albeit being named in Liverpool's revised Champions League squad for the knockout stages – interpreted by many as a signal he could feature later on in the current campaign – there remains a lot of ambiguity over the timeline for his recovery.
Chamberlain is currently tipped to return to full training in March with a return to competitive action coming around April time, meaning he could well have a key role to play in what remains of the season. However, within that is a need for caution and a realisation that he won't be the player he was straight off the bat – regaining fitness and form means we may not see him back at his peak until next season.
Whatever the timeline, it's interesting to consider what Chamberlain's role could be in a side that's developed a lot since his injury in July 2018. Now containing the midfield riches of Naby Keita and Fabinho while operating under a more pragmatic approach, just where could the 25-year-old slot in?
In the main, Klopp has utilised a 4-2-3-1 formation this season, providing the perfect balance of defensive cover and attacking ingenuity while retaining the strength of his front three. Should this persist, Chamberlain would naturally slot into at the heart of the midfield, with the slightly advanced role suited to his skillset.
The 25-year-old became such an instrumental figure in the 2017/18 season due to his direct driving runs at the heart of defences, possessing the confidence and guile to take on an opponent and slot balls in between the lines.
Benefitting from a licence to roam in and around the penalty area, it would seem to be the perfect role for Chamberlain to make his mark in Klopp's progressive system, making use of his energy while offering further cover in midfield such is his exuberance in the press.
Fabinho and Wijnaldum have proven to be a trustworthy duo, working in tandem to provide a strong, athletic platform for the Reds to base their attacks from and could, therefore, make up the pivot behind Ox. That leaves Naby Keita, Jordan Henderson and James Milner as the alternative options to contend with a rigorous campaign.
However, given his discipline to track back and chip in with defensive duties, Chamberlain could also make up a 4-3-3 as was the case last season. His best performances came against Manchester City in both the Premier League and Champions League, with a 4-3-3 enabling him to get up and down the pitch in a box-to-box type role, therefore exposing the range of his expertise.
While the system has been scarcely used this season, largely down to a change of approach that is more suited to a 4-2-3-1 and the use of Keita and Shaqiri, neither of whom appear as defensively astute as the former-Arsenal man, his return could spark it back into the life. Indeed, it would provide Klopp with additional tactical flexibility, able to interchange between the two systems and tailor his tactics from games needing a conservative approach to ones where the emphasis is on Liverpool to break down the low-block. A trio of Fabinho, Wijnaldum and Ox would appear would appear to strike the right balance of defensive and attack to do just that.
Although highly unlikely we will see Oxlade-Chamberlain hit anywhere near top form this season, his potential role upon returning to the line-up sparks food for thought in terms of where he could fit within Klopp's system. Such an important player last year, the 25-year-old seems destined for a starting role once he gets back up to speed – it's just a case of where and in what system.