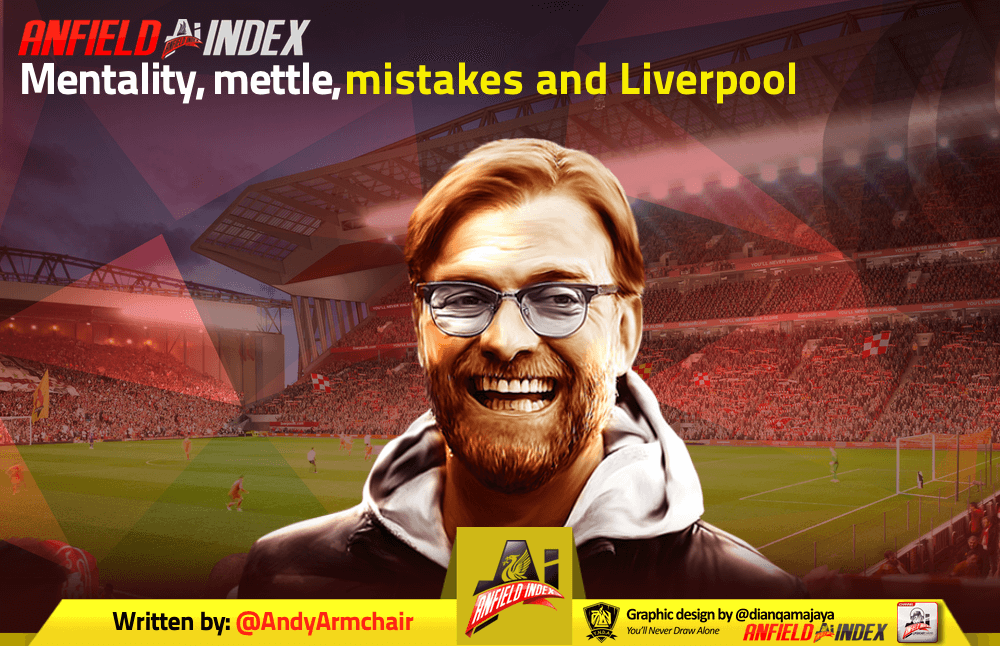 Mentality, mettle, mistakes and Liverpool
Liverpool never seem to do things the easy way. The 2005 Champions League victory was a prime example, from the dramatic late Steven Gerrard goal against Olympiakos to ensure qualification from the group stages to the nerve-wracking win over Chelsea in the semi-final. We all know the emotional rollercoaster that was the incredible penalty shoot-out success against AC Milan.
Over the past three decades, we've seen defeat snatched from the jaws of victory and success usually come in the most heart-palpitating method possible. The 2001 FA Cup, League Cup and UEFA Cup treble, as well as that FA Cup win in 2006 all coming at the expense of my blood pressure. However, as a long-time fan, I don't remember it always being this way. In those glory days of the 1980's, it seemed that winning league titles and cups were almost matter of fact.
Perhaps that's my memory playing tricks on me or maybe it was because I'd become so accustomed to my team winning trophies that situations such as falling behind in the 1986 FA Cup final was nothing to sweat about. In that era, I expected us to win and any blips in form would be overcome and we'd go on to win the title. If we actually weren't crowned champions, I felt sure we would be the following season, such was my unshakable belief in my all-conquering team.
But that was then, and this is now. That squad and backroom staff were used to regularly winning trophies, they knew what it entailed and how to get it done. The same could arguably be said for the fans in the stadium.
The same cannot be said for this current squad and staff; that's not a criticism, just a fact. Some have won trophies, but for most this situation is a new experience, so the presence of nerves under intense pressure are to be expected. And that doesn't just apply to the players because with many match goers not old enough to have been witness to those glory days, I think it's understandable that fans are anxious; especially given how much we all want that elusive league title.
The draws at home to Leicester and away to West Ham felt like defeats. A lot of that is down to the performances, but some of it because Manchester City had suffered a shock defeat at Newcastle. The Leicester game was an opportunity to increase the gap and turn the screw on the challengers, but it was an opportunity that we failed to grasp. As expected, City bounced back with a commanding win over Arsenal and the focus was back to us and how would we respond. Sadly, as we witnessed, it was nothing more than a whimper.
Against Leicester, as much as it was a really poor performance, I think it's fair to argue that the conditions didn't help the way we like to play. Also, the fact Harry Maguire should've been sent off before he scored the equaliser and the referee also inexplicably failing to award an obvious penalty on Naby Keita do offer crumbs of hope that misfortune played their part on the night.
No such mitigating factors can be clung onto for the West Ham game. We were abject, plain and simple. However, this is not just a couple of matches, this has been going on for weeks and I believe goes back to a few decisions made by Jürgen Klopp.
In December, there were five or six legitimate candidates for player of the month, since the turn of the year it's the same number, or maybe more, who are well off the pace. Gone is the defensive solidity and Alisson looking imperious. Worryingly, as well as conceding goals, we're looking less of a threat going forward. A porous defence and blunt attack are a lethal combination for all the wrong reasons.
The team are out of form and looking disjointed where once they were cohesive. We are currently relying on individuals to do something special, which is not something usually associated with a Klopp team.
Although historically, January and February have been challenging months for Klopp in terms of points per game averages, I do feel some key decisions made have influenced the situation.
The first one would be the call not to recruit another centre-back in the summer. Without doubt, the faith in Joe Gomez moving centrally paid off, but it was still a risk, especially given his record with injuries. Add to that the unreliability of Joel Matip and Dejan Lovren with fitness and performance levels and it was a gamble not to bring in a more reliable option. To compound things, Gomez was also used as the back-up option to Trent Alexander Arnold at right-back.
Consequently, with Nathaniel Clyne completely out of favour, he wanted to try his luck elsewhere. Whilst I understand Klopp not wanting to keep an unhappy player, the decision to loan out Clyne at the beginning of the January transfer window was an odd one. It was also another gamble that back-fired as Trent joined Gomez on the injury list. Thus, James Milner and Jordan Henderson have been drafted in to cover, both weakening the right side of defence and limiting the injury-hit options in midfield.
I do feel the decision on Clyne should have been delayed until the end of the window, putting the needs of the team in a title challenge ahead of the short-term needs of one player.
Another decision I have issue with is the approach to the Manchester City game at the start of January. City went into the game having lost to Chelsea and Crystal Palace, Liverpool were on a hot streak, having won every game in December. However, rather than stick with the personnel and shaped that had served us so well in that period, we saw a return of the three-man flat central midfield and handed the impetus to City. It was a competitive performance, but an isolated front line didn't fire and City deservedly took all the points.
However, for all I feel those are decisions that may have contributed to our current predicament, Klopp may argue his tactical approach to the City game was the most appropriate, that releasing Clyne from the squad early in the window was in keeping with his methods and the centre-back situation was worth the gamble.
It's worth pointing out that blips happen. Every team will suffer a dip in form at least once a season and that's something we have to accept, regardless of how desperate we are to get that monkey off our back and finally win that elusive 19th league title.
The true mettle of this current side will be how they respond over the coming weeks. The pressure has been increased, the healthy lead at the top of the table eroded and questions being asked of their credentials. City have been here before, they may have won it with ease last year, but some of the squad still remain from when they narrowly won the title in 2011/12 and 2013/14.
That experience is in their favour, but you would hope that the Liverpool squad will have the greater hunger. Perhaps a couple of good performances can bring that confidence back and rather than give the impression of hanging onto any lead at the top, they can tap into that mentality of that glory period to dispel the anxiety. Importantly, it needs to be sooner rather than later.