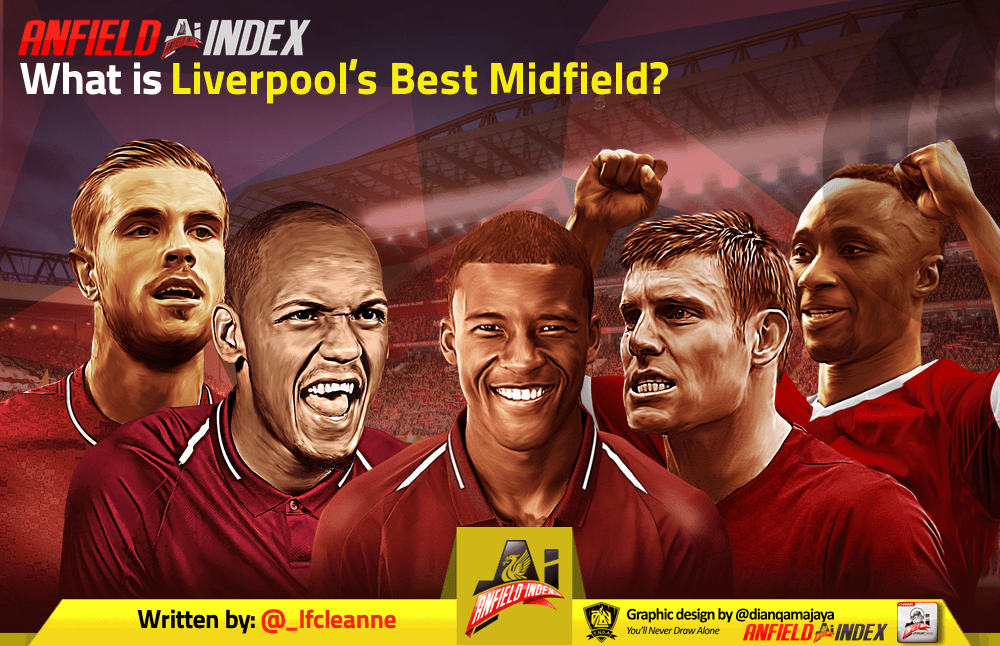 What is Liverpool's Best Midfield?
Comparative to previous years where Jurgen Klopp has had four players to choose from off the bat, Liverpool have benefitted from more options in the middle of the park this season, before the rigour of the campaign could take its toll, at least.
It's therefore been of little surprise to see the German utilise the extra options by tailoring his system to each opponent, obtaining the perfect mix of defensive resilience and attacking ingenuity across the board.
However, the injuries sustained in recent weeks have left Liverpool in a situation where their midfield has largely been known before the official announcement – with the exception of a few impromptu outings for Adam Lallana.

James Milner has had to do a job at right-back due to Trent's injury while knocks for Wijnaldum and Henderson have left the squad further depleted. However, with their inclusion in the matchday squad on the weekend and Oxlade-Chamberlain widely expected to be available for the latter stages of the season, I thought it fruitful to examine what Liverpool's best midfield looks like when everyone is fit.
First, a disclaimer.
Albeit tipped to play some part in the run-in, it will be months until Oxlade-Chamberlain returns to where he was. The psychological impact of injuries is often ignored, and it is impossible for a player to return from such a significant spell on the sidelines without a noticeable drop in performance.
As such, it's unlikely the 25-year-old will return to top form before the start of next season. On that basis, this analysis is tailored to a more long-term consideration rather than what remains of the current campaign.
So, who should Klopp be looking at to make up his midfield when everyone is available?
Despite a relatively slow start to his Anfield career, Fabinho has become an integral member of the team, with a notable drop in quality in games where he hasn't featured. Providing a replacement for Javier Mascherano that fans had been craving, he possesses the perfect mix of combative aggression and creative athleticism and would, therefore, seem to pick himself.
He's the best player among the current crop at what he does, blanketing the back-four while having the quality and confidence to maraud forward and provide incisive balls into the front-three.
Gini Wijnaldum has made the most appearances for Liverpool this season and has really come into his own, with the increased competition for places spurring him to take his game to the next level. Still widely underappreciated by some, the Dutchman has delivered consistency where he previously couldn't, covering approximately 11km a game in a box-to-box role that's seen him put out fires across the park.
Again, it's been a case of needing to see how Liverpool perform without Wijnaldum to notice just how important a cog he is and the sense of calm he exudes on others is an invaluable tool. Evidence of his calm was shown in his exquisite finish this weekend against Bournemouth.
He takes spot number two for me.
Here is where it becomes interesting. For reference, the remaining options are Jordan Henderson, James Milner, Naby Keita, Alex Oxlade-Chamberlain and Xherdan Shaqiri, who could occupy either a central or wide attacking role.
You could make a case for all of them; Jordan Henderson has the passing range to switch the play where needed and expose space in behind, James Milner has the experience and Ribena-led exuberance, Naby Keita and Oxlade-Chamberlain have the drive and creativity while Xherdan Shaqiri's already proven he can make an impact through the middle.
However, a Fabinho and Gini duo means there's a need for an out and out creative dynamo to balance the books, trimming the options down to Keita, Chamberlain and Shaqiri. The Swiss international maintains a significant role in the front three as evident this season and is therefore exempt, although not down to a lack of ability on his part.
Much has been said about the impact Chamberlain had for Liverpool last season, providing a rampant force from deep against Manchester City in both the Premier League and Champions League. Indeed, the 25-year-old embodied Klopp's organised chaos, thriving through the middle with the vision to pick out his attacking compatriots. A real miss for Klopp's side since his knee injury, a return to full fitness and the later regaining of his form will add another dimension to Liverpool's midfield.
On the other hand, Naby Keita's endured a frustrating season on Merseyside, failing to showcase the kind of performances that became so routine at RB Leipzig.
Aside from the opening game of the season against West Ham, the midfielder has struggled to build up a head of steam, often lacking quality in possession while unable to buy into the rigorous demands of Klopp's pressing system out of it.
However, quality doesn't vanish overnight and signs in the last few games will provide an insight into what the 23-year-old could produce at Anfield. While it remains a waiting game, with the player desperately in need of a confidence boost, when he does get to top form, he'll be an incredible asset for Liverpool. There's a reason Klopp waited so long to acquire his services, remember.
That makes the long-term picture of Liverpool's midfield a tricky one, given the potential of both players when they return to their respective levels. A welcome headache given their quality, both would complete a thrilling midfield trio for Liverpool, one with the perfect balance of defence and attack.