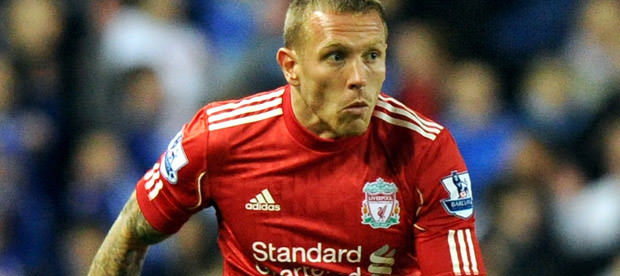 Craig Bellamy | Could he be the key to attacking fluidity?
Ever since Kenny Dalglish decided to splash £58m in January on strike duo Andy Carroll and Luis Suarez there has been a debate as to how he can get the best out of the pair. With Andy Carroll being the archetypal target-man and Luis Suarez a pacey, intelligent, ball of energy it seemed like it could potentially be one of the best forward partnerships around.
But things have not quite gone to plan for them so far, with Carroll and Suarez very rarely starting alongside each other, and despite both being 8 months into their Liverpool careers they don't seem to have yet formed an understanding. While Suarez bedded in instantly and delighted supporters with his skill, endeavour and audacious goals, Carroll had troubles adjusted to a new style of play and he has only hit the back of the net 5 times so far since his £35m move from Newcastle.
There are several theories as to why the partnership hasn't gelled as yet; Carroll's injury problems, contrasting styles being unable to mix, the language barrier but the most logical explanation is that the simply haven't played together enough. When they have played alongside each other there have been glimpses of something special but sadly no more than that, and on several occasions they have appeared to be on completely different wavelengths.
During the summer the general consensus was that bringing in players with the ability to deliver quality crosses would be the best way to get the most out of Andy Carroll, which signalled the arrivals of Stewart Downing, Charlie Adam, Jose Enrique and Jordan Henderson. Although all four have enjoyed good starts to their Liverpool careers, they have all (Enrique aside) failed to deliver any crosses of note to Carroll. In fact the majority of Carroll's best moments in a Red shirt have come from his left foot and not his head, so maybe a change in strategy is in order.
It's been obvious for a while that Carroll needs pace and movement around him to make up for his lack of pace and I also think that he'd benefit if the team kept the ball on the floor more and didn't go down the predictable long ball route. It would make sense to feature wide players who are likely to keep the ball on the floor rather than those who constantly look for Andy's head and while fans pine for a new attacking signing to compliment Carroll and Suarez, Liverpool may already have the perfect player to fulfil that role and they didn't have to break the bank to sign him.
Enter Craig Bellamy, brought back to the club on deadline day from Manchester City for a grand total of nothing, that's quite the bargain for a player with experience, ability and most of all a point to prove. This is not the same Bellamy that spent just one season at Anfield in 2006/07 and made more headlines off the pitch than he did on it, with the infamous golf club incident spelling the end of Bellamy's dream move.
Since then he appears to have matured as a player and person, generally staying out of trouble and re-inventing himself as a winger (the position he once refused to play under Graeme Souness), which shows how he has progressed since his Newcastle days. With opportunities to play upfront likely to be limited with Carroll, Suarez and Kuyt in the squad, Bellamy's best chance of getting into the Reds team is probably out wide and he has certainly excelled in his brief spells there so far this season.
His competition for the left-wing role is £20m man Stewart Downing and although the England winger began his Liverpool career with a bang (literally when he struck the bar against Sunderland!) his form has dipped in recent weeks, with Downing yet to score or assist a goal in the Premier League despite featuring every game so far this season. Bellamy however has made the most of his limited minutes, playing a crucial role in Liverpool's first goal at Goodison and completing 17 of his 23 passes. In fact Bellamy has created 6 chances in the 143 minutes he's played so far this season which equates to nearly one every 23.83 minutes, which nearly twice as often as Downing.
Bellamy's impressive pass completion rate of 94% proves that he is a perfect player for the pass and move style that Kenny Dalglish wants his team to play and although those figures would be lower had he played more games, his ability to play accurate incisive passes is something that would benefit Suarez and in particular Andy Carroll.
Despite what the media and oppositions fans say, Carroll is not your stereotypical Kevin Davies style target-man and his touch is a lot better than he is given credit for, with the England striker losing possession just 13 times to bad touches in 567 minutes of play (once every 43.62 minutes) compared to Suarez, who has lost the ball from a bad touch 27 times in 765 minutes (once every 28.33 minutes). While Carroll's heading ability was the main focus when he moved from Newcastle, the number 9 appears to be much more comfortable when he is facing goal with the ball at his feet than when he is flicking the ball on or holding the ball up ( so far this season he has played 91 forward passes compared to 57 backwards).
With Carroll playing as the #9 always looking to get a shot away and Suarez causing havoc with his skill and movement, a direct player such as Bellamy out wide could result in Liverpool having the perfect balance in attack. The combination of three completely different players would enable Dalglish's team to be able to combat every type of defensive set-up, with Carroll the answer to deep back-lines, Bellamy's pace dangerous against those who try to press high up the pitch and Suarez equally lethal against either.
Bellamy's inclusion would also give Liverpool the ability to switch systems mid-game, with Dalglish able to pick him on the left of a 4-4-2 with Henderson on the right or on the left of a 4-3-3 with Henderson part of a central midfield trio. Fluidity is crucial in the modern game and in order to play a fluid system you need versatile players who can play a number of positions and there aren't many more versatile than Craig Bellamy.
It's still early days this season and although Bellamy's appearances have been limited so far he has shown enough to suggest he could be crucial in Liverpool's quest for success. He guarantees goals when he is fit and if his pace, tenacity and incisive play helps to bring the best out of Suarez and Carroll then he will have been one of the bargains of the season.