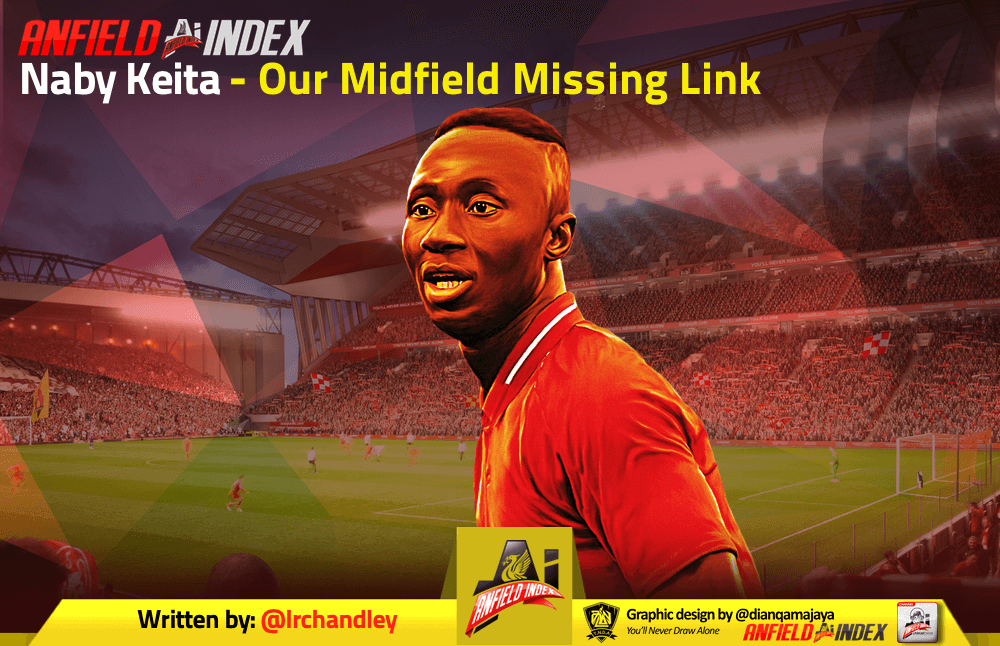 Naby Keita - Our Midfield Missing Link

Building a team can't be easy. Take a look at Manchester United. Take a look at Chelsea. Whilst one side – United – is performing much better since appoint a new manager (the natural reaction of a team so far against their former manager that surely anyone remotely positive would see an upturn) the other – Chelsea – have already seen their 'new manager bounce' fade away after an incredible and unsustainable start. Both teams have wonderful individual talent, but have struggled when it has come to creating a team in the truest sense of the word.
Jurgen Klopp came to Liverpool when they had no style, no particular footprint and a team of fine but arguably not outstanding players. In the three-and-a-half years since his arrival, he has transformed us into an outstanding team with – crucially – outstanding players.
The beginning of his tenure was about channelling passion to improve performance. Coming into the club mid-season, this was always likely to be the best option, but as a side of limited ability, we all knew that eventually signings were needed.
The one player that screamed star quality was our superb Brazilian playmaker Philippe Coutinho. Able to strike a ball, link play and bring play up the pitch, it was Coutinho that became a central figure to our push for the top 4 in Klopp's second season.
The position of Coutinho in the side allowed us an additional player, stolen, if you like, from the midfield trio he was occasionally part of. Whilst he wasn't a Klopp player in the purest sense, he worked well for the side at the time. The purchase of Alex Oxlade-Chamberlain last year, however, showed that Klopp has new ideas for the side, and as the rumours of the Brazilian's future continued to dominate forums and newspapers, it seems Klopp saw this as a good time to mould the side into one he truly thought could win trophies and leagues.
Coutinho left and Oxlade-Chamberlain found form as the true evolution of the midfield driver that Coutinho occasionally was. Even as Chamberlain got injured, Liverpool already had Keita on the way after his purchase from RB Leipzig. The continuation of the front-3 with an additional midfielder joining from behind seemed ensured, but this season's slow start for Naby became a stumbling block. For the first time in 3 years, Klopp didn't have his midfield link player.
Our midfield this season has always been limited in magic. That type of slight passing and vision that true playmakers possess. Without a runner from a little deeper, our front three became more isolated. This, mixed with our steadier approach, left some performances feeling less than convincing. This seemed more obvious as Klopp dropped Firmino deeper to link our forward-line and attack. He was trying to force a halfway house.
This tactic came about because of the lack of that natural, aforementioned attacking midfielder. But as we used Mo Salah more central and Firmino deeper, it felt like we had the handbrake on and the wheels were restricted. But things could be about to change.
Although still slow, Naby Keita's performances are gradually picking up pace. Decent second halves against Leicester City and West Ham United were followed by a stunning, potentially corner-turning performance vs Bournemouth. It seems like our mid-season trip to Dubai has benefitted one player more than others. And it's Keita.
If Keita's performances continue as we hope they will, that means we can free up Roberto Firmino to play more of an attacking role, one he is more accustomed to. Our front three, so devastating in the second half of last season, could be let loose just as we need them the most. On the final stretch.
Much was made of Naby Keita's arrival. His all-action displays in Germany looked ready-made for our team and our league. Whilst his aggression was missing from a Liverpool side sometimes considered too nice, it was his link-up play, burst of speed and clever passing that we needed the most. Taking time to settle seemed fair, but as injuries piled up, many fans began to get anxious about our Guinean star.
Hopefully, though, he's starting to settle into our system. In recent weeks, his communication has seemed more fluid. Multiple times vs Bournemouth he was seem instructing players and talking with other members of his side, even having a word with the referee at a point. He's a player that seems to let his head fall if things don't go his way, but like Salah and Sadio Mane ahead of him, he needs to learn how to keep battering on that door even when things aren't going for him.
I predict a good few months (and beyond) for Keita, and hope he starts vs Bayern Munich and Manchester United. A couple of good games there, and we may be on the road to a new Little Magician. Good things come to those who wait.