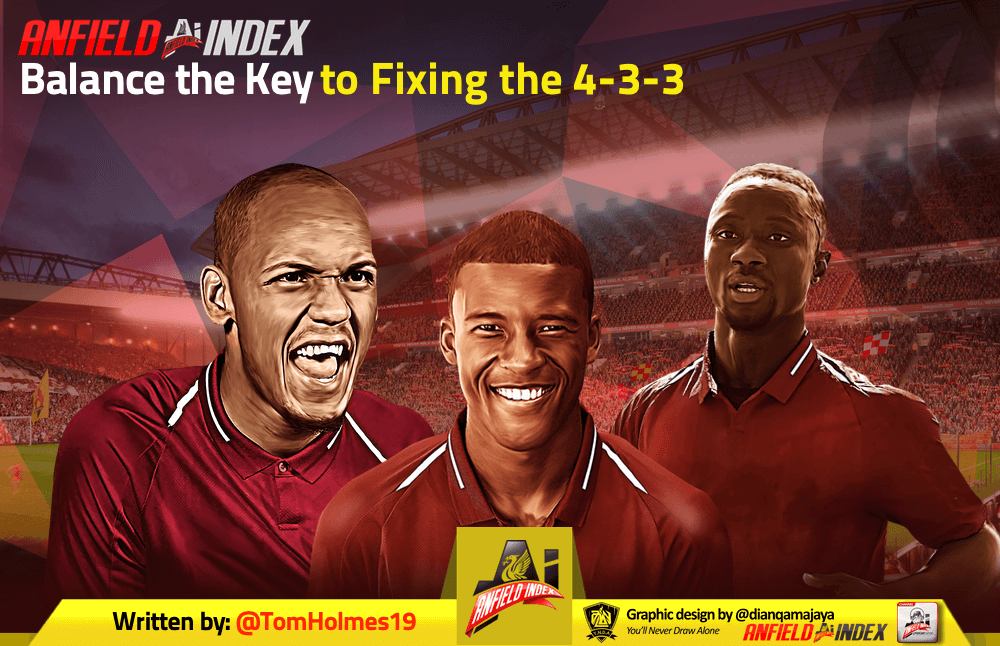 Balance the Key to Fixing Liverpool's 4-3-3
At the start of the season, before a ball had been kicked, the assumption was that Liverpool would end the season with a first choice midfield of Fabinho, Keita and one other midfielder. Liverpool's two new, big money, acquisitions were expected to dominate the team sheet sooner or later, and the question of which of the remaining trio – Milner, Henderson or Wijnaldum – would fit the third midfield slot.
Since then, that particular question has been rather emphatically answered as Gini has started the most games of any of Liverpool's central midfielders (27) and has certainly been the most consistently impressive of any of them. For many, Gini is now one of the first names on the team-sheet and whilst I think that kind of talk is fairly silly when we have six players who are nailed on starters in just about every single game we can afford to play them, in terms of the midfield three, it is fair to say that Gini is probably the first of the three Klopp puts on his team-sheet when he's fully fit and not being rotated.
However, an entirely new set of questions have cropped up in the meantime. It took Fabinho well into the autumn to break into the Liverpool side, although he's been largely very impressive since then, and Naby Keita has played the least PL minutes of any of Liverpool's five main midfielders – just 1071. And that despite starting four of the first five games. Injuries hit him at the worst time, but even so he's struggled to replicate his early season form.

And then there's the decision from Klopp to switch from a midfield three to a midfield two – largely to accommodate both Fabinho and other new signing Xherdan Shaqiri. I was a huge fan of the midfield two for a long time – it allowed Klopp to get Fabinho and Gini on the same wavelength, add a bit more attacking gumption to our play and got the best out of Jordan Henderson too when he was used in a duo at the base of the midfield.
However, with Shaqiri becoming increasingly ineffective over the last month or so, and Keita spending significant portions of his game-time out on the left wing, it was clear that for Liverpool to get the best out of their attack, a return to the 4-3-3 was needed, at least temporarily.
Personally, I like both formations. I think they both have their merits and certain players have worked better in certain variations. And that's partly down to the opposition reacting as well. When the 4-2-3-1 came in, Salah and Firmino were able to take up different positions and defenders couldn't react in quite the same way. Once that didn't quite work, the return to the 4-3-3 meant that Salah could get more involved off the right and Firmino could return to arguably his best role.
But the big issue is that a return to the 4-3-3 requires the right midfield to make it function. Which brings us back full circle – to Fabinho, Keita plus Gini. Increasingly, it's looking like the 4-2-3-1 was a stop-gap, allowing Liverpool's two big money midfield men to get used to Klopp's system and their new team-mates in a more familiar system – Fabinho especially.
And with Fabinho establishing himself as a regular over the last couple of months, various issues in the midfield with Milner forced to right-back and both Hendo and Gini picking up niggles have meant that Keita has finally been given a run in the side.
And he's starting to thrive. A lot has already been said about Keita, but personally I felt that there was an absolute ton of promise in his early performances, but injuries, form, confidence and being played out of position has really meant that he's had to start again over the last handful of games, and it's remarkable in many respects that he's found form as quickly as he has based on that.
And so, finally, against Bournemouth, we saw the Naby, Fabinho, Gini midfield that has threatened to be our best midfield this season and it ended up being everything we wanted it to be.
A couple of inevitable but brief caveats at this point. The Bournemouth win was one performance, one result and against a team that absolutely is a team that we've thrived against in the past because tactically they play into our hands. So reading too much from that result would be risky – and it's equally risky to extrapolate the performance of three players that have scarcely played together to a whole season of form.
That said, I think there's plenty of reason to be positive that the Gini/Naby/Fabinho midfield can live up to the hype over the back end of the season and into the next one.
The reason for me is multi-faceted. I want to start by talking about how it's our best midfield simply by virtue of elimination, and also because it's our three strongest midfielders, before talking a little bit about how it actually works as a unit.
So whilst the midfield two has suited Fabinho really well up until this point in the season, in an attacking sense we were starting to run into trouble. Xherdan Shaqiri hasn't consistently done enough this season to demonstrate that he needs to be shoehorned into the side, and he simply cannot operate in a 4-3-3 unless he's rotating for one of the front three – in a best XI he doesn't fit right now.
James Milner is another player who simply can't fit into a 4-2-3-1 unless it's as an auxiliary winger. But does he deserve to be in the side on the right flank ahead of Shaqiri, who if you are going to play a third winger alongside Salah and Mané, surely has to be the player to get the nod, even with his struggles in the past month?
So if you look at the 4-3-3, you're looking at three players from five spots again. I've already mentioned that Gini has to be considered for many the first of those five on the list, based on his performances this season and his impact on the side. Personally, I think Gini's performances have been a little overstated, but there's no question that he offers a level of control, calm assuredness and ball retention that keeps him in the side.
Fabinho then. If you're arguing that it's one of him and Henderson at the moment, then right now he's ahead of the Englishman. Fabinho has been one of Liverpool's star performers when he's featured and is one of the classiest defensive midfielders in Europe.
And then there's Keita. Again I don't want to get too bogged down in the Keita discussion since there's a lot of words dedicated to him elsewhere, but this lad wasn't one of if not the best midfielder in the Bundesliga over the last two seasons for no reason. His dribbling ability, defence-splitting passing and off-ball performances have the potential to be second to none, not just in this team but in the Premier League.
Returning briefly to Milner, who it's fair to say has a fair claim to being in the XI for creativity reasons alone. On paper he's the second most creative player in Liverpool's squad behind Salah and whilst his game is more limited and defensively he can struggle, his passing and crossing have been consistently strong – and extremely progressive – this season. That said, I think Keita's underlying numbers, coupled with his two seasons at Leipzig, indicate that he's got the potential to surpass Milner. Also, given the way Klopp has used his midfield this season, there's no doubt that both Hendo and Milner will still get significant minutes moving forward, and neither can be written off or binned.
However, the fact is that building a midfield isn't about picking the three best names on the team-sheet, although if Klopp were to do that I suspect he'd still end up with Gini, Naby and Fabinho. What matters the most, and this is something that I think is extremely important, is balance.
We've tried a midfield of Henderson, Wijnaldum and Milner. In certain situations, it works, but the majority of the time, the balance is completely off, as Milner is forced to do 100% of the creative and progressive passing. A midfield containing Hendo, Fab and Gini would encounter similar problems, as at least one of the players would be forced out of their comfort zone. A midfield of Milner, Keita and Gini is one that I'm actually a huge fan of, as I thought that that was very nicely balanced with Gini as the most defensive of the trio and it worked a treat over the first few weeks of the season.
However, the midfield that has looked the most balanced is that of Wijnaldum, Keita and Fabinho. There are multiple reasons for that, but for me it comes down to how multi-faceted each player is – they are the three players that are the least limited and the most versatile.
Starting with Fabinho. He's the most defensive of the three and that's probably the way a midfield three with him in it best operates, with him at the base. He's a brilliant defensive player, who reads the game really well, shuttles back to cover the centre-backs and full-backs well and is fantastic when it comes to winning duels.
However, he's not just a DM. He's a player with a really intelligent range of passing, who is capable of taking the ball out of the back and moving through the midfield, progressing the ball effectively and hurting the opposition.
Gini is a similar player, if odd in many respects. We've seen this season that Gini is a very effective sitting midfielder and an expert shuttler. He covers space, generates transition, and is extremely good at controlling games and controlling the tempo of Liverpool's play, consistently at 90% passing, averaging 92% passing in the PL this season – the highest in the Liverpool team.
And then there's the Gini of two seasons ago, the one we saw against Bournemouth, who is more than capable of bursting into the final third, contributing to the attack, creating chances and scoring goals – he added 15 goals or assists from midfield in 16-17, but has added just three goals and two assists in the season and two-thirds since then. When he joined the club he was touted as another attacking midfielder and spent a lot of time in the attacking eight roles, but now he seems to be more of a DM, albeit one clearly capable of operating in a more attacking role.
Likewise, Naby Keita is more than the player he's often seen as. In midfield with Fabinho and Gini, he's expected to be the one playing if you like the Coutinho role – dribbling past players consistently, feeding the forwards, creating chances and scoring goals. But that's never been the whole of Naby's game. He is a player that is capable of progressing the ball, and he is a player capable of dribbling past defenders and scoring goals.
But equally, as he's demonstrated over the last two years, he's a fantastic defensive and off-ball player, as his staggering pressing performances and strong defensive numbers at times have demonstrated. And equally, he's very much the tempo controller, the dictate the game from deep player that you'd expect Gini to be – his passing accuracy is close to 88% this season and he had over 100 passes against Bournemouth.
What this meant against Bournemouth was that in many respects, all three midfielders were doing all three roles. Fabinho was primarily the defensive screener, but he also created two chances and moved the ball nicely through midfield. Keita was the tempo controller with 90% plus passing from 100 touches, and he was our best generator of turnovers with 7/8 tackles and 12 ball recoveries and he was also involved in all three goals. And Gini was Gini at his best in the eight position, keeping the ball moving, getting involved in the play and making a big impact in the final third, but also solid defensively when called upon.
And that really helps the side. When you can trust your midfielders to do everything, they can all build around each other, rather than trying to have to work around the weaknesses in each other's games.
That, in turn, makes them harder to play against. Trying to isolate one midfielder to attack is tricky when all three are really solid defensively. But then you also can't target one to press because they're all fairly press-resistant and can hurt you if you overcommit to winning the ball off them. And trying to defend against runs from deep is also incredibly tricky when you don't know which player is going to be doing the running – given that both Naby and Gini, in particular, are excellent at breaking into the box from deep.
How many times against Bournemouth did we see Naby as unexpectedly the deepest of the three controlling the ball whilst the others charged on ahead? How many times did we see Fab breaking forward and Gini dropping back to cover or vice-versa?
The point is that having a multi-faceted, multi-talented midfield three means that you are far less one-dimensional, which gives you more options in and out of possession, even in the same game. There's a fair argument to be made that Liverpool still need an out and out creative force in the midfield, a Coutinho-type player, and I'd say that that's a fair assessment. But equally, when you've got two or three players in the midfield who can contribute a handful of goals – certainly more than they have been contributing this season – then that really bolsters your options.
And it also lets you get more from the front three. Having midfielders who can link better with the attackers means that you can get the best out of in particular Mo Salah and Bobby Firmino. Salah needs as much of the ball as possible, so using players like Gini and Keita who can feed him only increases your chances of winning games. Moreover, when you've got runners from midfield breaking beyond the front three it enables Firmino to drop deeper and dictate play in a way that he's struggled to do this season.
In conclusion, I'm all-in on Gini/Fabinho/Naby as a trio – with support from Milner and then Ox next season. Bournemouth was a great sample of what they can provide at their best, but I think even if they don't play against sides that will cater to our style of play, they're the most balanced, most multi-dimensional and most talented midfield trio at our disposal, and can make the 4-3-3 great again.
Up the 4-3-3 using Reds.