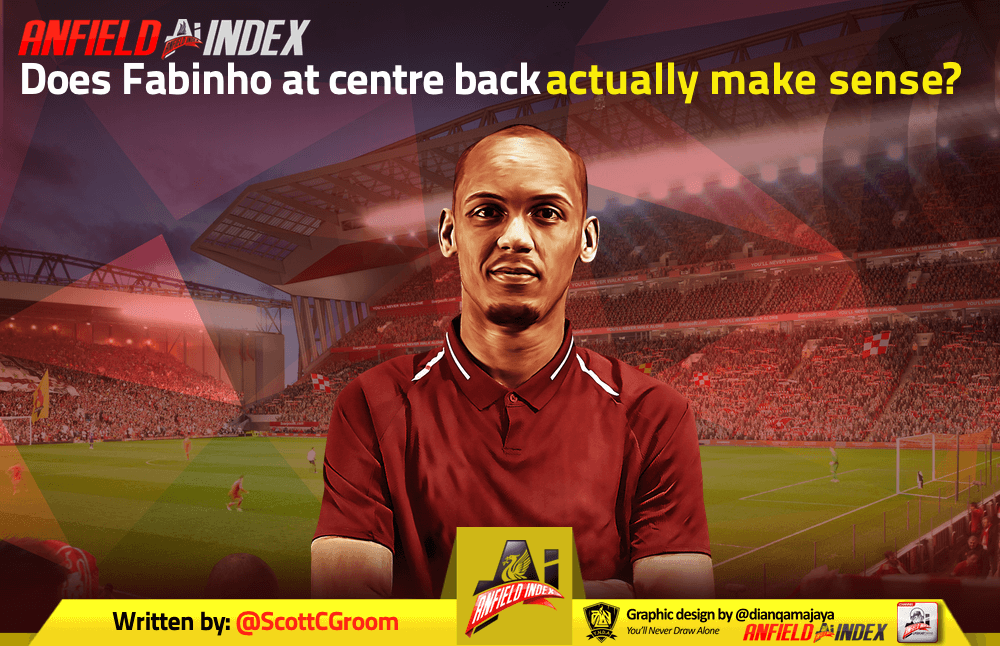 Does Fabinho at centre back actually make sense?
It's starting to really get to the crunch period of the season for Liverpool.
The next batch of fixtures see the Reds come up against the German powerhouse that is Bayern Munich in the Champions League before a pivotal trip to Old Trafford to face a resurgent Manchester United side in a potential title-deciding Premier League clash.
Perhaps not the best time to be in the midst of an injury crisis that has taken out a number of players – and a lot of influential ones at that.

Injuries to Joe Gomez and Dejan Lovren and a suspension for £75 million man Virgil van Dijk mean that Jürgen Klopp has only Joel Matip as an available and recognised centre back for the visit of Bayern to Anfield on 19 February.
The Dutchman will, all being well, be back fit again to face up against Manchester United next weekend, but we know that Joel Matip has a less than convincing injury record, so we could be back down again to one available centre back for the trip across the M62 in a worst-case scenario.
This gives Klopp a bit of a decision to make, and a serious bit of reshuffling to do to fill a void for the Munich game at least.
Jordan Henderson filled in very well at right-back recently, and this has led calls for the skipper to deployed in a central defensive role should the need present itself in the near future.
However, this looks past the talents of Fabinho – the versatile midfielder by trade who has proved increasingly important to the Reds as the season has progressed.
He deputised very well at centre back against Wolves and Brighton, and while many thought he talents were naturally better served in midfield, nobody could deny the brilliant job he did in a position that he not totally accustomed to.
So, if Lovren is not fit for the Bayern clash, why not start him there again?
It would make a lot of sense, as Henderson, Milner, Keita and Wijnaldum are all back fit and will make up the midfield three between them if Fabinho is chosen to start at the back. This gives Klopp a midfield full of industry and threat and hard running, with the added bonus of having someone with Fabinho's ability to read the game and distribute passes from deep sitting in behind them.
Yes, I appreciate that it's a risk. Yes, I appreciate his best position by far is in the midfield – but needs must at the minute with Liverpool's injury list.
Having Fabinho at the back will give Liverpool something a bit different; the luxury of having someone with a forward-thinking mentality playing at the heart of the defence is exciting.
He's going to be able to see passes Matip won't and have the ability to execute them and could prove to be a real outlet during the Munich game.
He, like Matip, will also look to bring the ball out from the back at his feet whenever he can, again providing another useful get out for the Reds, potentially posing a problem to Niko Kovac and his side that they may not have planned for.
Obviously, if van Dijk were eligible for selection, we would never be having this conversation, and would instead be talking about who was going to be partnering Fabinho in the midfield such has been the impressive nature of his performances in recent weeks and months.
But, as stated previously, Liverpool are a bit thin on the ground at the moment, so the big number three might be asked to do a job for the team as James Milner so often is asked to do.
There's no doubt he'll give it his all, and his other attributes which are so well utilised in midfield will actually be an asset at the back.
He'll allow the likes of Keita and Wijnaldum, Mané and Salah to make more darting runs into promising positions as he'll be able to and be accustomed to spotting their movement ahead of him.
Don't bother shoehorning Henderson in at centre back, just let Fabinho do his thing.