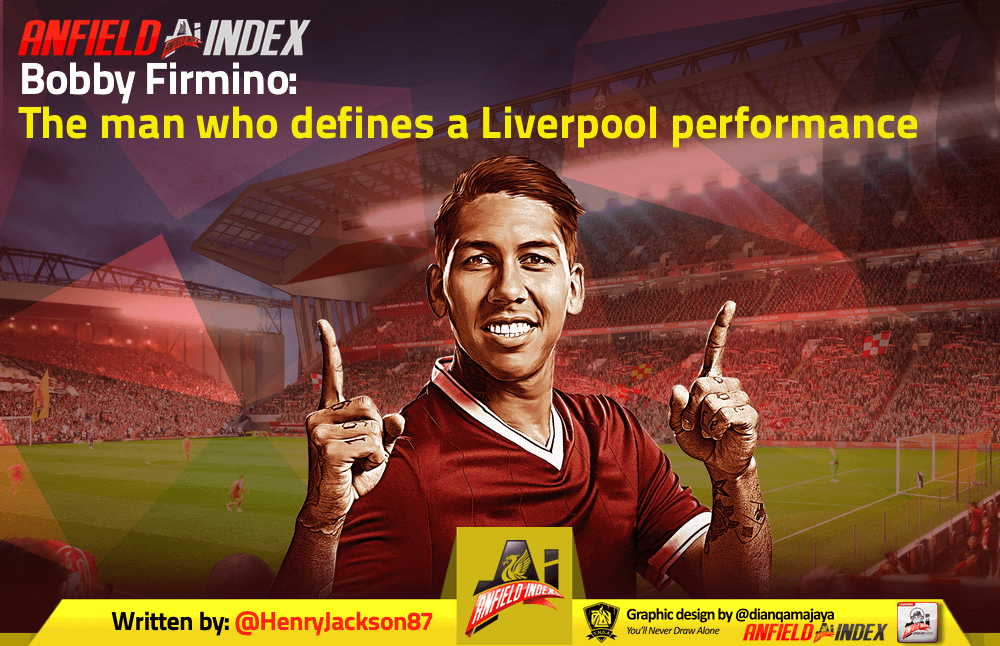 Bobby Firmino: The man who defines a Liverpool performance
"He was a player I thought was one of the best in the Bundesliga so, when I saw that Liverpool had signed him, I thought: 'How could Liverpool do this?"
Those were the words of Jurgen Klopp back in 2016, as he gushed over the quality of Roberto Firmino.
The Brazilian must have felt like a beautiful added bonus to Klopp when he had become Liverpool manager the previous year – a player tailor-made to flourish under the charismatic German.

During the Klopp era, few players have enjoyed a greater impact than the Reds' eccentric, lovable No.9, with his subtle genius and admirable team ethic helping take them back towards the summit of English football.
He recovered from a slow start not helped by Brendan Rodgers ludicrously playing him on the wing, steadily maturing from an influential presence to one of the best in Europe in his position.
On the pitch, his silky performances and wild celebrations have made him one of the poster boys of Klopp's tenure, while off it, his social media accounts suggest an individual living life to the fullest.
If anyone ever doubted whether Firmino is the player to either make Liverpool sink or swim, depending on his performance, the last two matches have shown precisely why that is the case.
First there was the 1-1 draw away to West Ham, which was as sloppy as it was infuriating from Klopp's men, as they dropped precious points.
On an evening full of poor individual showings, Firmino was quite comfortably the worst, finding himself incapable of picking out teammates for much of the night.
It could even be his worst-ever performance with Klopp at the helm, such was his wasteful nature – he has two or three of them in his locker a season.
Then came the 3-0 win over Bournemouth last Saturday, when the 27-year-old returned to close to his effortless best, leading the line in style and producing an outrageous assist for Mo Salah.
The two displays in the space of five days could barely have been more contrasting, even though Firmino can still play even better than he did against the Cherries.
To put it simply, when Firmino plays well so do Liverpool, when he is average the Reds mimic his effectiveness and when he struggles the team does, too.
This is a Liverpool squad littered with key presences: Alisson, Virgil van Dijk and Andy Robertson are priceless at the back, Fabinho is an increasingly undroppable midfield figure and the pace and end product of Salah and Sadio Mane continue to be unplayable at times.
It is Firmino who holds the key, though, certainly in terms of Liverpool's attacking play.
Van Dijk and Salah may be 'better' than him, certainly in terms of their current standing in world football, but neither quite define this Reds side in the manner their Brazilian teammate does.
So much of their play goes through him, so when he struggles to get a grip on matches and fails to find his usual deft touch, everything falls apart.
All of a sudden, Salah and Mane are not found in the same inch-perfect fashion and he struggles to find pockets of space as effectively for the midfielders to pick him out.
If his energy levels aren't quite up to scratch, Liverpool's much-publicised pressing game isn't as noticeable, with opponents finding it easier to get a grip on games.
On the flip side, as we saw against Bournemouth, the Reds are a joy to watch when Firmino clicks.
Every pass is on the money, often making him the hub of flowing team moves, and his tenacity at winning the ball back leads to opponents visibly wilting before our very eyes.
It has been a curious season for Firmino so far, with a number of superb displays thrown in, but also too many quiet days at the office that have affected Liverpool's final-third brilliance.
Used in a No.10 role for a fair chunk of the campaign, in a 4-2-3-1 formation, he has rarely looked as comfortable as he did last season, when he led the line in world-class fashion in a 4-3-3 system.
Klopp reverted to the latter against Bournemouth and it was no surprise to see him flourish, with Salah equally devilish in a narrow right-sided berth.
The manager now has a key decision to make between now and May, in terms of which formation he opts for.
Liverpool cannot afford any major slip-ups and the Bournemouth showing suggests the return to the 4-3-3 is the way forward.
Ultimately, getting the very best out of Firmino will do the same to Liverpool, so for all of Salah's magic, the former Hoffenheim man's role takes precedence.
Firmino returning to centre forward would also arguably make Salah more effective, ironically, so it is a move that makes sense for two reasons.
'Bobby' is going to play a major part in Liverpool's title run-in and he has to hit peak form if the Reds are to get over the finish line.
If he doesn't, there is a strong chance success will evade Klopp and his players once again.