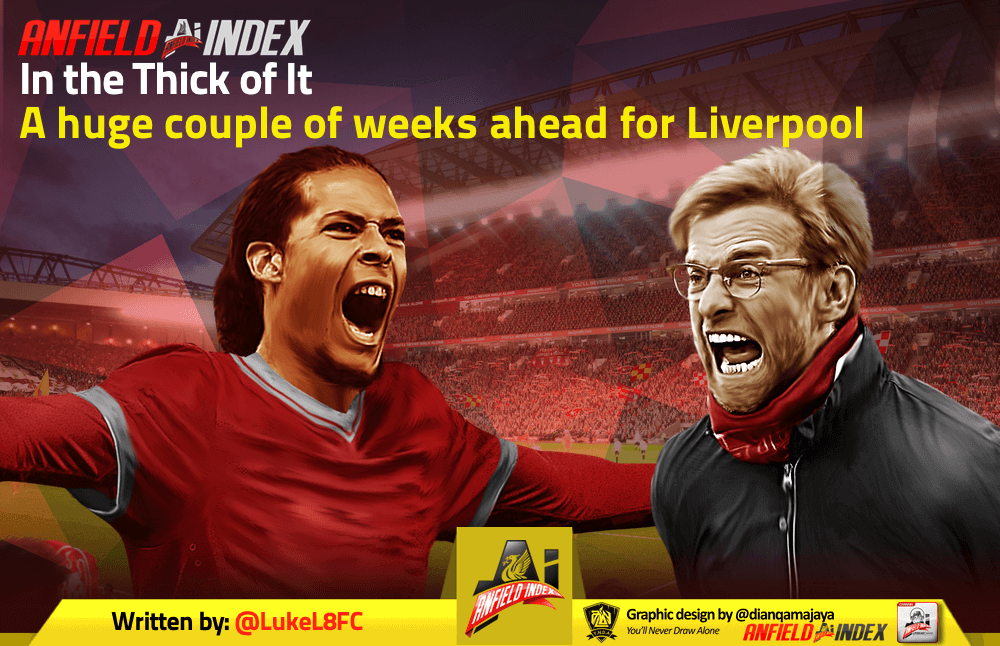 In the Thick of It | A Huge Couple of Weeks Ahead for Liverpool
The Reds are six months into the season and are still right in the thick of a title race. These next two weeks of football will have an immense impact going into the final stretch of the season.
On Tuesday, Liverpool entertain Bayern Munich at Anfield in the first leg of the Round of 16 in the European Cup. Following last year's pursuit of glory in Europe, in which Liverpool came up short in the final, the main attention has with no shadow of a doubt been on the league this season.
However, that is not to say Liverpool are overlooking this cup competition, like it seemed they did with the two domestic cups; being knocked out in the first game on both occasions, with weakened sides fielded in both.

Jurgen Klopp knows what Europe means to Liverpool. He had a taste of a few raucous nights under the floodlights last season in this competition, as well as the UEFA Cup run to the final. It is not just the fans who walk away from the ground with first-hand memories of nights of glory like Dortmund, Man City and Roma, to mention a few recent ones. The taste of triumph does not quite quench the thirst of glory. It makes those players, Klopp and the fans long for them again. Left-back and cult hero, Andy Robertson, said the Reds will be "full throttle" to win that first leg at Anfield.
If Liverpool can go into the second leg away in Munich with a solid lead then you have to make Jurgen's men favourites to qualify.
That first 30 minutes or so of the Quarter-Final against Man City last year everything Red blew the Mancunians apart.
That is what Liverpool can do. No other club has that ability where the fans and players work in tandem with each other to overwhelm the other team when both parties give it their all.
Those players will want to be heading to Old Trafford next Sunday knowing they have just beaten one of the world's greatest sides, while United have just been beaten by one of the world's great sides, PSG. After the match against United, which will be Liverpool's game-in-hand over Man City, Klopp and his men will want to head back home having served United another beating by one of the world's greatest sides.
If Liverpool come away with a result, they sit top of the table, with Man City playing their League Cup final against Chelsea that same day.
Just three days later, Watford come to Anfield, and West Ham travel to the Etihad.
Games like that are absolute must wins for both Liverpool and Man City, but West Ham proved against Liverpool not so long ago they will not roll over and got a 1-1 draw. City could be jaded from a cup final, where Chelsea will be seeking revenge following their 6-0 defeat to City last week.
Then just four days after that, the Merseyside derby will have creeped back upon us. Everton are in dire form this season, but never make it an easy day's work for their local rivals at Goodison Park.
So, going into this huge couple of weeks of big games, a win over Munich could get the ball rolling and set the precedent for the rest of the season.