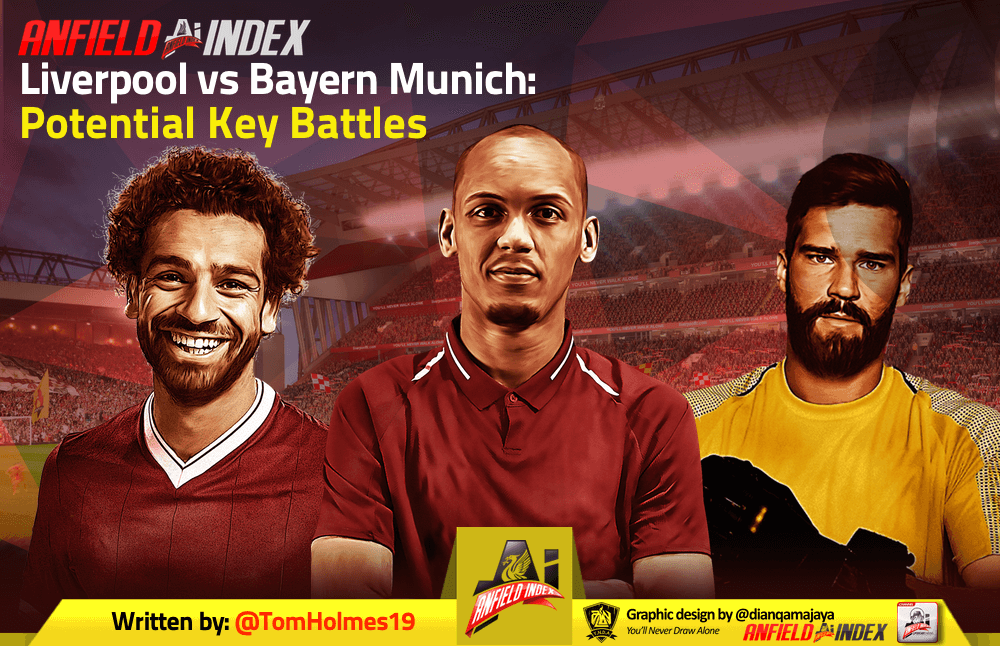 Liverpool vs Bayern Munich - Potential Key Battles
Liverpool host Bundesliga Champions and formidable opponents Bayern Munich on Tuesday on what is set to be an absolutely massive Champions League night at Anfield – the kind that usually leads to a colossal tussle. But the Reds are shorn of arguably their most impressive player in Virgil Van Dijk, and there's no telling quite how makeshift their defence will look – or the knock-on effect that this will have on the midfield. So what are the potential key battles from such a big game?
Mo Salah vs David Alaba
When one of your most important players is missing, the pressure is on the others to step up – and Mo Salah remains Liverpool's talisman. The best player in the Premier League, however, has struggled against top opposition this season, notching two goals and one assist in 11 games against top-six opposition, PSG and Napoli – with a goal and assist coming against Arsenal at Anfield. There are no two ways about it – for a player of his calibre, it's a poor return.
Salah is the player most capable of ripping Bayern apart, and we've frequently seen Klopp give Salah free-reign even against attacking full-backs like the dangerous Alaba. Whether this will work in Salah's favour, or whether it will allow Alaba to overload down Liverpool's right – an area where the right-back could well end up being James Milner, remains to be seen. It's also possible Klopp sticks Salah up front, but hopefully, he'll play off the right, where he's been at his most dangerous.

Fabinho vs Robert Lewandowski 
Right now, it's most likely that Fabinho will play against Lewa at the heart of the Reds' defence – alongside Joël Matip. It's possible that Henderson plays there, and it's very possible that a half-fit Dejan Lovren is thrown back in at the deep end, but let's be optimistic (?) and suggest Fab deputises there. That puts him under a lot of pressure, against one of Europe's best strikers.
Fabinho is a phenomenal player, but whether he would be up to such a task remains to be seen, and that'll make the midfield battle even more important, which is why you'd almost be tempted to make a sacrifice in defence to keep Fabinho shielding it. Nevertheless, if anyone can prevent Lewa scoring, despite being out of position, it's the Brazilian.
Alisson vs Manuel Neuer 
In a game of this magnitude, fine margins matter. Goalkeepers play an absolutely huge part, especially against two seriously firing attacks. Alisson has already demonstrated his importance to Liverpool in the UCL this season, but he remains in many ways, the great challenger – a goalkeeper of huge price tag and immense quality that is yet to quite be seen as one of the mainstream elite keepers.
And his opposite number is in many ways the opposite – a keeper that is still seen as elite and has been for some time but is struggling to maintain that perception as injuries have blighted his career and his form has suffered as a result.
Two goalkeepers then, who are extremely good at what they do, and arguably have a lot to prove, and with the quality of both teams in possession, it could come down to which of them can pull something magical out of the hat.