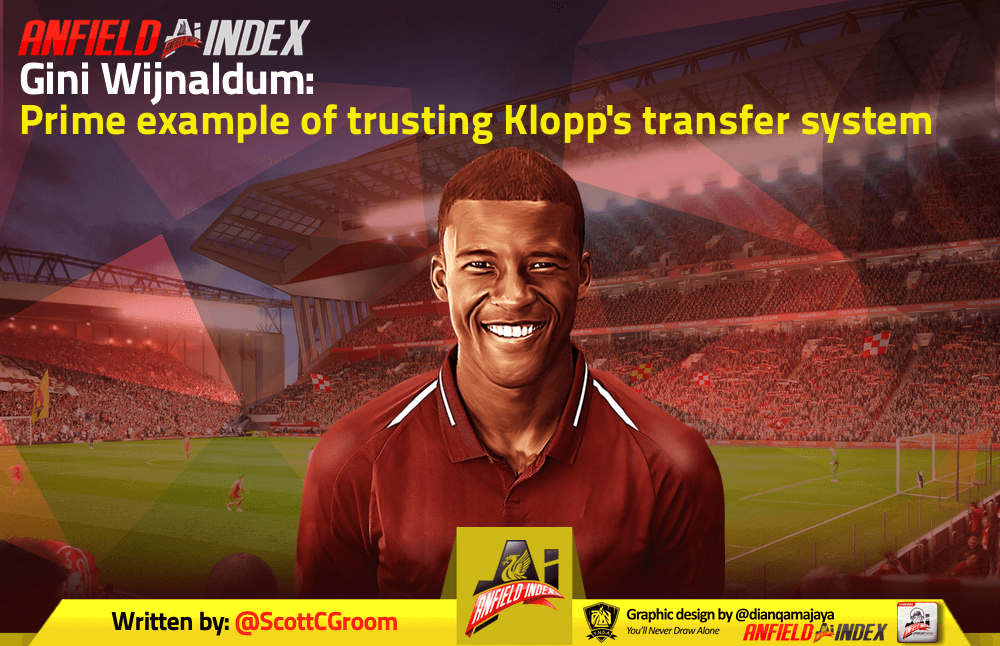 Gini Wijnaldum: Prime Example of Trusting Klopp's Transfer System
At £25 million, many Liverpool fans scoffed at the fee Jürgen Klopp forked out when signing Georginio Wijnaldum from Newcastle United back in 2016.
Fast forward almost three years down the line, and the Dutchman is a Kop favourite having cemented himself as one of the club's most important players – something that many didn't ever think was going to happen.
During his career at Anfield, Wijnaldum has adapted to a new, deeper role in Klopp's midfield and his recent absences from the side due to injury have proved just how much of a good job he does when deployed in the side.
His tireless work rate, ability to break up the play, spot passes and retain the ball, as well as being no stranger to driving forward and breaking opposition's lines have proved incredibly useful.
Perhaps then, this is a further example as to why Klopp's methods should only be questioned after a sustained period of time rather than at the point of sale.
Wijnaldum is not the only recent example, of course; we have to look no further than the likes of Andrew Robertson, Sadio Mané and Mohamed Salah as buys that perhaps people were little unsure of but have turned into incredibly shrewd pieces of business.
We as fans can be very quick to make snap judgements of players, and sometimes we're proven right.
However, a lot of the time, and especially with a large number of recent Liverpool signings, those instantaneous judgement calls have proven to be somewhat premature.
Referring back to Wijnaldum, he perhaps wasn't a player that instantly made an impact as Mané and Salah did, but that's because of two things: his role in the side and the fact that it and the midfield have been constantly evolving since his arrival.
Now that Klopp has what he thinks is a strong roster of midfielders, we can see the importance of Wijnaldum, and the high regard in which the boss holds him – which is as good a character reference as you can get.
Gini is a player that has regularly played more minutes and consecutive games than many of his teammates, and that's no coincidence. The man has been a revelation.
So if we take this rationale into our analysis of the January transfer window and our previews of what the summer window might hold for Liverpool, we should be glad that we didn't sign anyone in January.
Why? Because the right players obviously just weren't out there.
And then we should go into the summer window with an open mind, eager to see which players Klopp has had his eye on and what different attributes they can bring to this Liverpool team.
We certainly didn't see the Wijnaldum signing coming, nor did we have many indications that Andy Robertson would be Liverpool bound before his switch from Hull – but look at them both now. Integral Liverpool players in what could prove to be a landmark season.
Yes, as fans, we always want to see the big names coming to don the famous red shirt of Liverpool, doing the Melwood lean and touching the iconic 'This Is Anfield' sign in the tunnel.
But it's not always the marquee signings that make the biggest of differences. It happens sometimes that they prove to be some of the worst signings. I mean, just look at the much lambasted former Liverpool man Philippe Coutinho at Barcelona. It's hardly peaches and cream for him at the Camp Nou.
So we should look at Wijnaldum and think: "Yes, we'll have another couple of signings like you, Gini because you're just what we needed despite you not being the worldwide superstar that we can turn you into here at Liverpool."