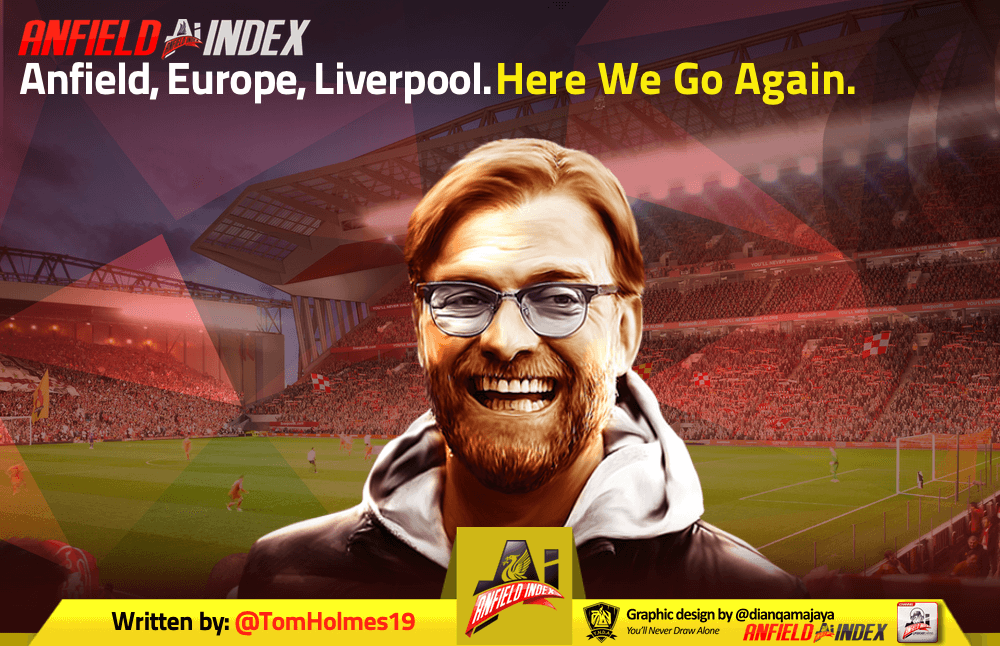 Anfield, Europe, Liverpool - Here We Go Again
Liverpool, Anfield, Europe. It's a combination that has a real history of magic. How many great teams have come to Anfield, expecting to get a result, and been summarily turned over, the sheer force of the stadium, the crowd and the team pulling through.
To be fair, in my lifetime, at least, that has certainly been helped by managers that have thrived in European competition. Rafa Benitez was an absolute master of the two-legged knockout, and Jurgen Klopp has a similarly impressive record, but the fact remains that Anfield has played an absolute huge role in that.
Under Klopp, in both last year's UCL run and the Europa League run of 15-16, Liverpool's success was underpinned by solid Anfield showings – particularly in the knockout stages. In 15-16, Liverpool won all four home legs, often in crucial circumstances. A 1-0 win over Augsburg kicked things off, before a scintillating 2-0 win over Man United gave the Reds a huge advantage going into the second leg at Old Trafford.

Then of course, Klopp demonstrated his prowess, coupled with the magic of Anfield, as Liverpool produced a genuinely incredible night to come from 3-1 down to knock out Borussia Dortmund 4-3 in the second leg at Anfield, before a dominant second leg performance in the semi-final against Villareal after a 1-0 defeat in Spain meant that it could have been backs against the wall.
Klopp then followed up 4/4 in knockouts at home in Europe and 4/4 in a two-legged knockout tie with last season's remarkable UCL run. Hoffenheim were the first to visit, full of confidence and confidently out of the game and 3-0 down within half an hour. Though in their defence, so were Manchester City, who also pitched up ready for a battle and were out of the tie within the first half of the first leg at Anfield.
Either side of this was a lame duck 0-0 against Porto, after the Reds had eviscerated them 5-0 away, and then the coup de grace as Liverpool were 5-0 up against Roma, another side taken out of the competition in the first leg at Anfield before they even had a chance to respond.
So 4/4 in terms of knockout wins over two-legs, and 3/4 for home wins, with those first legs taking the opposition out of the equation. And this is just the last two European runs under Klopp.
Focusing on Klopp himself for a moment, he's a manager with 12/15 European knockout wins, having taken Dortmund to the 2013 final, having not just won every two-legged knockout tie in the process – obviously – but winning every single home game along the way, reaching the final despite winning just one of their six games away from home that season – in the group stage against Ajax.
So the first leg at Anfield will be absolutely critical to Liverpool's progress. The crowd will make an intangibly huge difference, and Liverpool's keys to success when playing first at home in Europe has been to take the opposition out of the game, and hopefully not conceding along the way. Even without Virgil Van Dijk for the first leg, it's absolutely critical that Liverpool have a lead, and a clean sheet, to take back to the Allianz Arena, if they want to make it through to the next round.
And there's certainly precedent for it. Better teams than this Bayern Munich side have learned the hard way that Anfield can be a difficult place to travel over the years, and almost certainly against worse Liverpool teams. Even ignoring the explosive results obtained during the Klopp era at Anfield – the Reds have never lost at home in Europe under Klopp, winning 13 of their 16 home games – Anfield is a ground with a history of evening the score.
To swivel back to Benitez in the historic 2005 season. First there was the incredible 3-1 win over Olympiakos, a crunch night at Anfield where Gerrard etched his name into Champions League legend. Then, Liverpool proceeded to win all three knockout ties at Anfield – the excellent 3-1 home win against Leverkusen that set up a 6-2 aggregate win, a brilliant 2-1 win over favourites Juventus that ended up being enough to make the last four, and the tense, tight 1-0 win over Chelsea that proved enough to send the Reds to Istanbul.
06-07, Liverpool's next historic Champions League run, was also an interesting one, albeit one that relied slightly less heavily on Anfield. Nevertheless, the Reds still won six games out of seven at home that year, seeing off Maccabi Haifa in the qualifiers, Bordeaux, Galatasary, PSV (twice both in the groups and then in the quarters having already sealed the tie with a 3-0 away win in the first leg) and ultimately Chelsea in the semi-finals, another 1-0 win followed by a horribly tense penalty shootout. The only team to travel to Anfield and win that year were reigning European Champions Barcelona, who still crashed out on away goals having lost 2-1 at the Nou Camp (Liverpool remain the only English side to ever win there).
There were even more wins to come there in Rafa's years, as Liverpool saw off Toulouse, Porto, Besiktas, Inter Milan and Arsenal in 07-08 on their way to the semi-finals before another clash with Chelsea. This time the Blues got the better of Liverpool, a 1-1 draw at Anfield in the first leg enough for Chelsea, who won the second leg at the Bridge. Nevertheless, Marseille were the only team to win at Anfield that year.
And it was, frustratingly, Chelsea again who saw off the Reds, the only team to win at Anfield in the 08-09 season that saw the mighty Real Madrid come to Anfield and have their goalkeeper be the man of the match … in a game that they lost 4-0. This is probably the best example of what we're talking about in this article – a team that was one of the best in Europe, rocking up to Anfield, and not knowing quite what hit them as Liverpool produced one of their greatest wins in the competition.
And whilst that level of result isn't necessarily required on Tuesday, it absolutely would be useful. This Liverpool side have demonstrated that they're a different animal in Europe, but their patchy away form under Klopp in Europe means that they absolutely need to make the most of fortress Anfield – especially against a team of the calibre of Bayern Munich.
For me, this is a tie that will be won or lost on Tuesday night – leaving it in the balance before the second leg at the Allianz would set Liverpool at a significant disadvantage. They need to make the most of their incredible home form under Klopp, make the most of Anfield while they have it, and do what they've done time after time at home over the years in Europe, both under Klopp and Benitez, and of course even before that.
Win the game in the first leg. Keep a clean sheet and put the away goals in play. 2-0 would be a dream result right now, and what's scary is that this Liverpool side, which are actually arguably even potentially better than Bayern on paper, are not only more than capable of delivering that, but capable of delivering better still.
This is a Liverpool side that less than 12 months ago upset the apple cart against Man City, and then systematically took Roma apart – both using the first leg at Anfield as a weapon, well aware that with the second leg away from home, they needed to take a lead there.
And this Liverpool side is better than that Liverpool side. They're probably better than the side that beat Juventus in 05 and the side that took apart Barcelona at the Camp Nou, and they're arguably on a par with the 09 side that gave Madrid a hiding. This Bayern Munich side are an incredibly good team, with fantastic European pedigree, but they don't look like being Champions of Europe this year, at this point they look like they might struggle to be Champions of Germany, sitting potentially five points behind Dortmund when they kick off against the Reds on Tuesday.
None of this is to say that Liverpool are favourites, or can afford to show complacency. Losing VVD and being down to the barebones at centre-back before the first leg is a huge blow, and one that it's essential that Liverpool get through if they're to stand a chance of making the last eight.
But Anfield has done magical things before in Europe, and this Liverpool are incredibly well-placed to deliver another incredible European night. Let's just hope that they do so.