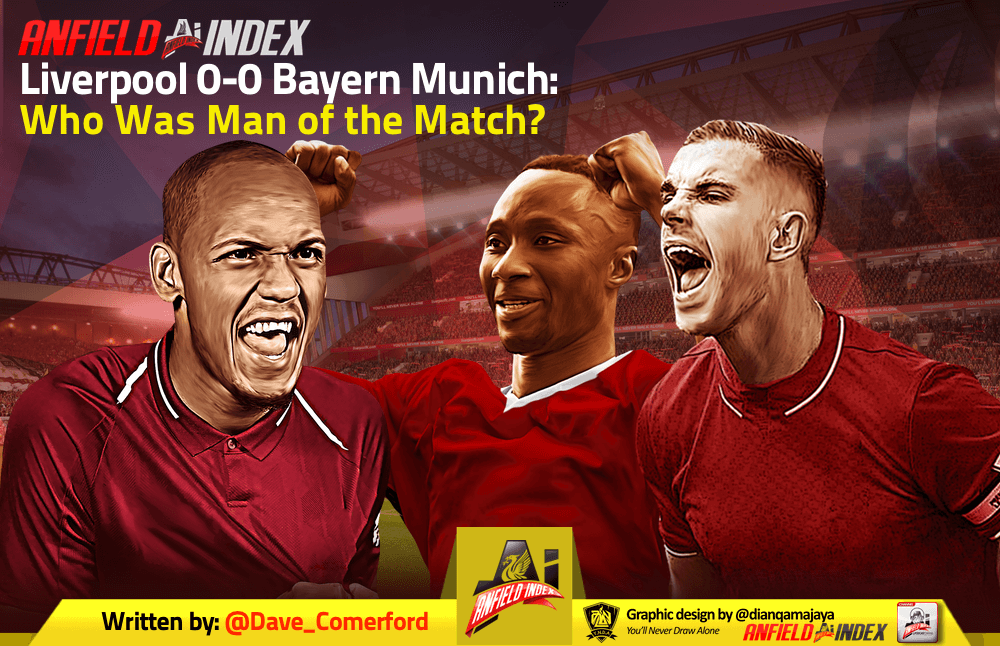 Liverpool 0-0 Bayern Munich: Who was man of the match?
It may not have been another great European night Anfield, but it's hard for Liverpool fans to be too disappointed with a goalless draw against a Bayern Munich side who issued a reminder of their class.
Aside from a rather frantic ten-minute spell just before the break, the Reds struggled to fashion out many openings against their cautious and regimented opponents, who executed their game-plan well.
Importantly, though, there were relatively few nervous moments at the other end, even with usual fourth-choice Joel Matip alongside makeshift centre-half Fabinho at the heart of defence.

Their quality didn't shine through this time, but Jurgen Klopp's men will nonetheless be confident of securing a score draw, or perhaps better, when they head to the Allianz Arena in a fortnight's time.
Alisson can expect a busier night in Germany, where the onus will be on Bayern to attack. The visitors could only muster two shots on target, and the Brazilian dealt with both comfortably. He did, however, set pulses racing on one or two occasions with some risky passing out from the back.
Trent Alexander-Arnold returned to the fold at right-back and was solid defensively, making three tackles and interceptions, but struggled to make an impact in the final third, his set-piece delivery often wayward. Only four of his eleven balls into the box found a red shirt.
Fellow full-back Andrew Robertson also failed to contribute going forward, and was uncharacteristically suspect defensively as Serge Gnabry tormented him. It was a very rare dip from the Scot.
But Fabinho and Matip, a pairing which failed to inspire any real confidence on paper, were both excellent. The former, who may well have saved his side with a brilliant challenge on Lewandowski – starved of opportunities all night, was so impressive in unfamiliar territory, while the latter, to his great credit, compensated effectively for Virgil van Dijk's absence.
It was just a shame that two big chances fell to the big centre back. He certainly won't want to watch that second-half slice ever again.
In midfield, Gini Wijnaldum wasn't quite as effective as in his starring display against Bournemouth, but once again he played his understated part.
Naby Keita built on a promising display against the Cherries with a good all-round performance which included three tackles and a team-high four successful dribbles. He looked desperate to make something happen, ambitiously driving into space and even acrobatically going for goal in the first half.
There were still one or two frustrating moments – he twice failed to thread through a charging Robertson for instance – but undoubtedly the 24-year-old is on an upward trajectory.
Meanwhile, it wouldn't quite happen for Europe's most feared frontline. Mohamed Salah had a frustrating evening, typified by a slightly heavy touch and a near-collision with Wijnaldum as he wound up a shot, and struggled to find space in the areas from which he is often clinical. Perhaps that's a credit to Bayern's marking.
There were openings for Sadio Mané though, but not for the first time he failed to display the required composure. His swiveled miss was arguably the Reds' best chance of the night. In truth, he fluffs his lines too often – it's one of few weaknesses in his game which will have to be ironed out.
Mané ultimately drew more groans than bursts of applause, surrendering possession five times and failing to play through Divock Origi late in the game – either because of a lack of a vision or poor decision-making.
Roberto Firmino, the driving force behind the flurry of chances late in the first half, was the brightest of the three. His play was full of invention and inspiration at times and was deserving of a tangible reward. Three key passes, two dribbling runs and two tackles – it was almost vintage Firmino.
But the man of the match, on balance, was the skipper Jordan Henderson.
Just as he did last season on the biggest Champions League nights, Henderson turned in a real captain's performance and rose fearsomely to the occasion.
One of the criticisms often levelled at Steven Gerrard's successor is his supposed inability to lead by example, but that's just what he did, in the first half especially. Henderson grabbed the game by the scruff of the neck with his team-mates hesitant, charging into tackles with conviction (nobody in red made as many) and looking to kick-start attacks.
Most encouragingly, there was some incisive forward passing on show. One delightfully executed long ball to Salah very nearly proved to be the moment of the magic which yielded an opener for the Reds. It was a stunningly good bit of play.
Though he couldn't quite make the same impact after the break, Henderson's application was relentless and he continued to use the ball well.
Perceptions of the 28-year-old really ought to be changing. There's reason to question if he will ever truly dismiss his doubters. There will always be those who reject his worthiness of the armband. And yet in the biggest games, with his team fighting for the biggest honours, he is developing a habit of silencing them.
He may not always be out there on the pitch – the form of himself, Fabinho and Wijnaldum gives Klopp an embarrassment of riches in defensive midfield – but his leadership may well prove crucial in what is shaping up to an emotionally-demanding few months.
And based on this performance at least, he is relishing that task.