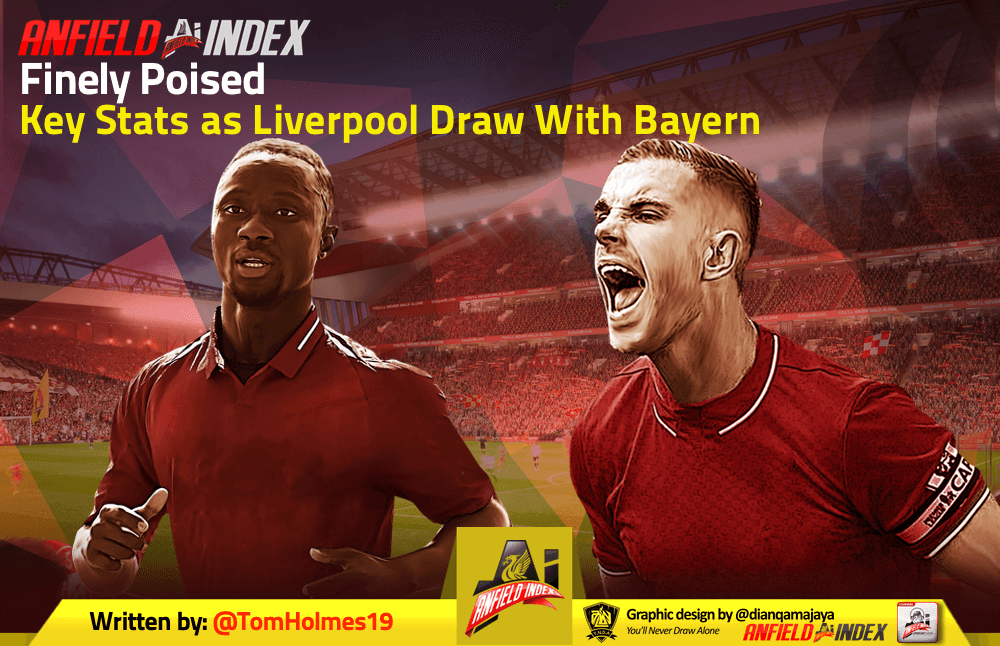 Finely Poised - Key Stats as Liverpool Draw With Bayern
Liverpool's Champions League Last 16 tie with Bayern Munich is extremely finely poised following a tense and interesting 0-0 draw at Anfield that left Liverpool ultimately frustrated but bang in the tie. Bayern got the result that they ultimately played for, and whilst the lack of an away goal is a relief for the Reds, they still have to go to the Allianz knowing the opposition will be minor favourites for the tie now.
A Game of Two Halves
Whilst the numbers will say that Liverpool created three big chances and amassed between 1.8 and 2.5 xG depending on which model you want to use, the fact remains that those were all created in the first half – with Matip, Mané and Salah all failing to hit the target.
On the other hand, it took the Reds until the 80th minute to even muster a shot in the second half, and ultimately, it's hard to argue that you deserve to win a game in which you have one shot on target, even if for large swathes of the first half you were the better side. Personally, I think it was a slightly more even game than the numbers suggest, and the second half especially, Bayern will be very happy with their performance. Nevertheless, it would have been entirely different if Mané, in particular, had been more composed in front of goal.

Hendo and Keita Combine
Jordan Henderson and Naby Keita are two players who have had largely mixed seasons, but both were absolutely fantastic in this game. Off the ball, both players made a huge contribution – Hendo 4/5 tackles and Naby 3/3, as they were able to harry and harass Bayern's midfield.
This was also one of Keita's more all-around bombastic performances, as he had three shots and completed three dribbles, as well as creating a chance. Hendo also created a chance for Mo with a lovely raking pass, and his passing game was much more direct, as despite having the most passes in the LFC team (72), his passing % was lower than usual at 81%.
Another player who had a solid game was Trent, who off-ball dealt well with Kingsley Coman, winning 3/3 tackles and making three interceptions, as well as creating four chances, including Salah's big chance. Whilst his passing was often very sloppy (as low as 59% which for a FB is low), he nevertheless contributed massively.
How Does The Tie Sit?
A goalless draw is an interesting scoreline. Here, Andrew Beasley assesses the history – that seven of the last ten Last 16 ties with a 0-0 first leg have been won by the side at home second leg. That, of course, has to be caveated that generally teams who have topped their groups will be stronger teams anyway, and largely those seven games have gone to form. Nevertheless, for all the talk of how LFC only need a score draw at the Allianz, none of those ten games were a score draw, with one game ending 0-0 and going to penalties.
From an LFC perspective, again Beasley has me covered. Liverpool actually have quite a good record, securing one away win and two away score-draws to make it through after drawing 0-0 from their last four attempts, with games against Bayern in 1971 and 1981 producing one score-draw and one defeat. Conversely, Liverpool secured a 0-0 draw at Stamford Bridge in 2005, and we all know what happened in the second leg at Anfield. The Reds have also won a game on a coin toss (no seriously) in 1965 after two goalless draws against Cologne.