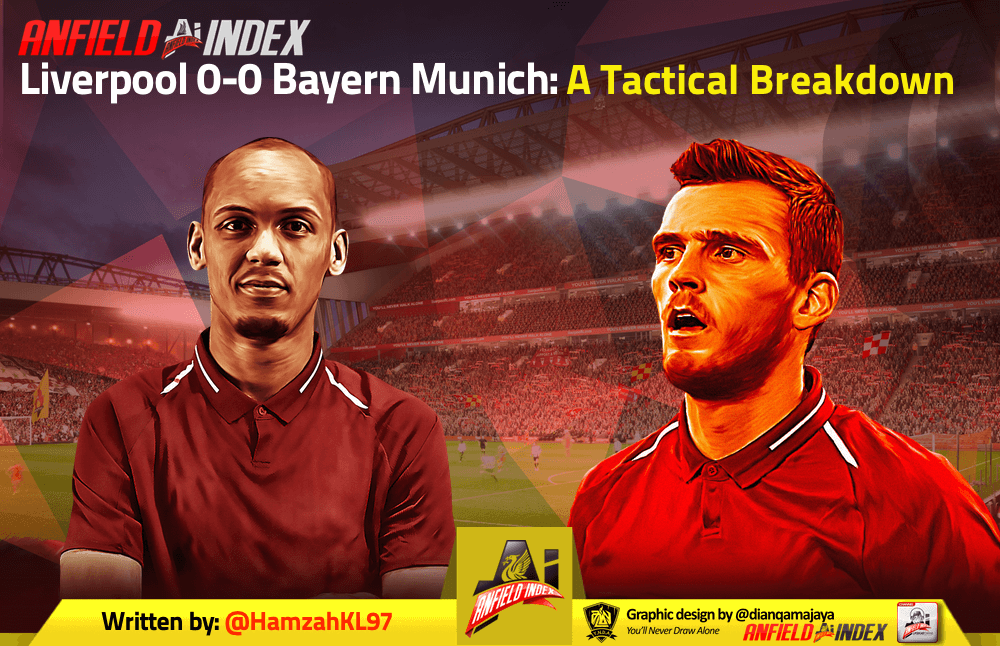 Liverpool 0-0 Bayern Munich: A Tactical Breakdown
There are very few clubs with the prestige and history of Bayern Munich. Irrespective of their current form or standing, when a club such as Bayern Munich, Real Madrid or Barcelona are set to visit, everyone sits a little straighter. These fixtures are precisely what makes Europe's premier competition the best club competition in the world, in any sport.
Yet when Bayern Munich were drawn against Liverpool, it was one of the few occasions that they were not immediately considered favourites. This only serves as testament to the pace of Liverpool's sensational rise under Jürgen Klopp, that they are now considered favourites against their fellow five-time European champions, and serial Bundesliga winners.
However, the Champions League has largely played to Klopp and Liverpool's advantage over the past year. Liverpool, as a counter-pressing side, and with forwards who excel at running into space are far more likely to perform to a higher level when pitted against sides committed to expansive, open, attractive football. Indeed, that was the case for much of the first half, where Liverpool appeared by far the better side. However, as the game went on, Bayern and their manager, Kovac, readjusted their setup, to something much more conservative, leading to a much drabber second half, relative to the explosive, dramatic events of the first.

Liverpool's setup
As expected, Liverpool reverted to their "big-game" 4-3-3 system, with Mohamed Salah out wide, on the right side, theoretically more able to run into and attack space, and also generate one-on-one opportunities with the opposition fullback. Firmino featured as the false nine, with Mané on the left side. In midfield, Henderson came in as the deepest midfielder, and Naby Keïta and Georginio Wijnaldum positioned themselves as the two "number eights", ahead of Henderson.
Trent Alexander-Arnold made his return to the starting XI but alongside a makeshift centre-back pairing of Joel Matip and Fabinho.
Bayern's setup
Bayern initially opted to match Liverpool's 4-3-3, with Gnabry and Coman looking to break into space on the wings, or at Liverpool's centre-backs when Liverpool's fullbacks were pushed up.
Their midfield of Thiago, Javi Martinez and James Rodriguez was supposedly meant to facilitate these counter-attack opportunities, and also create opportunities in possession, as Bayern usually do. This would be supported from build-up play from deep, starting with Manuel Neuer. Yet for the first half, Bayern were simply unable to do so as Liverpool overwhelmed them, and pressed high, forcing turnovers in the middle of the pitch from speculative passes, or forcing Bayern to clear into touch.
For the first half, Liverpool were by far the better side, creating a number of chances from which they certainly should have done better. Of the 10 Liverpool shots in the first half, three were classed as "big chances", yet only one was on target.
Bayern's midfield was far too open, and Henderson, Wijnaldum and Keïta dominated, moving the ball forward with ease, either through their dribbling or passes, and accessing the forwards, who were in space. The space between each of Bayern's lines: defence, midfield and attack, was too significant and allowed the Liverpool players to operate in the halfspaces, and in the pockets between vertical lines. As Bayern attempted to press up too, this played into Liverpool's hands, as Alisson, Matip and Fabinho were all more than willing to move the ball forward into the midfielders, thereby taking a number of Bayern forwards and midfielders out of the game.
Indeed, early on, Henderson played a superb long pass in behind, which Salah met on the volley, albeit tamely. In the first half alone, Henderson made five ball recoveries, three tackles and an interception. It was simply a fantastic performance from Liverpool's captain, a rounded, controlling and disciplined effort, which allowed Keïta and Wijnaldum to thrive, and thrive they did.
In the first-half Keïta was an active participant in the final third, making nine out of fifteen passes, and two out of four inside the penalty area. Furthermore, he managed more forward passes (12 successful from 18 attempts) than backward ones (10 from 10), and these coupled with his four-ball recoveries, three tackles and four take-ons too.
Wijnaldum was excellent too, succeeding with three of his four attempted take-ons in the first-half, testament to the clear intent and ability of Liverpool's midfielders to drive forward.
As the image below, from StatsZone shows, Wijnaldum was simply everywhere in the first half (download the StatsZone app here: statszone.app/ios).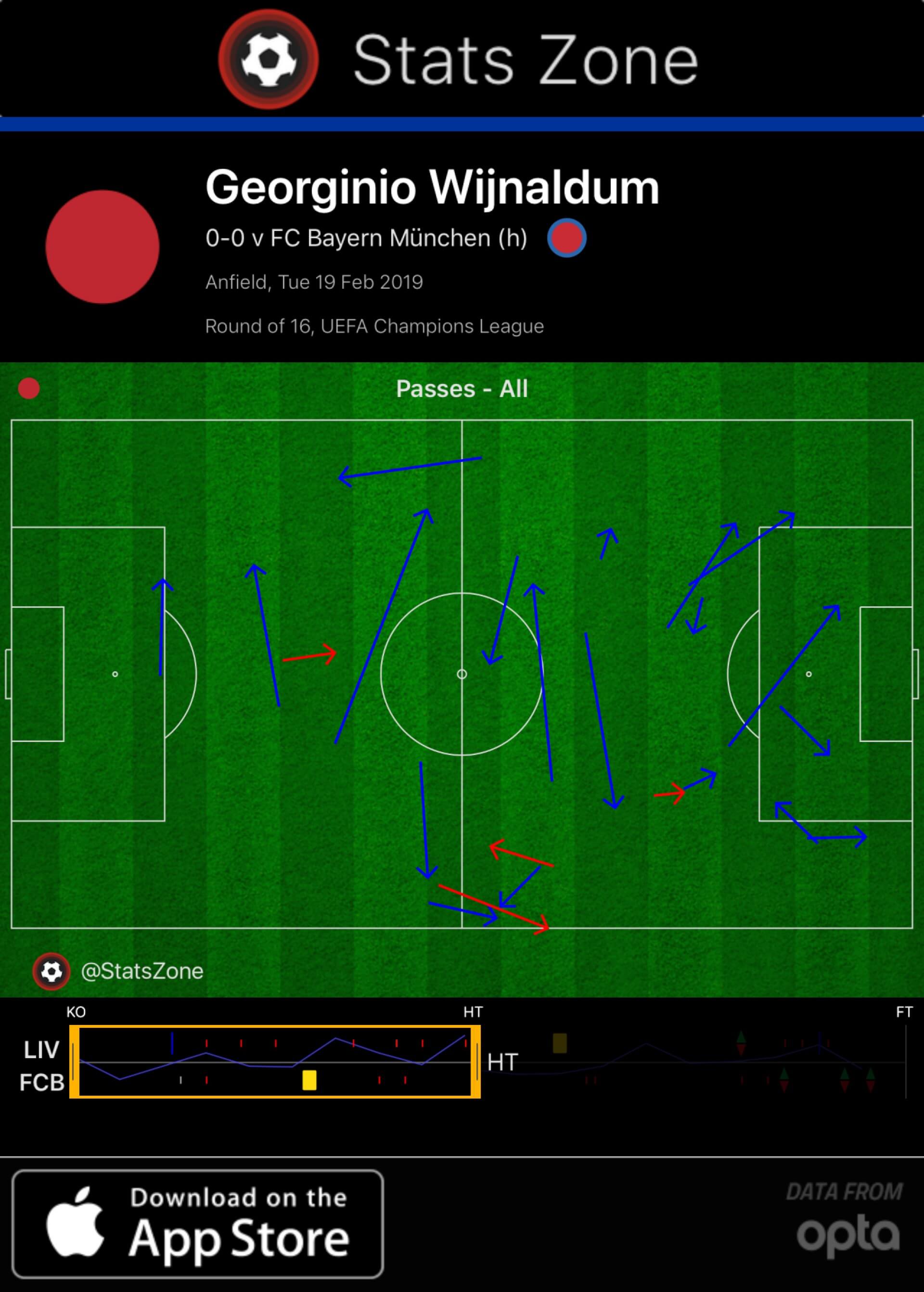 By the second half, as a result of the smattering of chances which came Liverpool's way, but went unpunished, Bayern had realised their desperate need to change the system.
Bayern moved into a 4-2-3-1 system and had Thiago (who already displayed his remarkable press resistance in the first-half) play alongside Javi Martinez in a deeper role, whilst James Rodriguez moved to a central midfield position, compared to the number eight role he was playing earlier.
Through changing system, but also the way they were playing in possession, Bayern were able to massively reduce Liverpool's ability to win the ball and create chances.
Bayern took a leaf out of Manchester City's gameplan at Anfield earlier this season, and attempted to channel their build-up from the back through wide areas, rather than the middle, thereby avoiding Liverpool's pressing in the centre of the field, and looking to exploit the high positions of the Liverpool fullbacks, by using the "up-back-and-through" method, and though using close, quick combination passing triangles in the channels, before releasing the ball into their wingers.
The graphic below illustrates Bayern's passing networks, and we can see a concerted effort in terms of sheer volume to pass in the wide channels, and to avoid the middle of the pitch.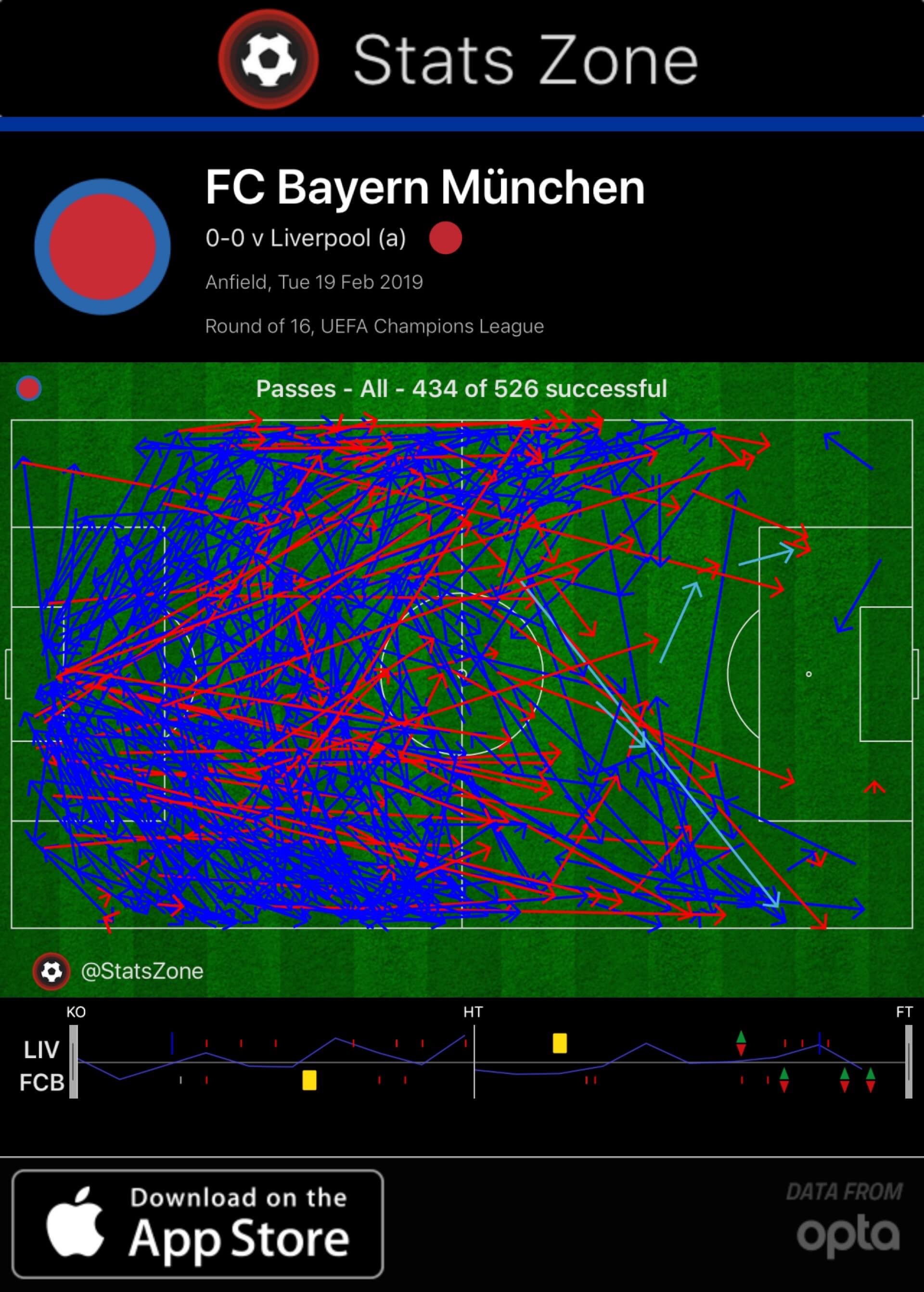 The Liverpool graphic though serves to illustrate the clear attacking intent from the side, but also the poor pass quality in the final third in key moments, something which Klopp bemoaned in his post-match press conference.
"Our last pass was not our friend tonight, we had 10-12 situations where everything was prepared, everything was on a plate, then we played a very average last pass, or gave it away, [which] led to turnovers and counters]"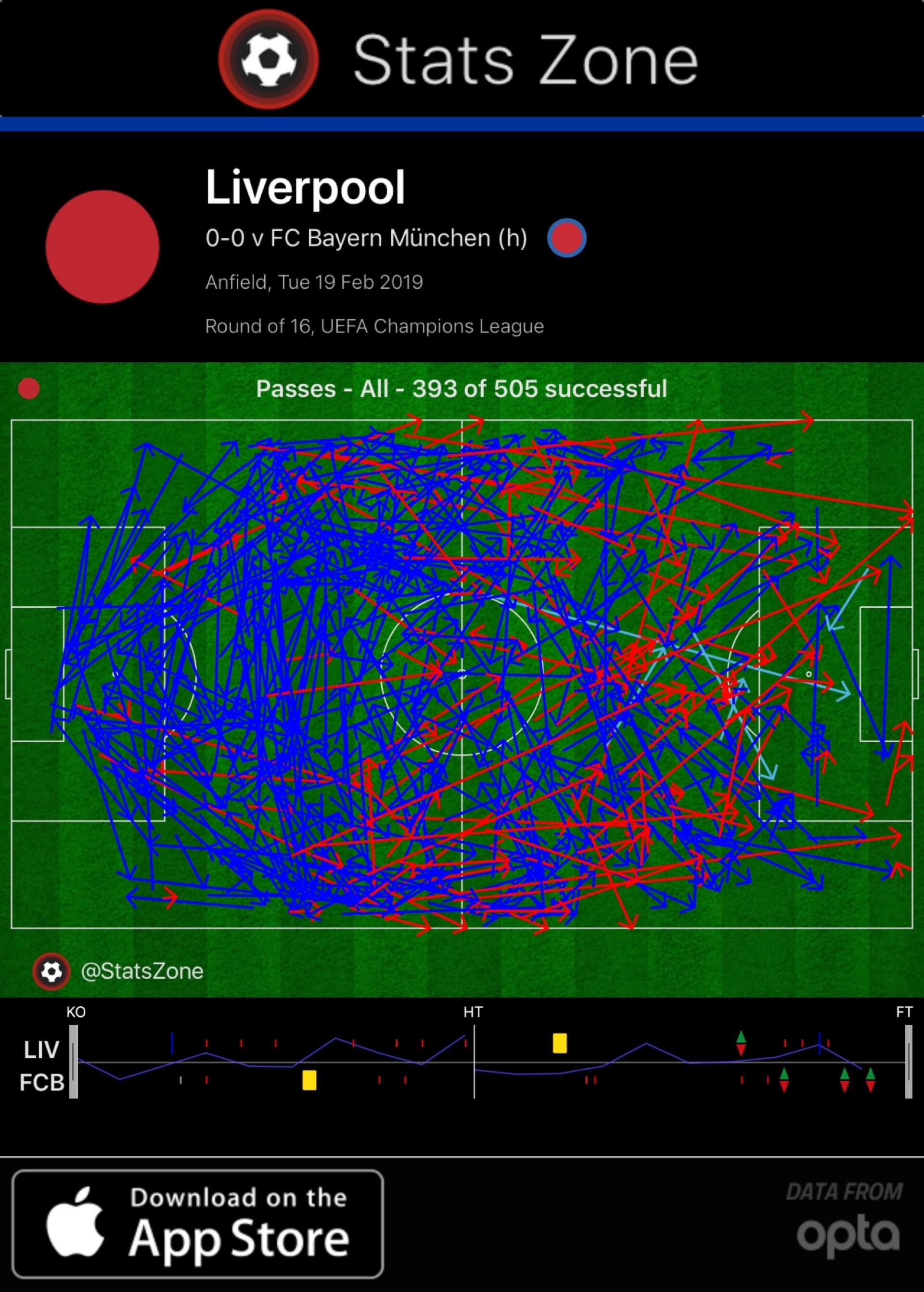 Klopp also drew attention to the unprecedented shift made by Bayern with regards to their system and approach in the second half:
"There were a lot of situations which I didn't see when we watched [scouted] Munich

…fullbacks stayed in their own half, protecting, how Gnabry defended on the wing, in two on one situations"
The work of Alaba and Kimmich cannot be understated. Whilst they may have received support from their wingers, even when caught in one on one situations, the pair performed superbly, keeping Mané and Salah from wreaking havoc.
Additionally, Klopp detailed his thoughts on Liverpool's pressing, and on-ball impetus in the second-half,
"Both teams tried to press, but we did it a little today, but it's difficult against Bayern when they are playing so deep.

"We were too passive at the end, we need to be more courageous going forward."
Liverpool may well look back and see this game as a missed opportunity. The side dominated for the opening forty-five but struggled to exert that same level of control and attacking intent once Bayern switched tactics. For a side without its two first-choice centre-backs, a clean sheet against Bayern Munich is only to be applauded, but when we consider the chances which went Liverpool's way, it's hard to not come away feeling that Bayern are the much happier side of the two.
The xG figures support this (2.2-0.5), but perhaps there is a lot to take from an absolutely superb first-half, in which Liverpool could have decided the tie. Nonetheless, beyond a goal, there is little more we could ask for, and as a performance, the first half was utterly brilliant. Finding a way around a side which elects to build-up in wide areas is the next tactical challenge for Liverpool, but likely a challenge they will not need to contend with at the Allianz, where Bayern are far more likely to play a style which Liverpool may profit from.
xG map for Liverpool – Bayern. Both sides had to cobble together a lineup without some key pieces but only Bayern looked it. They managed to scrape, claw and sadio-mane-missing-shots their way to a fortunate 0-0. pic.twitter.com/Vr3FcDTCdb

— Caley Graphics (@Caley_graphics) February 19, 2019