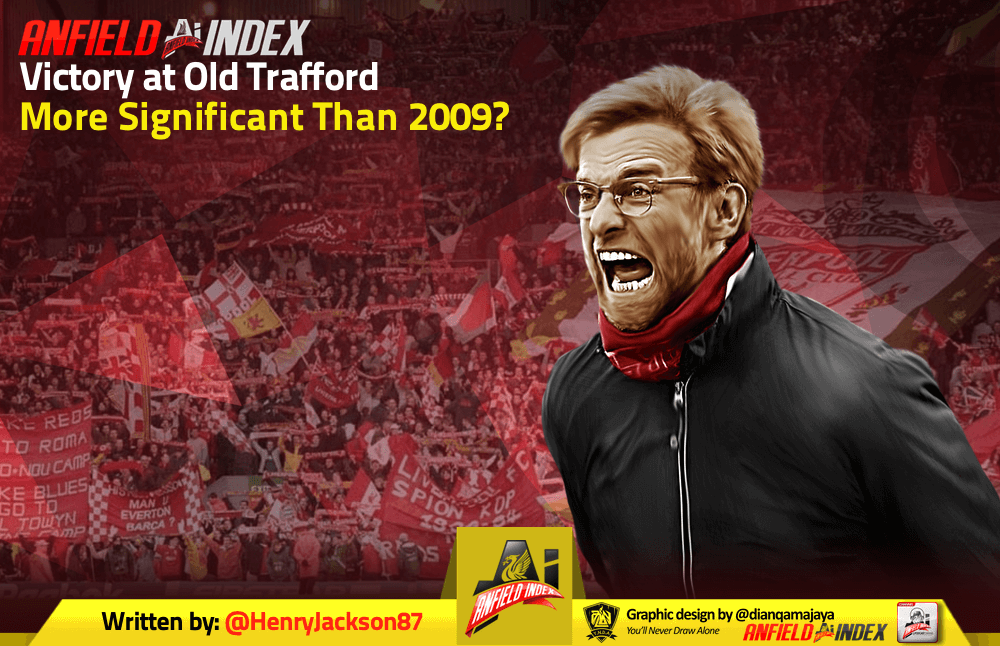 Victory at Old Trafford More Significant Than 2009?
Liverpool's 4-1 win at Man United in 2009 remains my favourite-ever away win by the Reds, in any competition.

Having started supporting Liverpool in 1994, it took until December 2000 to even see them prevail at Old Trafford, as Danny Murphy scored the only goal.
He went on to do that twice more in the next three and a half years, during the only golden spell away to United in the last 25 years.
While those trio of 1-0 victories were all a joy – one was a Saturday 3pm kick-off, which remains bizarre to this day – they were never close to being as emphatic and significant as the one that occurred at the end of that decade.
Liverpool went into the 2009 clash seven points behind a superb United team featuring Nemanja Vidic and Rio Ferdinand in defence and Cristiano Ronaldo, Carlos Tevez and Wayne Rooney leading the line.
They simply had to win to keep their Premier League title hopes alive and when Ronaldo fired home a first-half penalty all hope seemed lost.
Cue one of the most enjoyable turnarounds in Liverpool's history, as Fernando Torres and Steven Gerrard sent Rafa Benitez's men in 2-1 up at half-time, before Vidic was sent-off, Fabio Aurelio curled home the resulting free-kick and Andrea Dossena put the icing on the cake.
It felt huge, putting the Reds four points adrift, and while they couldn't go on to clinch glory – that Federico Macheda goal swung it in United's favour – nothing can take anything away from the magnitude of that occasion.
Fast forward a decade and Liverpool head to Old Trafford for an even more important game – arguably the most pivotal trip down the M62 since the Premier League's inception.
Jurgen Klopp's men sit level on points with Man City but second in the table on goal difference, but they have that all-important game in hand in their locker.
That happens to be a trip to Old Trafford, and it feels season-defining – a potential sliding doors moment, if you will.
United are a completely different proposition to the team that Liverpool swatted aside 3-1 back in December, in what proved to be Jose Mourinho's last match in charge.
They have got their attacking zest back, their supporters feel painfully cocksure again – you're still fourth lads, and you just got handed a beating by Paris Saint-Germain – and they will be baying for blood on Sunday afternoon.
Enhancing their own chances of a top-four finish is obviously a primary aim, but denting their biggest rivals' title bid will be just as important to them.
The majority of United fans are willing on local adversaries City this season, which just about sums up their level of hatred for the Reds, and how painful they will find seeing Jordan Henderson lift the trophy aloft in May.
Liverpool will arrive to a cauldron of noise and hate and it really is one of those games where anything feels possible.
It could be a dour 0-0, with both Klopp and Ole Gunnar Solskjaer ultimately seeing a draw as adequate. It could be a 3-3 classic. There may be a last-minute winner for either side. One team could thump the other. A shocking refereeing decision could decide it all.
I'm terrified just thinking about it.
The one thing that is clear is that victory for Liverpool would not only trump that memorable 4-1 win 10 years ago, but also have the potential to be their most important victory of the season.
The confidence and momentum that it would give them cannot be put into words, especially after City have caught them up recently and the lazy 'bottler' tag has reared its ugly head again.
City play Chelsea in the League Cup final straight afterwards on Sunday, and when they are likely celebrating on the pitch at Wembley having dispatched of the Blues, the hope is that Liverpool have won and it has knocked the stuffing out of them somewhat.
Defeat, on the other hand, would feel truly crushing for the Reds, and make Pep Guardiola's champions strong favourites to be the first team to seal back-to-back Premier League titles since that aforementioned 2008/09 United team.
A draw is a result that will no doubt leave many tearing their hair out, which sums up what a mad state of affairs this season is, in terms of City's relentless nature.
Getting a point at Old Trafford should never be sniffed at and it would literally put Liverpool top of the Premier League in late February. It would be fine.
Yes, we all want to win, and a draw would still give City a boost of sorts, but offer me that now and I'm taking it.
The biggest concern is Liverpool freezing on the big stage, as they have become accustomed to doing in big away games this season.
That particularly applies in the Champions League, where they were largely wretched against PSG, Red Star Belgrade and Napoli, but they weren't at their best at Chelsea, Arsenal and City either.
Tests don't come much bigger than this for the Reds in a title race and we are about to learn so much about the quality and mettle of this side.
They are superior to United and have every chance of picking up only their second victory at Old Trafford since the 4-1 – if they do, a title win will suddenly feel very real.
Liverpool are due one there.