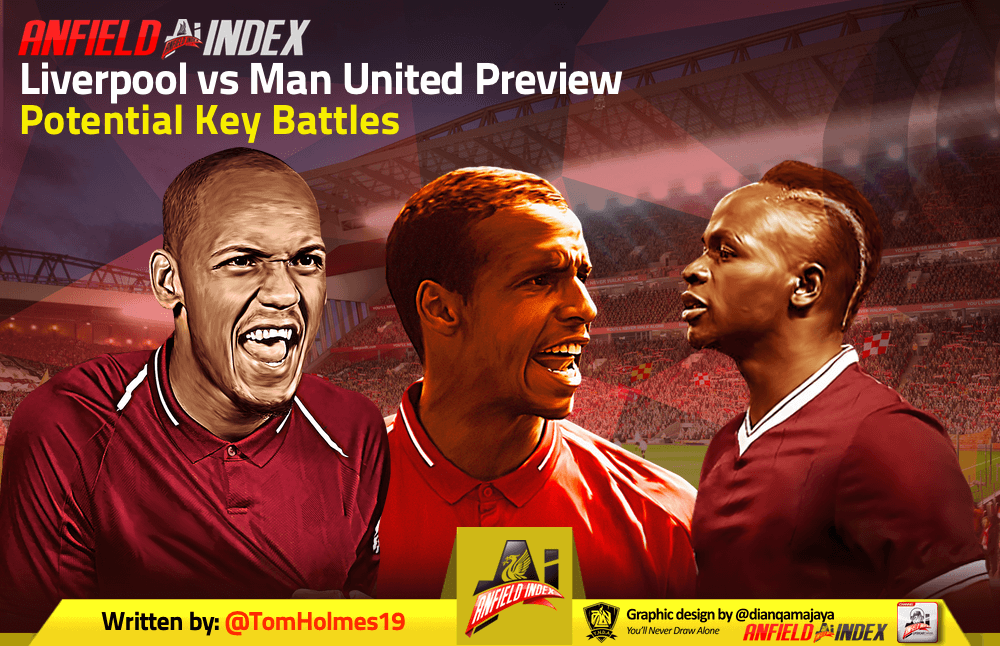 Liverpool vs Man United Preview - Potential Key Battles
Liverpool face Manchester United at Old Trafford. To be honest, no other context should be needed to demonstrate the sheer weight of this fixture, as it's probably the biggest fixture in the history of English football and remains arguably the biggest fixture on the calendar.
But in case more emphasis was needed on this game, Liverpool currently sit second place in the Premier League, behind Man City on goal difference with a game in hand – this game at Old Trafford. Win or even draw, and the Reds remain in the box-seat. But defeat sees City take the lead at the top of the table. The stakes couldn't be higher for Liverpool. So what are some of the potential key battles in this game?
Fabinho vs Paul Pogba 

Pogba is a player reborn under Ole Gunnar Solskjaer. Make what you want of his attitude or his battles with Mourinho, but this is a player in hot form, and absolutely critical to the way Man United play. Liverpool will take heart from Pogba's performances, or lack of, against higher quality opposition over the years, most recently against PSG where he picked up a red card after a dismal match of being kept out of the game by Marquinhos.
The man Liverpool will surely designate to keeping Pogba from influencing this game will be Fabinho, who has developed into an absolutely crucial player for the Reds, and is perfectly suited to the task at hand. Silencing Pogba will be the key to beating United, so if Fabinho has a stormer, the Reds will win in my opinion.
Joël Matip vs Marcus Rashford
It's not clear whether Marcus Rashford will line up off the left for Man United, with Antony Martial expected to miss the game, or whether he will stay up front, but either way, you would expect him to work the channel between Trent and Matip, and with the way Liverpool attack, you would also be surprised if Rashford wasn't able to isolate Matip on a few occasions.
Matip is possibly the anomaly in what is otherwise an incredibly fast Liverpool defence, but his one-on-one defence has been absolutely critical at times over the last month or so, as he's tried to play his way into some good form. Nevertheless, you sense that Rashford could cause him real problems, and how Matip is able to cope with the pace and skill of the talented young English forward will go a long to deciding whether Liverpool are able to keep a clean sheet.
Sadio Mané vs Ashley Young
If there's a weakness to this United side, it's in defence, and Sadio Mané is in a hot run in the Premier League – having scored four in his last four league games. Ashley Young is not a Premier League right-back, and has consistently struggled this season, despite successfully fouling Mo Salah out of this fixture last season. With Salah struggling in big games this year, Sadio has consistently been asked to step up, and it was this battle that led to Liverpool's opening goal at Anfield in their 3-1 win in December. If Mané can exploit this United weakness, then Liverpool could have a lot of attacking joy.