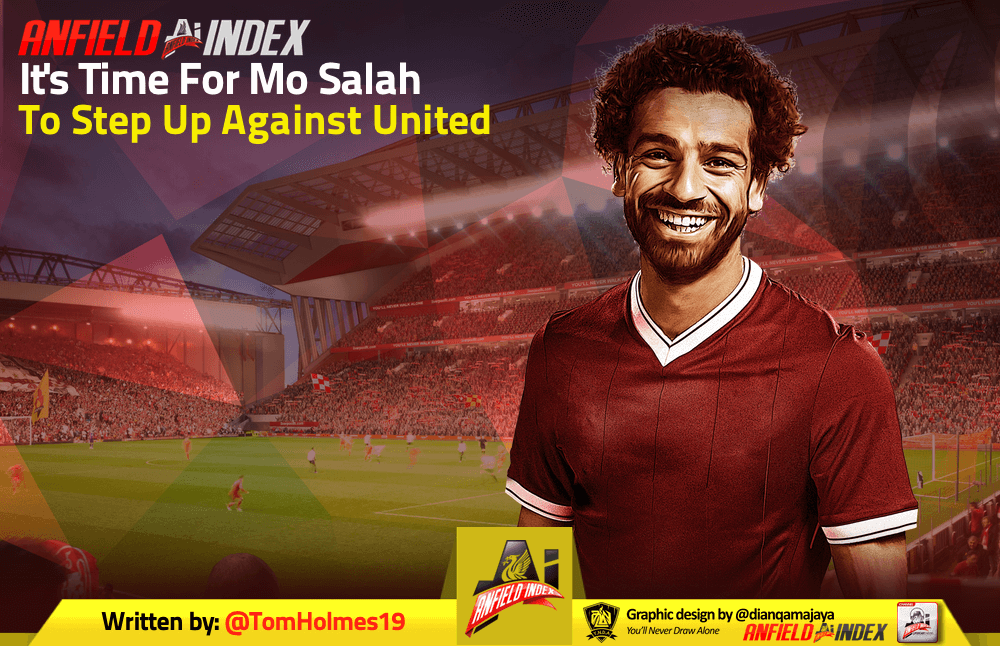 It's Time For Mo Salah To Step Up Against United
This is going to be a controversial one, eh?
I love Mo Salah. I think he's the best player in the Premier League, I think he's the best player Liverpool have had in a long time and I think he's plausibly the third best player in the world. He's a vital cog in our attacking unit, I'd be tempted to give him Player of the Year again, and I think he's capable of bringing us a crapload of trophies.
But he's not contributing enough in big games.
Last season, Mo scored seven goals and notched two assists in ten games against the PL's top six, as well as scoring in both UCL legs against City and notching two goals and two assists against Roma at Anfield, as well as goals against Porto and Sevilla.
Against the top six last year, Mo averaged 0.58 xG/90, compared to 0.77 which was his league average, and managed just 0.15 xA/90, compared to a 0.25 average. This would be expected, given that generally the top sides are harder to create chances against, and even if seven goals and two assists in 853 is a stunning return of 0.74 goals per 90 and 0.95 GA per 90, it's still comfortably lower than his PL average of 0.97 goals per 90 and 1.30 GA/90.
So last season, Mo was still damn good against the top sides, even though you could reasonably expect his output to be worse than average given the fact that the opposition were of a higher calibre, and on a couple of occasions, exceptional defensively.
However, Mo has simply failed to match that output this season, comfortably so. On a game by game basis, it's fair to say that Mo hasn't been terrible against the big six, but sadly his output simply is. He's scored one goal in 607 minutes this season against the big six, a penalty at home to a woeful Arsenal side, which is also the only game he's notched an assist in.
And his underlying numbers aren't terrific either. His xG/90 is down to 0.45 overall (although that's still three times higher than his actual scoring rate), and his xA/90 is at 0.30. To be fair, that's one area of his game that clearly is still functioning against the big sides, but if we take out the two games against Arsenal, Salah's underlying numbers are down to 0.39 xG/90 and 0.18 xA/90.
And when you consider that both his xA/90 is actually up this season to 0.34 and to be fair, factoring in that his xG/90 is down to 0.67/90, you can see that Salah is still really struggling to influence big games. This is also true in the Champions League, where five games against PSG, Napoli and Bayern Munich have yielded just one goal.
Now, the underlying numbers aren't as bad as I thought that they might be, but the fact remains that Salah's output simply isn't where it should be against top sides, and whether that's because his finishing is poorer against the top sides for whatever reason, whether it's because Liverpool as a whole don't play as well against the top sides (a fair argument with Mané notching just two goals and Bobby five but three of them against Arsenal), or whether it's because good teams target Salah (another fair point), for me, none of those circumstances mitigate the output that we're seeing.
Salah is an elite player. Elite players get targeted. Elite players sometimes have to play in matches where they aren't being utilised to their full potential and elite players sometimes have cold spells. But nevertheless, for a player of Mo Salah's quality to not score a single goal from open play in over 600 minutes against the top six is bad, and for him to score just twice in total from over 1000 minutes against top opposition this season is very bad.
And Mo particularly seems to struggle against Man United. In three games against Liverpool's biggest rivals, Mo has scored no goals, assisted no goals, and averages 0.16 xG and 0.11 xA. They're one of just two PL teams Mo hasn't scored against in his time with the Reds, (the others being Swansea) and it's easy to see why.
What's slightly weird about United is that whilst it's natural to argue that Liverpool constantly struggle against United, that's not necessarily true across the three games. The Reds amassed 1.93 xG in their 0-0 draw against United in October 2017, so it wasn't that they were neutralised so much as that they missed big chances. And in the 3-1 win earlier this season, Liverpool ended up pummelling United, only for Salah to barely be involved.
And this is, as I've mentioned, due to a multitude of factors. Ashley Young kicking, fouling, dragging and somehow-not-giving-away-penalties-ing Salah out of the game at times, United doubling up on him, top teams finding ways to keep him out of the game and to be fair, Liverpool failing to score more than once against United before Xherdan Shaqiri's deflected double.
But again, these are all issues that Salah is a good enough player to rise above, and it's frustrating that the finishing pixie has struck him in big games this season – as previously mentioned, against the big six his xG/goals ratio is 3/1 which is crazy bad for a player of his talent.
So this is basically me pointing out that Liverpool cannot rely on their best player in big games and that's becoming an absolutely huge problem, as Liverpool have three big Premier League games coming up that they need to get something from, and a colossal UCL away game at the Allianz Arena.
In essence, Mo needs to break his United duck this weekend and go from there. Because, and this for me is the most important part, he's more than capable of doing so. Up the Mo Salah led Reds.