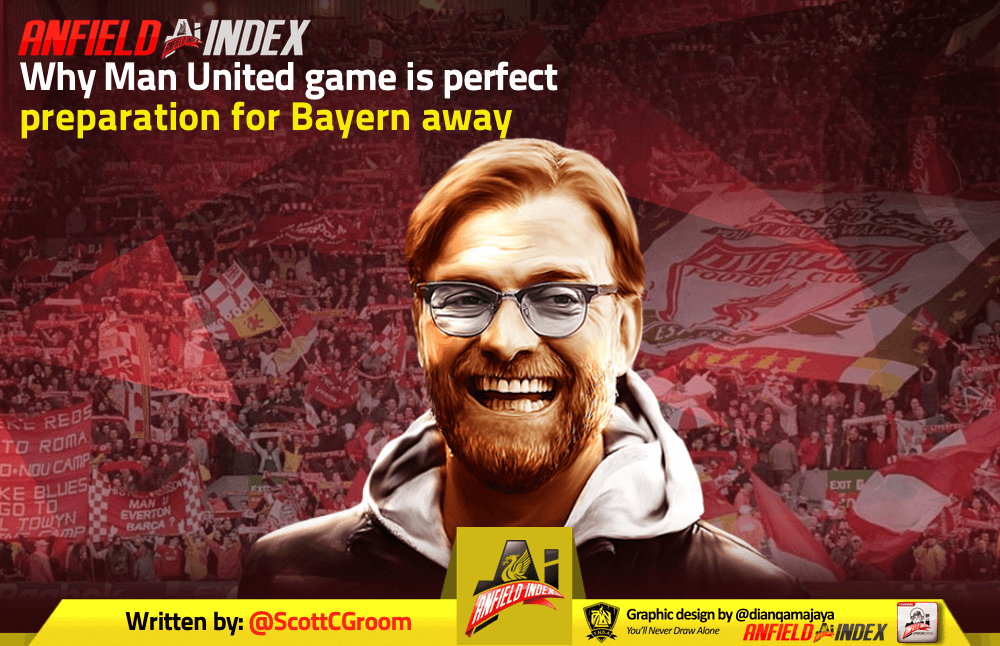 Why Man United game is perfect preparation for Bayern away
You really have to have a long think back to remember a week of such magnitude for a Liverpool team.
After Tuesday's stalemate with Bayern Munich, Klopp takes his side across the M62 to face bitter rivals Manchester United in what is a crucial game in the Reds' hopes to clinch a first league title since 1991.
It's no doubt been a huge week for Liverpool in both the Champions League and the Premier League, and the return leg against Munich looms largely on the horizon – so to follow that up with such a big game at Old Trafford seems like a huge ask.

However, it could well be the perfect time for this match to come along.
While it's a week that may strike a bit of fear and nervous anticipation, getting Manchester United out of the way will be one thing that's a bonus, but in addition to that, playing against a rival team away from home in a high-stakes game is perfect preparation for going to the Allianz.
Whether one of these games is more important than another is an argument that will have to be saved for another time as that in itself warrants more than a 600-odd word article; I could write an entire thesis on the subject.
But the similarities to playing both Bayern and United in their own stadiums so close together is something that should play into Liverpool's hands.
Coping with pressure in big scenarios is never easy, so to have the chance to do so and prove a point to the rest of the league and to Europe is a massive incentive, but just being in that make-or-break situation within just a few weeks of each other will no doubt help to strengthen the mindset and resolve of Klopp's squad and help to focus their minds on the task at hand, both in Manchester and Munich.
There are not only similarities from a psychological aspect, but both United and Bayern will likely present similar challenges on the pitch.
You would think that both sides will aim to come out on the front foot against Liverpool, restrict their time on the ball, attempt to counter-press Liverpool's press and will try to mark the likes of Firmino, Salah and Mané out of the game.
This, again, isn't something that will come as a shock to Liverpool at all, as many teams they face now will attempt to deploy similar tactics: either that or just sit deep in regimented defensive lines and hope that they can hold of the Red onslaught, but Bayern and United are better than that so simply won't try it.
They'll come out and attempt to play against the Reds, the crowd will be gunning for a home victory, the players will be fired up and the stakes will be high in both fixtures but for different reasons.
How better to prepare yourself for that reception in Germany than against your oldest rivals in England? There simply isn't any better preparation, even if it is going to be hard going.
As previously mentioned, the United game is arguably more important considering Liverpool's chances of winning the title this season at long, long last, but this shouldn't mean that we just bin off the Champions League.
Liverpool's history is steeped in European royalty, the likes of Gerrard, Thompson, Dalglish, Paisley and Benitez are all legendary on Merseyside and are synonymous with conquering Europe with Liverpool, so this ambition to rule Europe for the sixth time shouldn't be off the agenda.
So let's use the trip to Manchester to prepare ourselves mentally and physically for the gauntlet that Bayern will inevitably throw down for us in Europe and make a very good account of ourselves against United.
Let's face it, we need to. The league title could well depend on it and even if it didn't, nobody likes losing to United.