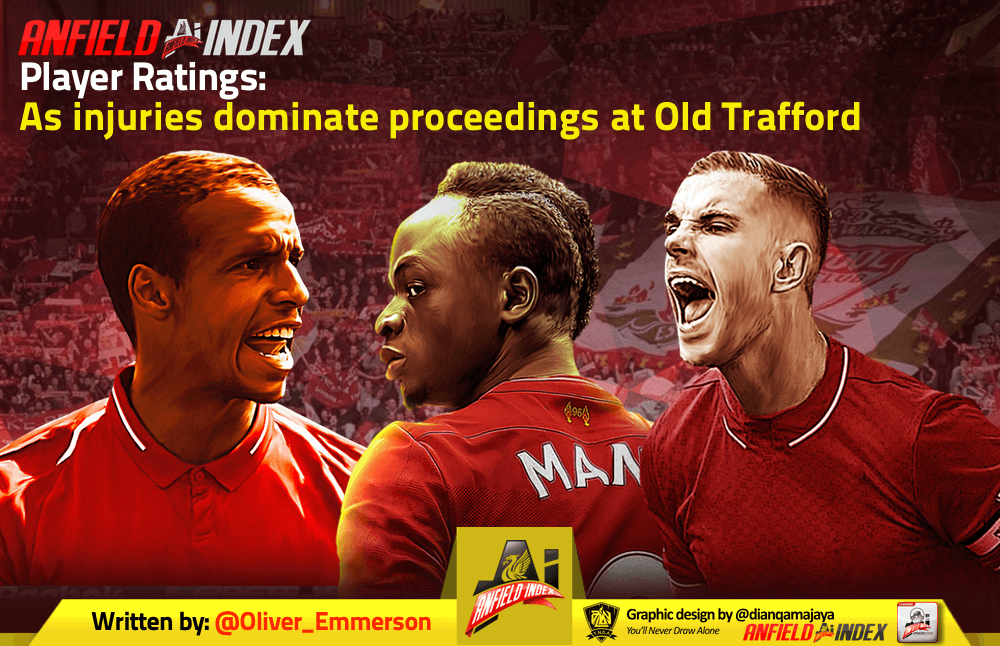 Player Ratings as injuries dominate proceedings at Old Trafford
That was absolutely rubbish. Up there with the most tedious of Liverpool display's I've seen in years. Yes, fair enough, we may end up looking back at Manchester United 0-0 Liverpool and hailing it as a 'good point', but in the context of the 90 minutes it was turgid.
United forced into more tactical reshuffles via injuries (3) than the Reds had shots on target (1).
A performance devoid of inspiration, creativity and most importantly, goals.

Here's your ratings. Forgive me if I'm a moody arse.
Alisson, thank you x
Alisson Becker (8): Say what you like about this inflated rating but we paid big money for Alisson for him to produce big moments and clawing the ball so expertly away from Lingard was exactly the type of moment we *could* end up looking back on as huge. Some decent throws, some not so decent passes.
James Milner (4): Awful. Can't play full-back anymore, really. He's a walking yellow card and his final ball is offering as much as a boxer with no arms. Almost lets Chris Smalling steal in at the back post for a winner, just think about that for a moment. Him lasting the full 90 was madness, heaven knows what TAA was thinking on the bench.
Joel Matip (6): Sound at the back but given the size of him, really needs to work on heading the ball into the net abit more from corners. By my count he's got one this season, could've had four or five.
Virgil van Dijk (7): Calm, composed, imperious. One of the few.
Andy Robertson (6): Recovered from his disasterclass against Bayern with an improved performance but still lacked something going forward, not the only one in that regard. Did well to make one good chance for Lukaku rather difficult.
Fabinho shows the way
Fabinho (7): Alongside Virgil in the 'actually showed some composure' stakes. Defended well, sat a little deeper than we normally see him do when played with Henderson. Probed going forward but couldn't fashion a moment of magic.
Jordan Henderson (5): Really poor. This was the issue I had with playing him, despite his good performance against Bayern. It was a different game, with a different task required. A task he couldn't do, break United down.
Georginio Wijnaldum (6): Thought he grew into it a little but was mostly meh.
Blunt attacking display
Mohamed Salah (4): Probably his worst game for Liverpool. All I can say.
Sadio Mané (5): Better than Salah in the sense that he got at United more, however the final pass or shot let him down continuously.
Roberto Firmino (5): Looked lively before going off injured, can only hope it's nothing too bad.
Sturridge, really?
Daniel Sturridge (5): I can't get my head around Klopp's use of him. It's doing nobody any favours and Shaqiri would've made much more sense today. Tried, actually tracked back well a couple of times, but nothing going forward of note.
Xherdan Shaqiri (5): United had been allowed to get far too comfortable defensively by the time he came on.
Divock Origi (5): Should text Jordan Pickford every time he gets minutes on the pitch, thanking him for having such tiny arms.