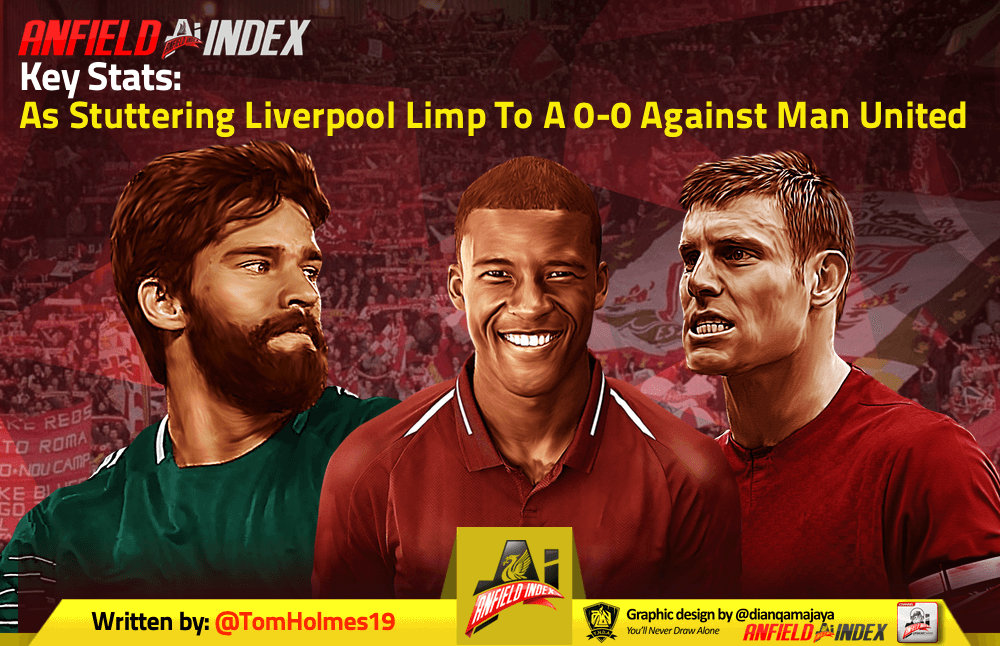 Key Stats As Stuttering Liverpool Limp To A 0-0 Against Man United
Liverpool's title challenge withstood another blow, just about, as the Reds were held to a goalless draw at Old Trafford. But what were the key stats from a pretty bleak afternoon at the home of our biggest rivals?
Goals Guaranteed?
Liverpool's attack stuttered to a halt, producing their worst attacking performance of the season – their lowest xG with 0.38. Liverpool created zero big chances, with five of their seven shots coming from set-pieces, only four shots inside the box, and producing only their second goalless display of the season – after a 0-0 draw with City at Anfield.
It was a pretty damning indictment of the Reds that Joël Matip and Gini Wijnaldum's two shots a-piece were a team high, with their highest xG shot falling to Mo Salah, as his free-kick from just outside the box was sent into Row Z.

That shot from a free-kick aside, Salah had no attacking influence whatsoever, with no other shots, no key passes only one successful dribble from three tries and being dispossessed six times. Likewise, Sadio Mané had no shots, no key passes, and 65% passing accuracy, although he did complete two of his three attempted dribbles.
Liverpool's most potent attacking outlet ended up being James Milner – who created four chances and had a shot blocked – but that's not to say that he played well. Milner created three chances inside the box from set-pieces, but none of them were decent chances, and Milner's crossing success rate of 3/17 demonstrates that he had plenty of opportunities to put in decent balls into the box, and completely failed to do so the majority of the time.
Overall, very much a day to forget for Liverpool in the attack.
Hot And Cold Reds Lose Advantage
2019 has been a real mixed bag of a year so far for Liverpool, as they crashed out of the FA Cup, drew with Bayern Munich at Anfield and have let a seven-point lead at the top of the Premier League table be cut to one point. Overall, after winning eight straight games at the end of 2018, Liverpool have won just three of their nine games in this calendar year. And after winning seven in a row in the PL in December, January and February so far have seen Liverpool win three, draw three and lose to Man City. And although the three PL wins were good from an xG standpoint, the Reds' xG difference has been less than 0.5 in the four games that they didn't win, losing the xG battle to both Leicester and United.
The simple fact is that our form has been patchy since December, as it often is for Liverpool in January and February, and as we lurch into March, we need to find a win to secure some big wins quickly, with Watford in just three days' time and a Merseyside Derby to contend with next weekend.