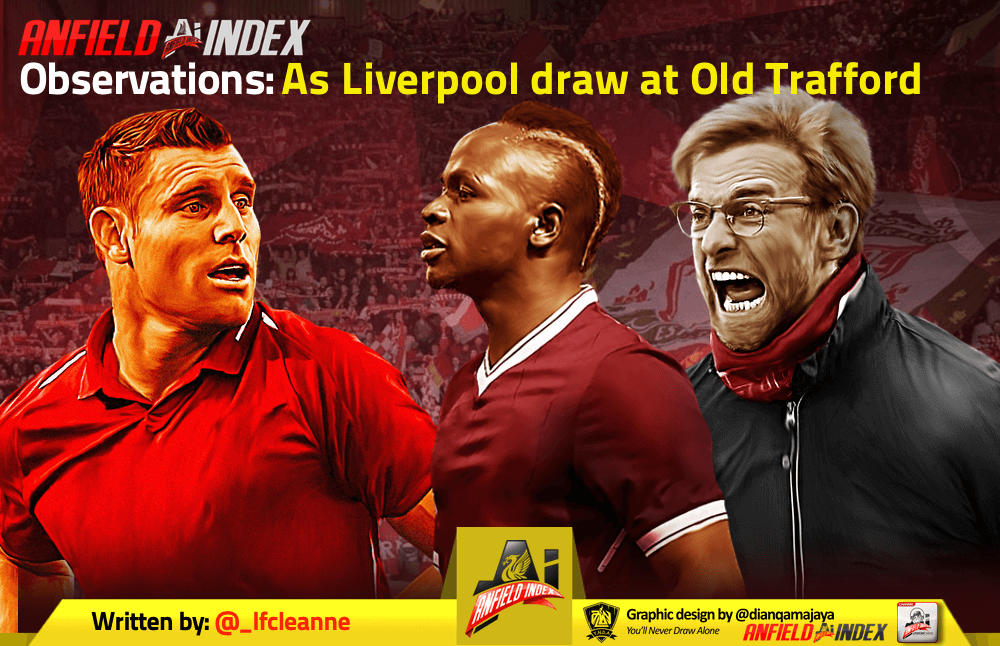 Observations as Liverpool draw at Old Trafford
Tipped to be a huge game in Liverpool's title challenge, there was plenty of expectation and anticipation at Old Trafford. United, who have experienced somewhat of a resurgence under Ole continue to work for a top-four finish while Jurgen Klopp's team knew a win would see them make a statement to Manchester City. Unfortunately, the game failed to live up to it's hype, with a series of injuries inside the opening 25 minutes preventing any kind of momentum and rhythm. An odd afternoon for both teams, it marked a missed opportunity for United and Liverpool, who nonetheless returned to the tip of the table, one point ahead of Man City.
Here are the observations from the match.
James Milner fails to make space count
It came as quite a surprise to see James Milner fill in at right-back ahead of Alexander-Arnold. Perhaps Klopp wasn't keen on throwing the young full-back straight back into such a big game having only recently returned from injury, instead of attempting to utilise the experience of the former-City man. While the decision was fine in a defensive sense, with Manchester United struggling to threaten down the flanks such was their injury crisis inside the opening thirty minutes, there were numerous issues with the Englishman's attacking work.
Pushing high up the pitch, Milner was picked out in acres of space time and time again through the racking balls of Virgil van Dijk and Joel Matip. However, he was hugely ineffective in possession, delaying a progressive pass into the front three and more often than not opting for the hopeless balls into the box. Given Liverpool no longer possess the likes of Andy Carroll, instead relying on the movement and trickery of a far more elusive front three, it was a tact that was never going to come to fruition for Klopp. Albeit deserving credit for trying to get Liverpool something in the final stages, a lack of quality in his final ball embodied a frustrating performance.
Big names fail to deliver
Much was made of the key battles between the two sides ahead of kick-off; Paul Pogba vs Fabinho in midfield would be key to preventing United from building up ahead of steam while the likes of Sadio Mane, Roberto Firmino and Mohamed Salah would, as ever, be paramount to Liverpool's advances. A game that could've given the club a huge boost in their title bid, all three players failed to deliver their usual standards, with Salah particularly wasteful. Having been unimpressive against Bayern Munich in the Champions League, this was arguably Salah's worst performance of the season as Klopp hauled him off with ten minutes left to play.
On an afternoon where Liverpool registered just one shot on target, Salah and co struggled to get at the United defence and provide a consistent goal threat. There was no need for De Gea to pull off any heroics – something that will be a worry in the coming games that include Everton and Spurs.
More damning evidence against warm weather training camps
Klopp has always been a big believer in mid-season training camps, using them as an opportunity to perfect tactics for upcoming games, provide the players with rest and work closely on specific aspects of their play. None of that was evident at Old Trafford though, as Liverpool struggled to build up ahead of steam. Indeed, this was an afternoon where the Reds were passive instead of progressive, pitiful instead of punchy. There was a stark lack of pressure on the United players, especially given the opportunity presented via injuries to Juan Mata, Ander Herrera and Jesse Lingard. Those who struggle to share Klopp's enthusiasm for training camps were given extra ammunition – now it's up to Klopp to get the wheels in motion again.
Decent point, awful performance
Given United's recent form, a lot of fans would've arguably taken a point before kick-off. After all, a trip to Old Trafford is never easy. The result is in no way a disaster, placing Liverpool back at the top of the table while keeping their fate in their own hands for the 11 remaining games, but the manner of the performance left a frustrating taste in the mouth.
It was of little surprise to see Klopp so animated on the touchline, cutting a visibly frustrated figure amid a selection of misplaced passes and poor decision making failed to work openings. For now, while the dust settles on the angry nature of Liverpool's display, attention must turn to react with a strong win against Watford on Wednesday night. Where Liverpool drew against Leicester and West Ham, this was once again a story of what could've been rather than what was, but there remain plenty of positives given the club's healthy position – cries of 'bottle jobs' remain way off base.