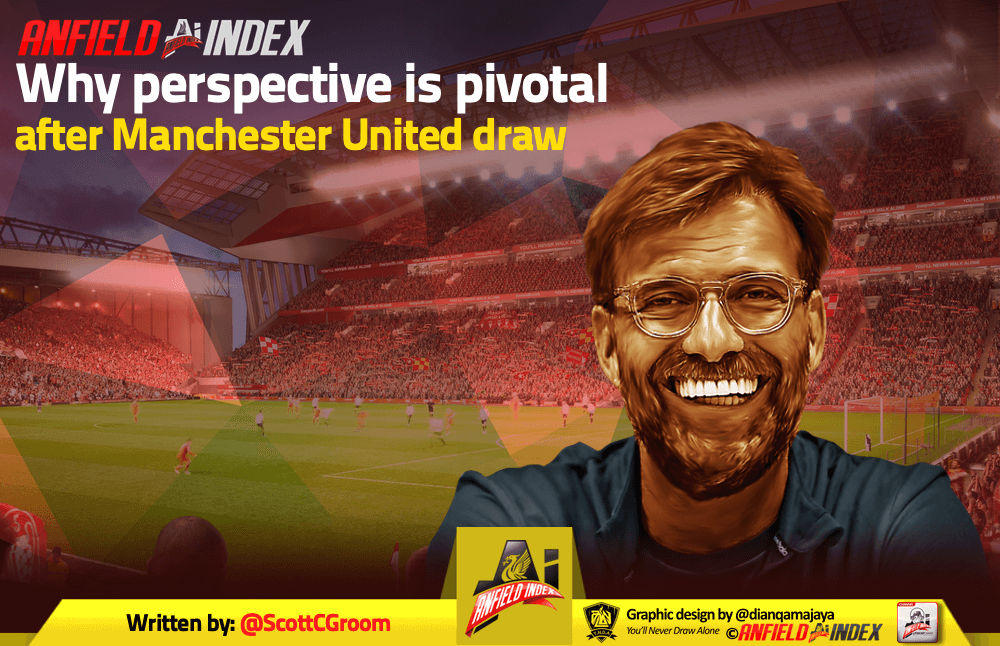 Why Perspective is Pivotal after Manchester United Draw

Chris Bascombe, revered journalist at The Times, summed the hysteria around Liverpool's drab 0-0 draw with Manchester United up perfectly on Monday morning when he said:
"So after losing 1-1 at The Emirates earlier this season, it was a 0-0 defeat at Old Trafford? In the words of Catherine Tate's Gran… "What a load of old s***e.""
And he's right.
As things stand, Jürgen Klopp's Reds are sitting on the top of the Premier League table as outright leaders, one point ahead of Pep Guardiola's Manchester City with only 11 games of the season remaining.
No, you're not dreaming. Liverpool really are top of the league as the season heads into the home straight.
You may well find that hard to believe when speaking to anyone about the game at Old Trafford as it seems that there's an immovable air of disappointment and negativity surrounding the result which, upon reflection, really isn't that bad at all.
If Liverpool fans were offered the scenario whereby they comfortably beat Manchester United 3-1 at Anfield and then drew 0-0 at Old Trafford at the start of the season, I'm fairly confident many would have taken it there and then.
I'm also very, very confident that Liverpool fans would've taken being top of the table, even if only by a point, with 11 games to go if it was offered to them back before the season began.
The truth of the matter is, Liverpool are in a fantastic situation and the result yesterday is one that we should be happy to take – but yes, be frustrated at the performance.
It feels as though too many fans are allowing themselves to become engulfed in a sea of negativity following what was, in all honest, a bad performance. There's no escaping that much at least.
It was a day when Liverpool were not at their best and in all honesty, it is disappointing not to see the boys come away from Manchester with all three points – but they came back with something.
Rarely do you see a title winning team go a whole season without putting in a couple of bleak performances, and that's okay.
I get that fans want to see better from the team, and so do I, but the result against Manchester United really isn't as bad as some are making it out to be.
Seasons are not built on a single game, and neither are they lost by a single sub-standard performance which still resulted in putting valuable points in the bag?
The title winning Reds of old will undoubtedly have had a few off days in their pursuits of glory under the maestros like Shankly, Paisley and Dalglish, so what difference does it make if the current crop of players under Klopp don't quite live up to their own high standards every once in a while if they bring home the bacon at the end of the season?
They're not machines, as much as we'd like them to be. They are humans and are prone to the odd bit of inconsistency.
So I guess the take home message is this: have mixed feelings about the United game.
Yes, be disappointed with the way the team played. Yes it was a Manchester United side that weren't properly at the races themselves and who suffered a raft of injuries very early on, but it was Manchester United away nonetheless.
Need we remind ourselves of Liverpool's awful record there of late?
But while we should be disappointed with the performance, we should be at least content with the result and what it means for the league table. Liverpool are top of the league at the tail end of the season.
Let's just relish that and look forward to the task ahead to ensure we end this long wait for a league title.