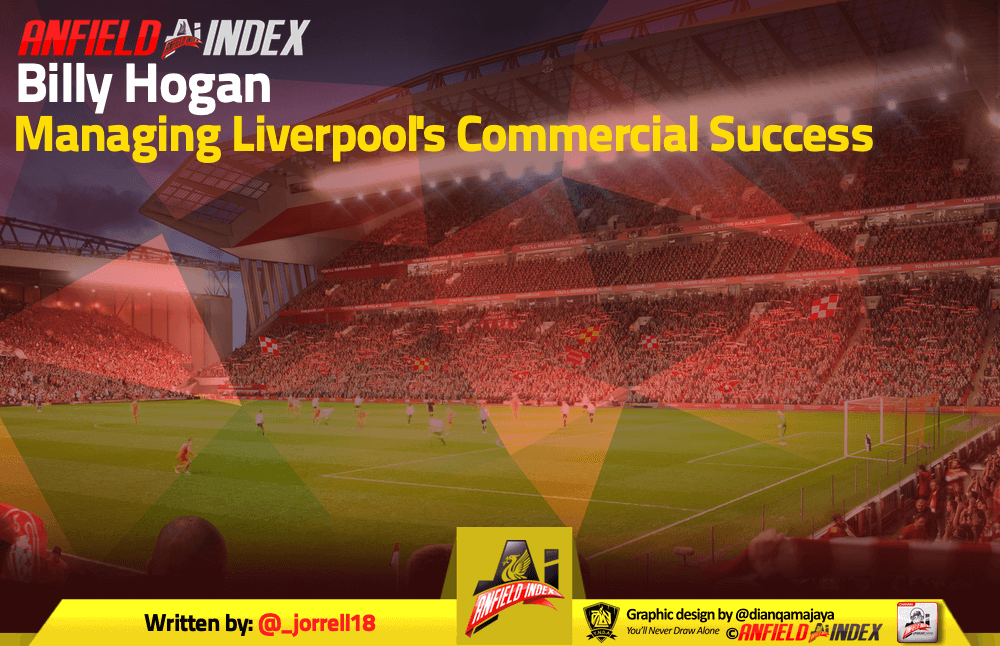 Billy Hogan: Managing Liverpool's Commercial Success
In the midst of an exciting yet challenging season as Liverpool hold a narrow margin on the Premier League title, Billy Hogan has somewhat quietly played a large part in recent successes as managing director of the club.
Hogan's hold
In a recent interview with fcbusiness concerning his role, Hogan honed in on the club's progress both on and off the pitch and how both Liverpool's business and football are assisting the other as they continue to grow. When the infrastructure improvements of Anfield's Main Stand and the new training ground construction were put to him as evidence of the club's financial growth, Hogan added that:
"We are in a position now to make those investments. Back in 2010-11 when FSG took charge, we were not in that position.

From our perspective, what you are seeing is a continuation of that performance on the pitch and the reinvestment in the squad, which is the most important thing from our point of view; nothing is a distraction from putting a successful team on the pitch."
While the new grounds will largely take the squad's training sessions to that next level of quality, as well as adding an incentive for those future transfers weighing their options, the effect of the renovated and expanded Main Stand has showcased its financial importance. Last season alone, the additional seating and stadium advertising space brought £19m additional revenue into the club.
Packaged with the Champions League run's influx of nearly £72m into Liverpool's accounts and the Philippe Coutinho sale to Barcelona for no less than £115m so far, the picture of Liverpool's newly-expansive financial power becomes clearer.
Growing relationships
The re-upping of existing commercial partnerships and the subsequent discovery and acquisition of new, eager sponsors offers even more clarity. Recent success on the pitch, reaching back as far as the 2013-14 near miss for the Premier League title, has, in turn, allowed for the growth of revenues from club partners on a scale previously outside the scope of Liverpool's business stature.
Standard Chartered, Liverpool's main kit sponsor for the entirety of Fenway Sports Group's ownership, had their partnership deal renegotiated to £160m over four years. Western Union's sleeve sponsorship, a new area of kit advertising, runs for a cool £5m a year, and clothing company Levi's became part of the Liverpool business model this season for £40m a year. In sum total, the club's commercial revenue has increased by 97 per cent in the last decade.
There are a lot of numbers to digest here, but one features most in terms of Hogan and Liverpool's commercial team. While it must be noted here that other clubs in England have seen similar rises in commercial revenue – compare Liverpool to Manchester United's 109 per cent rise and Arsenal's 87 per cent increase – where Liverpool have been allowed to benefit most on the pitch in terms of reinvestment is their taxable profit over the course of the year. Most Reds will have heard by now that the club set a new record of taxable profits in 2018 with an unrivalled £125m in positive revenue. That, as far as reinvestment goes, is the bare minimum available – not necessarily guaranteed to be used, but the smallest number the club have access to – to reinvest into the squad, club facilities, and coaching and managing staff.
What a beautiful number.
Continuing the cycle
"Putting Jurgen and the guys on the football side in a position to compete at the highest levels, that is always our focus and we see our contribution to that in the form of being able to run the business in a better way and being able to drive revenues to invest back into the team."
With plenty of the Premier League season left to play, Liverpool fans primarily have their sights set on league form, competitions still left to play for, and how to manage the squad going forward in a way that ensures the club takes home at least one trophy by June. Manchester City is currently only a point behind and, despite some recent big injuries, muscling on with their on-the-pitch business.
There's still much to do before transfer windows and paper talk really need to be weighed in on. But, with a quick glance in that direction, it seems the days of splurging on homegrown players not worth their salt or investing in youth whose potentials are never realized are over. Money is being brought into the club on a scale unknown to both lifelong and relatively new Liverpool fans. Those funds are being spent on quality players that fit a system that has shown its success during Jürgen Klopp's tenure at the club. In turn, that success makes it all that much easier for Billy Hogan and the administration to reinvest back into the club as the project of advancing Liverpool into the modern age of football barrels on.
Premier League title or not, Champions League glory or otherwise, the shared attitude of creating and sustaining success between the playing and non-playing sections of the club is, at present, something for the world to behold – and they are indeed watching.