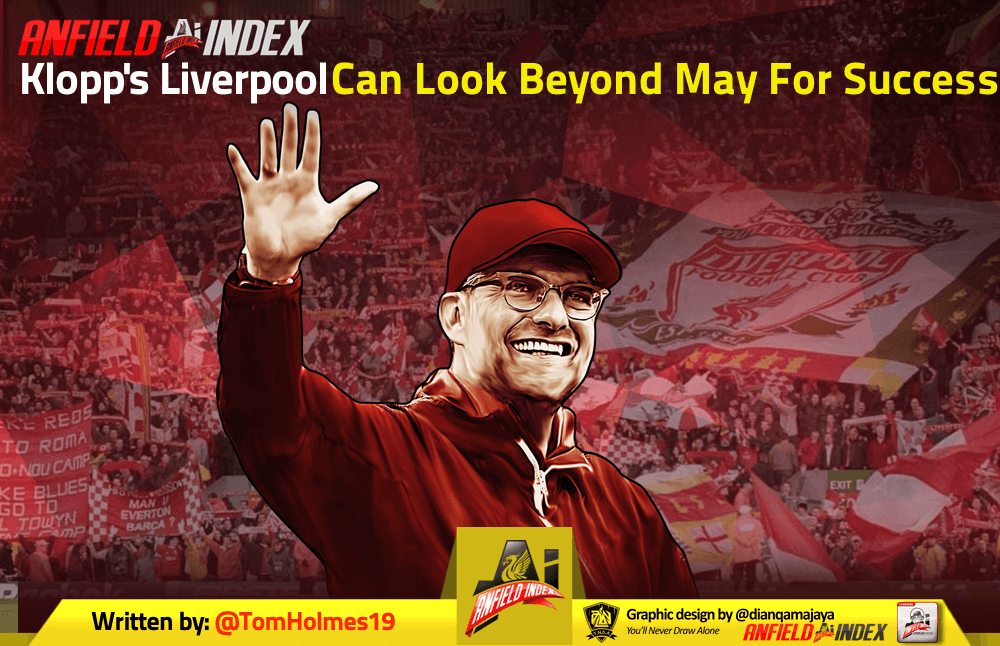 Klopp's Liverpool Can Look Beyond May For Success
The panic has started to set in. The nerves of a proper title race are jangling. Liverpool had a four-point lead at the top of the table, which could have been extended to seven, but instead, four draws in six games see it now as a deficit by a single point, leaving the title race on a knife-edge with nice games to go.
Now the reactions have been somewhere between outright panic – people already saying the title is lost and we've won nothing and Klopp is a failure.
Personally, I think any reaction on the scale is justified to an extent – although I certainly don't think we've already blown the title. Naturally, I think being too pessimistic is unhealthy, there's still a long way to go and form is somewhat nebulous. On the other hand, I do think to ignore the poor run of form we're in is potentially a bit head in the sand.
Personally, I sit somewhere in the middle, albeit probably closer to the optimistic side of the spectrum because that's who I am as a person. Seven of our last nine games are extremely winnable, City are bound to slip up at some point, especially if the pressure of winning the quadruple starts to get them and they face an elongated UCL run. However, we are in a sticky patch of form and are in danger of tossing the momentum to one of the best sides in the history of English football and that's an incredibly dangerous situation to find ourselves in.
But this article isn't about this year's title race, almost the opposite in fact. This article is designed to point out that whatever happens in the next three months, Liverpool have a bright future ahead of them under Jürgen Klopp.
What's interesting is that for a lot of people, both fans of Liverpool and some outside it, there's almost an attitude that Liverpool have to win the league (or something, which now means PL or UCL) this year, and I don't think that that's necessarily the case.
Don't get me wrong. I want to win the league as much as anyone else and from this situation, I'll be absolutely devastated if we can't get over the line. But for me at least, Liverpool aren't going anywhere. The vast majority of the core players in this side are either in the middle of their peak years or yet to hit their peak years, and all of them are the right side of 30.
Whilst Man City do have more talented players, and more money, three of their most influential players are the other side of 30, and for Guardiola especially, there's no guarantee that the hunger will still be there if they win everything this year. In turn, if they win the league for the second year running but fail to secure the UCL again, then you can bet where their priorities will lie.
None of this is to say that City won't be favourites for next year's title whatever happens over the next six months or so because you know they will be. But equally, it would take something spectacular to go wrong over the summer for Liverpool to not be at least as strong next season, assuming that they have all of the same key components in place, and assuming that they can actually fix some of the areas that have held them back this season.
In truth, with the bedding in of Fabinho and Keita likely to make both significant players next season, there would only really be two signings required for Liverpool to have a stronger and deeper squad, one in attack and one in defence. Assuming that none of the core fourteen or so players that Klopp has relied on depart, replacing the deadwood cheaply and bringing in two additional depth players, or starting players, would go a long way towards giving Liverpool the firepower to compete on multiple fronts again next year.
Because, whilst it might not feel like it now, Liverpool are nevertheless still in the hunt for the two biggest prizes in English and European football, as we dive into what will be March by the time this piece is doing the rounds. Whilst the club still has a lot of work to do this season, that doesn't mean that we can't already be looking ahead to next season with a sense of genuine optimism.
And I think that a sense of genuine optimism is needed at the moment. It's absolutely natural for Liverpool fans to be inherently worried when their club gets into a situation like this. In 13-14, there was a real sense that it could be our year, and that all fell away as a summer of poor recruitment followed losing our best player and everything fell apart.
The difference between that team and this one is stark. A better manager is in place, Liverpool's recruitment is in an impeccable place and the squad is much better balanced. And whilst Liverpool had an exceptionally balanced squad and a top quality manager in 08-09, their other major title challenge this century, the internal turmoil around the club at that time was absolutely clear, and the fallout was spectacular.
However, this is a Liverpool side that have just turned over a £100m profit, that are finally catching up commercially and ensuring that their off-the-pitch enterprise is starting to function as smoothly as the on-the-pitch operation. Led by a manager committed to the cause who has the qualities needed to win trophies, and with a balanced, young and exciting squad.
Of course, not everything is roses. For all the positives on the financial side, Liverpool still cannot compete with the two Manchester clubs if both decide to spend £200m in the summer, and whilst the team is extremely exciting, as I mentioned before, City will still be title favourites unless there's an unexpected and drastic shift in the summer.
Nevertheless, if you look at the core of this Liverpool side, Alisson, Trent, Robertson, VVD, Gomez, Gini, Fab, Keita, Salah, Mané and Firmino, a potentially world-class XI, there's no evidence that any of them will be anywhere other than at Anfield next season, and are all capable of firing on all cylinders. Gomez is the only one with a significant injury history to worry about, and with Klopp leading those players, plus hopefully two or three more, not to mention the likes of Ox, Shaqiri, Henderson et al, there's nothing to suggest Liverpool cannot sustain another title challenge or Champions League run, or both next season too.
Again, this isn't trying to take away from this year's campaign, nor is it trying to excuse or dilute the fact that this is arguably Liverpool's best shot at winning the title in nearly 30 years – and arguably Liverpool's best team since they last won the title. But what it is trying to do is just maybe deflate the sense of panic a little bit, the sense of it has to be now, the sense that if we do fail to get over the line this year, that it could be another five or ten years in the mire, as it has been previously.
Because Liverpool aren't going anywhere, whatever the Premier League table looks like at the end of May.