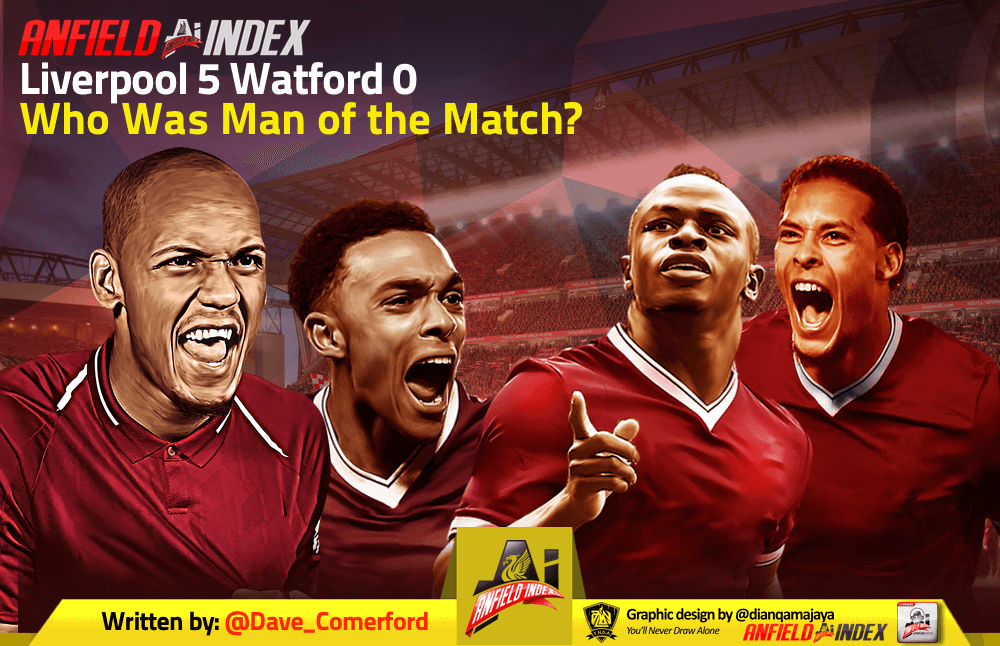 Liverpool 5-0 Watford: Who was man of the match?
After a truly awful performance against Manchester United stoked anxiety among fans and had City smelling blood, Liverpool rattled through the gears and put out a resounding statement.
It was a performance full of the energy, hunger and creativity which were lacking at Old Trafford as the Reds mercilessly exposed the gulf in class.
Jurgen Klopp's side were superb virtually to a man, meaning we have an embarrassment of riches in the MOTM discussion.

The defence secured its sixteenth clean sheet of a mightily impressive season, thanks in part to an inexplicable save from Alisson to deny substitute, Andre Gray. The Brazilian's ability to spread himself and make point-blank stops has already kept Liverpool in the Champions League, and will continue to save them points at heart-in-mouth moments.
In front of him, Joel Matip turned in another assured display, his most important contribution a last-gasp intervention when Gerard Deulofeu dangerously squared the ball into the centre of the area with the contest still alive. Matip is Liverpool's fourth choice centre-half but deserves great credit for his near-faultless run in the team deputising for Dejan Lovren and Joe Gomez.
As usual, Virgil van Dijk was imperious at the back, winning five aerial duels, and precise with his distribution, but this time he had a pair of goals to show for his excellence. A player with his presence ought to be nudging double figures over the course of the season – as it is, he trebled his tally in the course of fewer than three minutes.
Andrew Robertson teed up van Dijk's second, having earlier provided an assist for Divock Origi. The Scot is supremely reliable defensively, and going forward he can rival, or indeed surpass, the very best in his position. That's nine assists in the Premier League this season, two more than anybody else, and there's still a good chunk of the season yet.
Fabinho once again protected the defence expertly, showcasing great strength and timing as he bullied opponents off the ball. Nobody in red made more tackles or interceptions. He also managed to execute all of his long balls successfully. In all, it was another performance which oozed quality. What a player he's turning out to be.
Georginio Wijnaldum ticked along nicely under the radar, while James Milner returned to his relentless best after struggling against United. The veteran midfielder was all over the shop in the first half and, unsurprisingly, proved significantly more effective in a central role than he had out on the flanks.
Mohamed Salah's contribution is most likely to be measured by his goals, particularly on a night where he was bumped down to second in the scoring charts, but this time it went well beyond putting the ball in the back of the net.
An elusive Salah struck the post, went on seven dribbling runs and generally turned opposing left-back Adam Masina's evening into a nightmare. Salah's play in the final third was delightful at times, and his willingness to drop into a deeper position created invaluable space for his team-mates. In a sense, he ensured Roberto Firmino's absence wasn't felt. And that's high praise given Firmino is without doubt one of the best all-around forwards in world football.
Origi replaced the injured Brazilian, frustrating supporters – myself included – who hoped to see Xherdan Shaqiri in action. But a determined Origi rewarded Klopp's show of faith and scored a seriously good goal. Evidently, he's impressing the boss in training, and he may have a few more opportunities in the coming months.
Sadio Mane's only regret will be failing to score a hat-trick after his first-half double. Mane may be a diminutive winger but he can be deadly in the air, and Foster had no chance of stopping his powerful opener. The second – an outrageous dinked backheel – was one of the most delightful goals you will see this season. A fine recovery from a poor first touch.
After Klopp's gamble paid off, might Mane emerge as an option down the middle?
Mane and Van Dijk may have bagged braces, but it was Trent Alexander-Arnold who stood out most.
With Liverpool often dominant against sides outside the top six and facing regimented defences, the full-backs tend to be more important at the sharp end.
Alexander-Arnold had little defensive work to do, but in the final third he was a phenomenal outlet. Twice he set-up Mane with pinpoint crosses – the first was particularly inviting – before stroking another onto Van Dijk's forehead.
At times this season, his deliveries have been erratic, but this was supply at its best. Liverpool sorely missed it against United, who easily dealt with a series of tame balls into the area.
The importance of his combination play with Salah has only recently been grasped. It's integral to Klopp's intended style of play. When in sync the pair can engineer game-changing moments.
It's important for perspective when Trent produces a near-perfect performance like that. He's just 20 years old, and already you can make a strong case for placing him in the world's top-ten right-backs. If he's at that level now, just how good will be five years down the line, with his peak years still end of him? His level of potential is truly alarming.
To be blunt, thank f*ck he's ours.