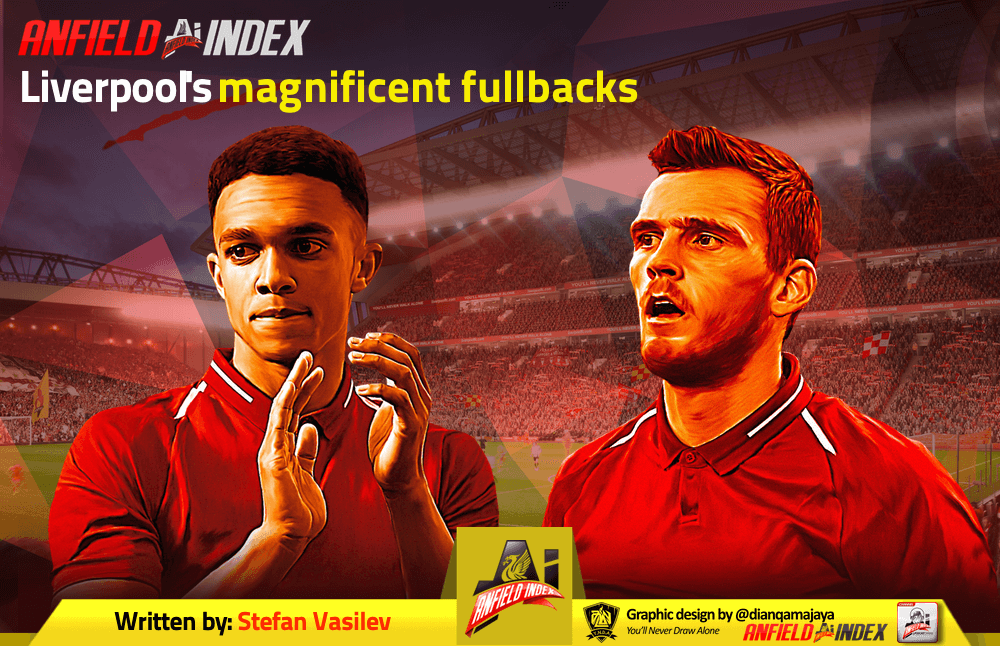 Liverpool's magnificent full-backs
The Liverpool full backs put on a show at Anfield before an uninspiring team performance at the Goodison made the fan base collectively go into panic mode and forget about it. So maybe this article is a week at late, at least in from a narrative standpoint. Some trends are not dependent on the performance/result in last game – one of them is that our young British full backs are brilliant (and probably don't have enough cover). The five assists in a single game just highlighted what has been going on for two seasons now. The article will confirm what you already know – Liverpool play better with Robertson and Alexander-Arnold on the pitch. The Reds are not quite as good when even one of the young British full backs are not playing.
Line up numbers


With the wingers' main task being to cut in and try to break through the middle, LFC's natural width comes from the full backs. Robertson has been one of the most dependable players this season, playing in over 92% of all minutes. This naturally makes his line-up numbers on par with the team average (2.30 offensive rating, 0.54 defensive rating). The team has performed significantly better with Trent playing – scoring more and conceding less per 100 minutes. The reasons for that are all logical; Alexander-Arnold is the only right back LFC have, who can offer a threat down the wing. Joe Gomez is a very good player but given what we have seen this season he is much better utilized in the centre of the defence rather than on the wing. Makeshift right-backs Henderson and Milner haven't been inspirational at the full back position. Nathaniel Clyne, maybe through no fault of his own, was deemed dispensable and sent on loan to Bournemouth. Given Klopp's and Edward's track record of not taking many (if any) risks at the transfer market one can safely assume, that Clyne wasn't up for the task. So really the young Scouser is the only right-back in the squad who can offer width and creativity without sacrificing defensive stability.

With Robbo's durability (knocks on wood) and Trent being the best fit for Klopp's system on the right side of the defence the number are not a surprise. LFC score more, create more, concede less and win more points per game when both our working class Scot hero and our young Scouse star are playing. Only games in which the two have played over 60 minutes are considered for the point per game. To further the sample size from the beginning of last season, the mighty Reds have won 2.36 points per game with Robertson and Trent on the pitch, compared to 2.03 when at least one of them is failing to log 60 minutes. That is a difference of 23 points over a course of a full season. One can look at those numbers, spanning across two seasons, in two ways: our starting full backs are incredible and the players filling in when one of them is not available are not nearly on the same level. I already mentioned Clyne and Gomez in the previous paragraph and I must add to that list; as much as it pains me to write this, Moreno is not good enough to allow Robbo a breather from time to time. Most supporters are probably looking at the likes of Timo Werner as a way to go to improve the squad. And while getting some more firepower up front will be welcome, the club really needs to look at the depth of both full-back positions as a crucial way to strengthen the squad. It's no coincidence, that our 'bad' (two draws) run came in games with midfielders playing at right back.
Creativity from the wing
There are three ways to break a defence – go through it, go around it or go over it. Using inverted wingers naturally makes the attack much narrower as the wide attackers either need to turn to their stronger foot to cross or have to use their weaker foot. So to go around defences Klopp's system uses the full backs as the wingers cut in and try to find space to shoot in and around the box. The wing defenders have delivered. They have by far the best offensive output in the top six: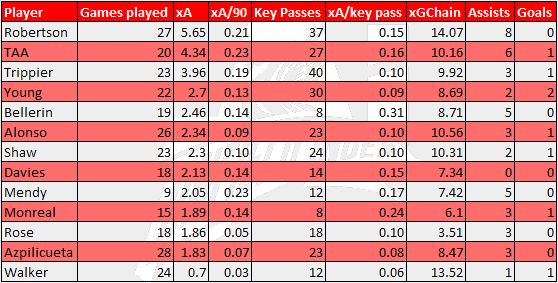 Trent and Robbo are the top two full backs in terms of assists and expected assists. The other player who comes close is Benjamin Mendy, who has not played a lot this season. Kyle Walker is by far the worst in the list, with Ben Davies being the only one to not be involved in a goal so far this season. Of course, team tactics play an important role in the offensive output of wide defenders. Arsenal's full-backs create the least chances but when they manage to do so Monreal and Bellerin put it on a plate for the attackers.
Team tactics play a huge role in the utilization of full backs and it is important to note, that some of them take set pieces, which inflates the numbers (Trent included). This is what makes Andrew Robertson topping the list insane – all of his chances created are either from open play or a secondary action of a set piece. The Scot is by far the best offensive full back in the league – no other player can even be in that conversation.
Whenever the Reds fail to win a game the same old problem resurfaces; no creativity from midfield. Robbo has created more than any midfielder in the squad and only James Milner has created more than Trent (if you account for open play creativity the two Englishmen are virtually tied). This fact points to the Reds' inability to go through a defence. The team is very good at creating and exploiting space on the wing but struggles to break teams in the middle, which is by far the most difficult task in football. That, however, is no excuse, if Liverpool are to be truly elite we have to be able to do that. Klopp has solved the unsolvable in three years – we suddenly have the best defence in the league. I have no doubt the German will solve our attacking problems too.
What about defense
Defensive stats can be misleading. The most important part of it, positioning, can't really be measured.  The full-backs, however, are required to ensure two things – that winger doesn't go behind them and that a cross doesn't go into the box:

The numbers for both TAA and Robbo are below average for a top six full back. They are being dribbled past basically once per game and are blocking fewer crosses than most other top players on the list. They are both asked for more offensively, which leaves the flanks of our defence exposed for big chunks of games. After all, it's much easier to defend from a set position. Benjamin Mendy's stats being similar points to exactly that explanation.
Given LFC's defensive record this season and the line up stats it would be hard to find someone to complain about any of our defenders (except a certain Croatian). After all, allowing a cross with Virgil van Dijk and Alisson behind you to defend it isn't the worst mistake you make.