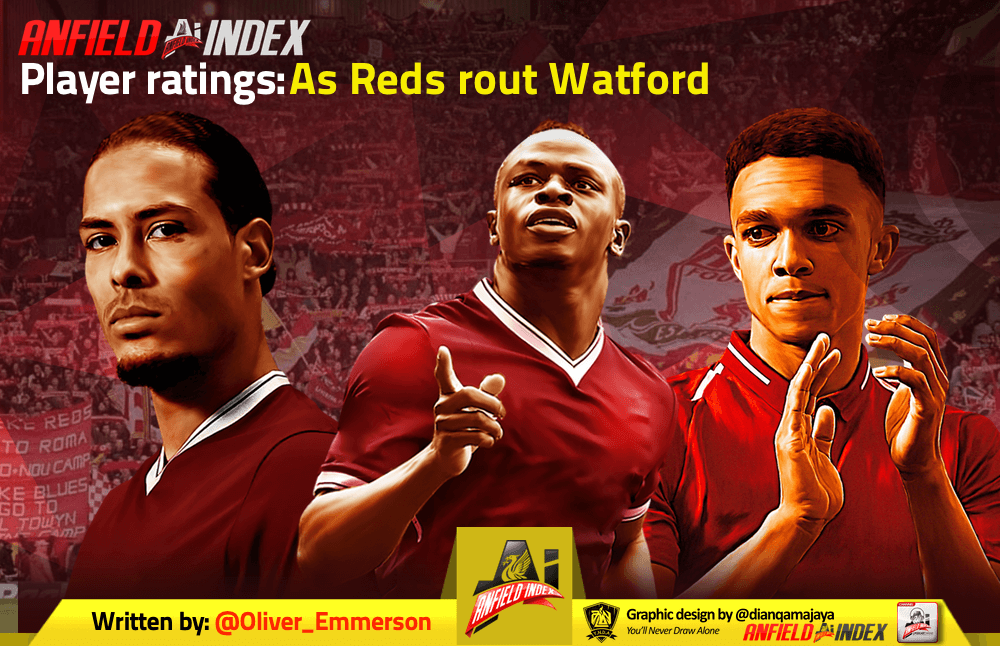 Player ratings as Reds rout Watford

That was alright, wasn't it? Manchester City can take their dodgy penalty, 1-0 win. I'll have five fabulous goals served up by those beautiful men in red, keeping us top of the table and dreaming for a few more days at least.
Everton at Goodison on Sunday will offer more of a challenge, however that is tomorrow's focus. Tonight, sleep easy thinking about that league table.
Hat-trick for TAA
Alisson Becker (7): Another clean sheet, is it? 3-0 up and he wasn't letting anything slip, another wonder save where the ball just 'hits him', what a coincidence? Stands tall and protects his goal, whatever the score. Is right.
Trent Alexander-Arnold (9): Gaaaaah what a performance. Gave us everything we missed on Sunday. Good at the back and sensational going forward, delivery on point as he picked up a hat-trick of assists. Unbelievably gifted.
Joel Matip (6): Sound. One very good interception. Keep on keeping on, Joel.
Virgil van Dijk (8): Feel like we've spent all season saying he's due a few goals so two in a game shouldn't be too much a surprise. Two in five minutes, however…
Andy Robertson (7): Again imperfect at the back but he keeps on shifting those assist numbers up.
FABinho
Fabinho (8): One of his best games of the season, he can do a bit of everything. Toyed with Watford as if they were school children, glided about as if he owned the place – and I'm not going to be the one to tell him he doesn't!
James Milner (7): No longer gets into our best XI but I much prefer seeing him in midfield than full-back, as he demonstrated tonight with an improved performance.
Georginio Wijnaldum (6): Absolutely fine, all he needed to be.
Mane creeps up the top scorer list
Sadio Mane (9): The balls to DINK a BACKHEEL over the 'keeper. The absolute stones on him, after an unusually poor first touch. Only Aguero and Salah have more (non-penalty) league goals than him, and he's developing an impressive knack of getting the first goal of the game.
Mohamed Salah (7): Looked more like his usual self, even though he couldn't get on the scoresheet. Hoping it really clicks for him and we end the season with Salah getting 10 in 10.
Divock Origi (7): Bit of a wildcard from Klopp but yeah, sound? Decent goal in fairness, he loves coming in off the left and letting rip. Young Thierry Henry, etc etc. Think he might keep his place for Sunday.