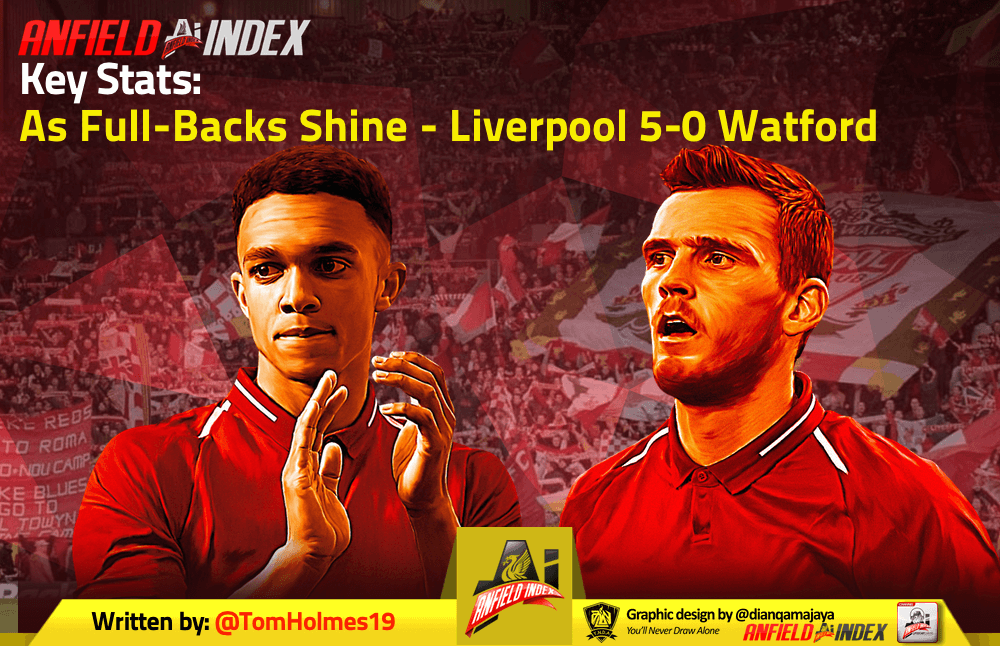 Key Stats As Full-Backs Shine - Liverpool 5-0 Watford
Liverpool stayed top of the Premier League as they romped home to a 5-0 win over a poor Watford side. But what were the key stats from a show-stopping display at Anfield on a warm February evening?
Five – It's the Magic Number
You'll all have seen the banter stat by now but I'm leading with it anyway – the third season in a row that Liverpool have beaten Watford by five goals at Anfield, following the Mo Salah inspired 5-0 win last year and the 6-1 the year before. This was Liverpool's most emphatic win of the season, following their 5-1 win over Arsenal, and at 8-0, it's certainly likely to be the best aggregate score against a side too.

Full-Back Mania
So how about those full-backs huh? Trent Alexander-Arnold really deserves a section all to himself, but I want to talk about the pair anyway so… Trent was of course the star of the show, with five key passes, three big chances created, 1.47 xA and of course, three assists. But on any other day Robbo's attacking performance – two key passes, one big chance created, 0.51 xA and two assists would still be very solid. Of Liverpool's 2.74 xG, 1.98 was created by the full-back pairing, who created all four big chances, and notched all five assists.
In terms of creativity for the season, that puts them right up there. It's clear for all to see how important it is for Liverpool to have both on the field and flying, and I've written before about how much the Reds have missed Trent in recent weeks. Robertson has eight assists from 5.61 xA, with ten big chances created and 0.22 xA/90. Trent has caught up with him massively though, now the Reds' third-highest assist provider with six from 4.2 xA, with a xA/90 overtaking Robbo to 0.23 with six big chances. Only Salah has more big chances created than the pair with 12, and only Salah (8.44 at 0.32) and Milner (5.28 at 0.30) have better xA numbers.
The Divock Effect
Divock Origi is a player who may well be debated until the end of time, but his impact as a Liverpool player can be unmistakably measured in goals. He's a player who consistently contributes when called upon and this was once again the case in this game, notching his third goal in all competitions from his third start.
Divvy now has two goals and one assist in the Premier League, having started just two games and notching just 184 minutes – a goal or assist every 61 minutes.
Another player who will have done his minutes to goal contribution ratio no harm is Sadio Mané, whose two goals took him to 14 for the season, one less than Harry Kane and 5th in the PL scoring charts. At 147 mins per goal or assist, that's a really good output for a second scoring forward – although in this game Sadio ended up playing as a striker. You can't really argue that it didn't work.
Four In A Row
The Reds notched their fourth consecutive clean sheet in all competitions. Having now conceded just five goals in eight games, and five in seven league games, the defence is starting to get a handle of things, which is helping those ahead of them. Whilst there were a couple of switches off from Van Dijk and Trent when the game was already won, Alisson Becker produced a stunning save to prevent Watford scoring from their only big chance, as the Hornets notched just 0.63 xG. What will please Klopp is that Watford had just five shots, none of them in the first half, and just two amassing a tiny 0.15 xG before the Reds were 3-0 up, and the game was home and hosed.