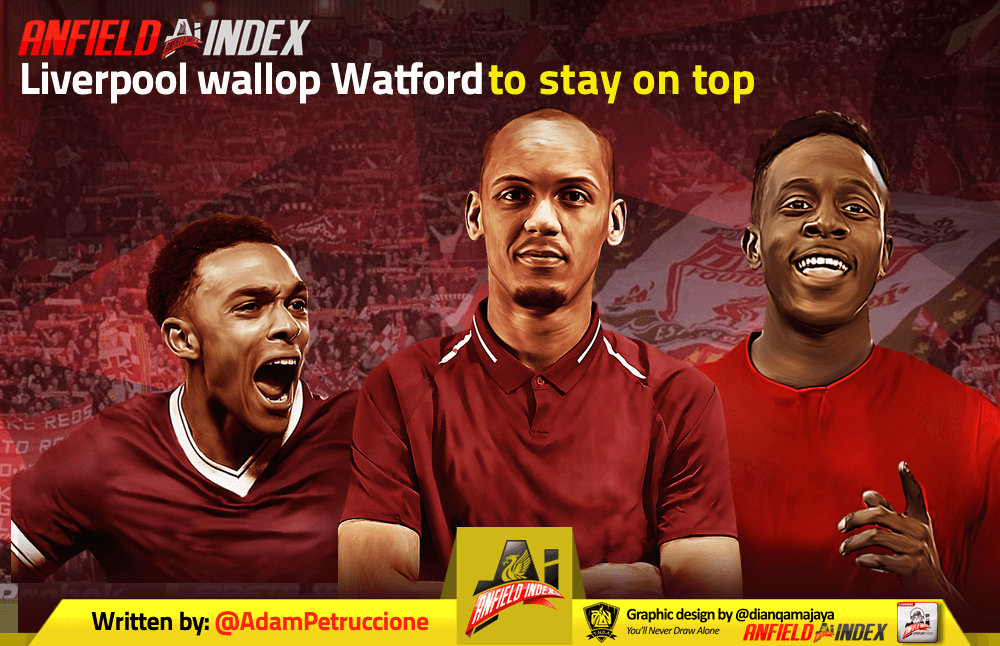 Liverpool wallop Watford to stay on top
Liverpool:
Alisson, Trent, Matip, Van Dijk, Fabinho, Wijnaldum, Milner, Origi, Mané, Salah
Watford:
Foster, Janmaat, Cathcart, Mariappa, Masina, Hughes, Doucourê, Capoue, Pereyra, Deulofeu, Deeney
Jurgen Klopp is clearly trying to obscure Naby Keita as a sort of secret weapon for the final ten matches of the season. God speed Everton. The match kicked off and it was apparent immediately that Divock Origi was going to play out wide, moving Sadio Mané into the central forward role, rather than the Belgian taking up Bobby Firmino's slot in a straight swap.
Playing Mané as a striker seemed to work fairly well if the goal is to put the ball in the back of the opponent's net as often as possible. Sadio Mané took a gorgeous cross from Trent Alexander-Arnold and cleanly headed past Foster within the first ten minutes. So many crosses to our impish forward line have fallen helplessly to earth, but on this occasion, it looked like an easy conversion.
Did Liverpool miss Trent Alexander-Arnold? They sure missed this one. Ten minutes later after a slew of other threatening crosses, young Trent found Mané in the middle again, but Sadio's touch left him chasing the loose ball down facing away from goal. No bother, Mané simply hit a vicious back-heel over a stunned Foster for 2-0.
Mo Salah dribbled to within 3 yards and hit one off of the post at 35', but Liverpool were mostly keeping Watford in check for the remainder of the half. The triangle of Fabinho, Van Dijk and Joel Matip were up for it with Watford putting together several respectable looking attacks. Matip had key blocks to bookend the half, sliding in front of a dangerous cross in the 40th minute and blocking another would-be goal with his body in the 55th.
At 59', Trent was at it again, putting in a corner from the left side that was only lacking a finisher as it bounced at the far post. Getting Sadio a hat-trick became a focus of the match, firing one that was cleared over in the 62nd. However, the next goal would come from Divock Origi.
After trying his patented whip from the left several times, Origi took a couple of steps past three Watford defenders, and fired home with relative ease for 3-0. With the match in hand the camera-man started to lose concentration along with the rest of us, focusing in on Will Hughes' facial hair like a documentary videographer. It is at the same time fascinating and disturbing. A pure white beard and mustache… you don't see that every day.
Gray finally got past Van Dijk in the 76th after Liverpool had caught Watford offside several times. They would regret making Virgil angry…
In the 79th minute with a Mané hat-trick out of the question after being subbed for Adam Lallana, the Anfield faithful would have to settle for a third assist from Trent. The young left back took a free-kick and put it right on Van Dijk's sweet smelling man-bun for 4-0. Just two minutes later, with Van Dijk playing centre-forward, Andy Robertson took aim and again hit Van Dijk with an inch perfect ball for 5-0.
The only thing missing was a little cooperation from City, who won 1-0 off of a questionable penalty.
On to Everton with an in-form Origi.
Up The Reds!