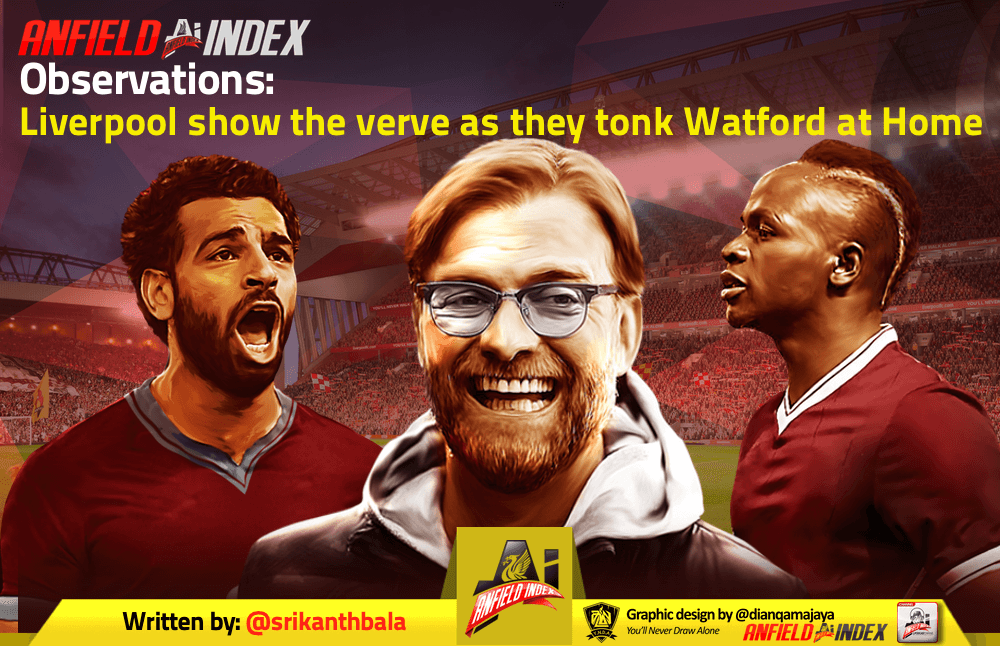 Observations: Liverpool show the verve as they tonk Watford at Home

Liverpool got back their much needed attacking verve as they dominated Watford from start to finish to dish out a hammering and emerge as the deserving winners.
This article could make a mention of most of the XI, so highlighting the key take away points was a challenge!
The key observations are as follows
Mane continues his brilliant form
Mane has been in brilliant form in recent games, especially at home and he continued his form tonight as he shone in a central role. His first goal was a great header which was an outcome of being in the right position while his second goal was a mix of pedestrian and brilliance. The finish for the second goal left most of us open-mouthed. Mane in this form is a delight to watch till he frustrates us with his abysmal finishing next time around 🙂
Liverpool needed the win
Liverpool have had a solid unbeaten runs through this season, but the last 5 games had shown up the team in bad light with just a win in the last 5, with 4 draws. With City closing down the gap, Liverpool needed 3 points to keep the pace on, and today's performance was what the fans and the team wanted. Liverpool have a decent fixture list in the next few games and anything less than maximum points is going to cost the team.
Best way to defend is by attack (Literally)
Trent Alexander-Arnold ended the night with 3 assists, Robertson got in with 2 assists while Van Dijk scored twice. If ever you wanted the defenders to come to the party, this was it. Trent was a welcome return with his set piece and crossing of the highest standard. There were a number of passes which were of gold standard. Trent needs to be playing every game going forward.
Salah and the miracle of Masina
Salah and his record against Watford was the talk before the game and though he did not deliver in terms of numbers, his performance was exhilarating. He ran their defence ragged, with special focus on Masina. Masina could just not track Salah and struggled all game. Salah was tenacious, hard working and yet sublime to watch. The performance he needed to bounce back from the performance against United.
The Derby on the horizon
The focus now shifts to the derby and three points could never feel sweeter. City's narrow win means the pressure is still on Liverpool. Everton aren't in the greatest form and presents Liverpool with an opportunity to stay on top of the league. Liverpool do not need any more draws.