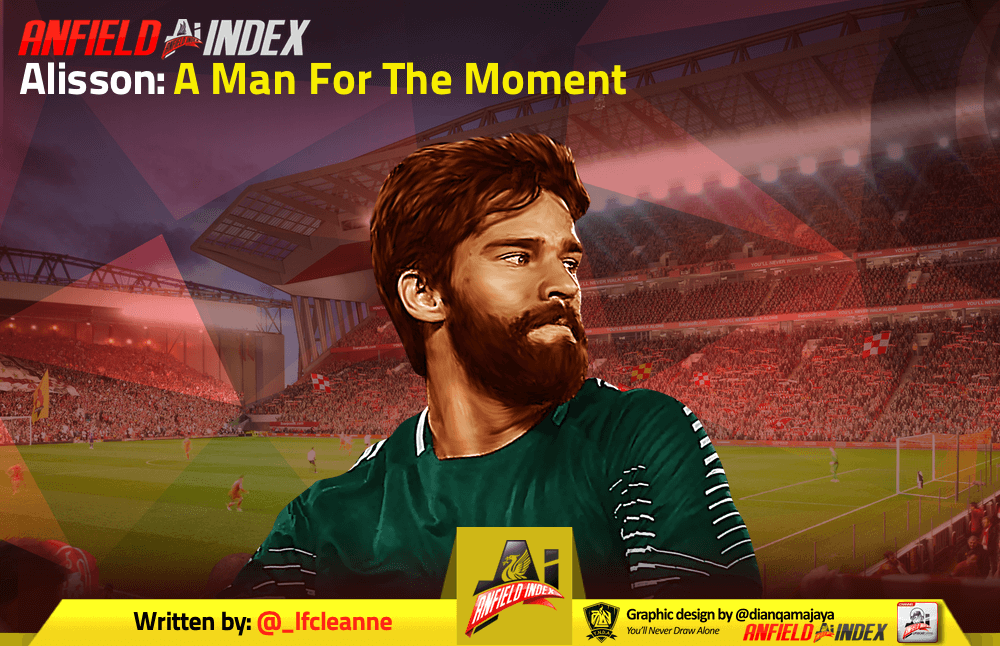 Alisson: A Man For The Moment

Football is a game defined by moments. There can be several, such as Gini Wijnaldum's thunderous chip against Bournemouth, later followed up by a wonderfully worked team move, or there can be just one.
A singular strike, a fortuitous deflection, a last-gasp penalty. Moments that define games.
Alisson's save to deny Jesse Lingard on Sunday was exactly that.
A clever through-ball from Romelu Lukaku fashioned the chance, allowing Lingard to break through the defensive line where he looked set to round the goalkeeper and give the hosts the lead. Instead, he was faced with the onrushing figure of Alisson, quick to race off his line, make himself big and use an outstretched arm to claw the ball away from danger.
In a game of little excitement, it was a defining moment.
This wasn't a game where Liverpool were at their blistering best, indeed far from it. The midfield wasn't progressive enough, struggling to capitalise on the opportunity presented by United's injuries and make their presence know. The front three failed to match the magnitude of the occasion, dwelling on the ball and needlessly succumbing possession. Joel Matip's cameo run was arguably the moment of the first-half for the Reds.
Klopp looked like a man aware of an opportunity not taken, furiously barking out orders in the hope it would spark his team into life. And yet, it could've been worse but for Alisson's intervention.
Last year Liverpool probably would've conceded a penalty or a goal, there.
Not now though, not with this 'keeper.
It's hard to pinpoint a time when Loris Karius exhibited the same degree of confidence last season and while he showed promise in stages, a calamitous display in the Champions League final ensured all routes to achieving that goal were cut off. Little room for sentiment would spark the arrival of the Brazilian and what has transpired since has been a monumental improvement in defence, due in no small part to the dominant and communicative influences of both Alisson and Van Dijk.
Wednesday night was much the same story, with Alisson stepping up to delivery another monumental save at a decisive moment. A stark contrast to Sunday's meagre encounter, this was a ninety minutes in which Liverpool displayed all their guts and glory; unpredictable attacking movement, incisive passes and a relentless desire to hunt for goals, Jurgen Klopp's side laid it all on the line against Watford, delivering a performance to shun the doubters.
Albeit a result that was hardly ever in doubt such was their dominance, it marked the second consecutive game in which Alisson has delivered a prominent save. Indeed, it in many ways summarised how the Brazilian is currently playing within the top bracket of goalkeepers; it can be easy to lose focus or suffer a blip when you've been stood twiddling your thumbs for an extended period of time, but it takes a great 'keeper to be able to do all that and still pull off the big save when it matters. And that's exactly what Alisson did, rushing off his line to thwart Andre Gray twice in the second half, one of which involved a spectacular reflex save from point-blank range.
Subsidising blistering ten-minute bursts for defensive solidity, it's been a campaign primed on the strengthened foundations of the back-four. Conceding a measly 15 goals so far, the Reds have shipped an average of 0.535 goals a game, a present trajectory that would see them end the season with approximately 20 goals conceded, significantly bettering Manchester City's tally of 27 from last season.
As if all that wasn't enough, Alisson's influence has extended far beyond the confines of just goals. Artfully distributing possession out from the back, his confidence and ability on the ball has provided the impetus for several counter-attacking moves while a growing awareness to pick and choose the right moments to go for the jugular has noticeably emerged since he was caught out at the King Power earlier in the campaign.
Whether it be a crucial save or a pinpoint delivery into the front three, Alisson is a man for the moment. Two big saves in the last two games are testament to that. A goalkeeper capable of stepping up in big, game defining moments and one with enough confidence in his own abilities to demand and distribute possession, this was merely the latest evidence to add to the highlight reel since the Brazilian's arrival, which has turned an area of weakness into one of overwhelming strength.