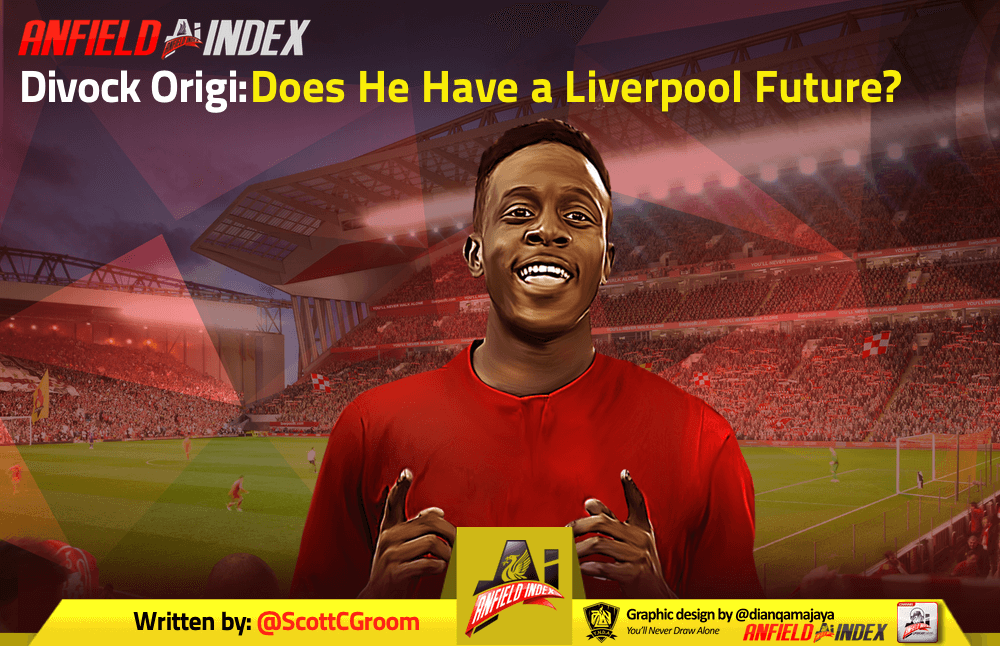 Divock Origi: Does He Have a Liverpool Future?
He's had a bit of a tough time of things over the last two seasons has Divock Origi.
After enjoying a relatively successful start to his Liverpool career under Brendan Rodgers and then perhaps the best time in a Liverpool shirt at the start of Jürgen Klopp's reign saw him being touted as one for the future.
Some of his goals in the 2015/16 season, particularly those crucial ones en route to the Europa League final, made him a real cult hero on The Kop – but things started to go wrong for him soon thereafter.

Last season saw the big Belgian shipped out on loan to Wolfsburg where, after a fair start, the wheels well and truly came off and it turned out to be a bit of a nightmare for him in the Bundesliga.
His return to Merseyside at the start of this season saw him destined to be a bit-part player or one who left in January, but he's still knocking about and his performance against Watford in Liverpool's 5-0 home win will have got many asking if he does have a future at Anfield beyond this season.
Let us start by looking at his performance against The Hornets. Chosen from the start in the absence of Roberto Firmino, Origi was played to the left of the front three and was picked ahead of Daniel Sturridge in a move that may well have surprised many fans.
This alone was perhaps an indication from Klopp as to the pecking order of his back-up strikers, with rumours quickly gathering momentum that Sturridge will be allowed to leave Liverpool at the end of the season when his contract expires.
However, when you're given a chance, it's all about how you take it: and boy, Origi really did himself a few favours.
He showed what his game was all about: pace, power, versatility, good link-up play and goals.
Origi danced down the wing, linked up well with Mané and Salah and the rest of the midfield, provided an outlet, ran himself into the ground in both attack and defence, and showed great poise and composure to get himself on the scoresheet with a well taken goal after beating three Watford defenders after cutting in from the wing.
It was a reminder to Liverpool fans as to what his game is all about and what, on his day, he can bring to the club.
Asides from being immortalised in Liverpool folklore for that goal against Everton in the derby earlier on this season, it would be a shame if Origi was remembered only as a bit of a cult star, because he's far more than that.
He really looks like he's been working hard in training and listening to what his manager has been saying to him, and that's been rewarded with a start against Javi Gracia's men.
But the thing that's stopping him from being remembered as just that is one thing: consistency.
There was a period in late 2016 when he scored for four games in a row, including that lovely finish from a tight angle at The Vitality Stadium. Unfortunately, Liverpool went on to lost that game against Bournemouth 4-3, but this was Origi at his finest.
Yet after this spell, his form quickly deteriorated, his touch, knack for a goal and confidence deserted him and he looked a shadow of the player in that spell.
If he can find that key missing element, he might yet be able to extend his stay at Liverpool.
There's a lot of talk of Timo Werner coming in this summer, and Origi is a player of a similar mould – so could he potentially fill that void without allowing the outlay of millions of pounds?
If Origi can keep proving he's got what it takes like against Watford, I see him being around for another season or two. Adding consistency and finding the back of the net a little more often would cement my beliefs, because Klopp clearly has a lot of belief in the 23-year-old.