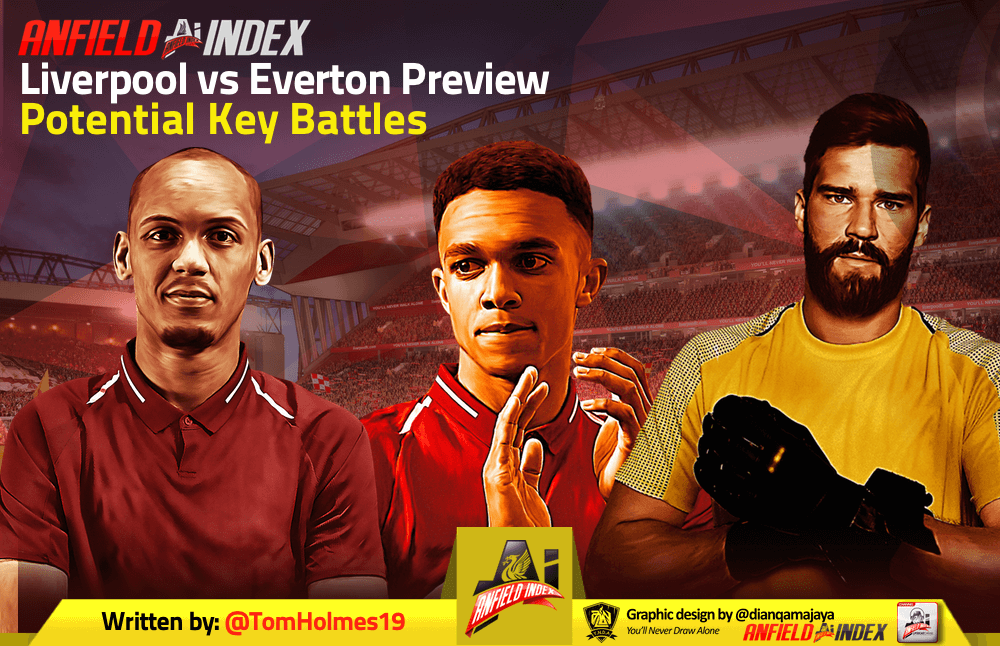 Liverpool vs Everton Preview - Potential Key Battles

Liverpool travel the vast distance to Goodison Park on Sunday for another hotly anticipated Merseyside Derby. The stakes are showing no signs of letting up for the Reds, but have drawn five of their last six trips to their rivals – with Sadio Mané's late show the only time the Reds have won there in the league under Klopp. Fresh off the back of Divock Origi's humiliating last-minute goal, the rivalry renews again. So what will be some of the potentially important battles in the match?
Trent Alexander-Arnold vs Lucas Digne
This is a slightly odd match-up, but it makes a lot of sense as to which team will be able to dictate the flow of the game. Digne has quietly become a quality attacking full-back but will have to contend with not just Mo Salah, but the increasingly impressive Alexander-Arnold, who demonstrated what he brings to the table against Watford. This will be a flank where both full-backs will look to attack and could fight themselves caught, and whichever player can end up pinning the other could decide who wins the game. Both of their respective wide-men, Richarlison and Salah, are incredibly dangerous, but in the back of both Trent and Digne's minds will be the opposite full-back, and whether or not they will show each other the respect to hang back.
Fabinho vs Gylfi Sigurdsson
Gylfi is Everton's most influential attacking player. A lot of that is offset pieces, but nevertheless, he's the club's leading scorer and joint leading assister, which means he'll be a threat for Liverpool to deal with. And that threat will have to be dealt with by Fabinho, who has played himself into some incredibly imperious form in recent weeks. This is another battle where I fancy Liverpool to win, and one where Everton will need to make some headway if they're to have any luck upsetting the Reds.
Alisson Becker vs Jordan Pickford
It was the tale of two goalkeepers the last time these two sides met, as Alisson produced a world-class save to keep Liverpool level before Jordan Pickford chucked one into the path of Divock Origi for Liverpool to score the winning goal. The simple fact is that goalkeepers are and have been in the past a vital part of games like this, where form tends to go out the window and it can become a scrappy, messy game. And goalkeeper is also one of the key areas where Liverpool have a massive class discrepancy over Everton, and where they have to make it count. Alisson needs to keep up his run of good form, and Liverpool can only hope that Pickford continues to do the opposite.
 Sadio Mané vs Michael Keane
Could Sadio Mané be the key man in attack for Liverpool again? Sadio is in an incredibly hot run of form and even ended up playing up front against Watford where he thrived. It's entirely possible he ends up up-front against the Ev too, given that Roberto Firmino might not be risked as he returns from an ankle injury – and Divock Origi loves a goal against Everton. Even if he does return to the left, he's still in hot goal-scoring form and it's clear that Everton have some weaknesses in their defensive structure. Hopefully, Keane will fail to manage against the pace and power of Mané and Liverpool can take advantage.