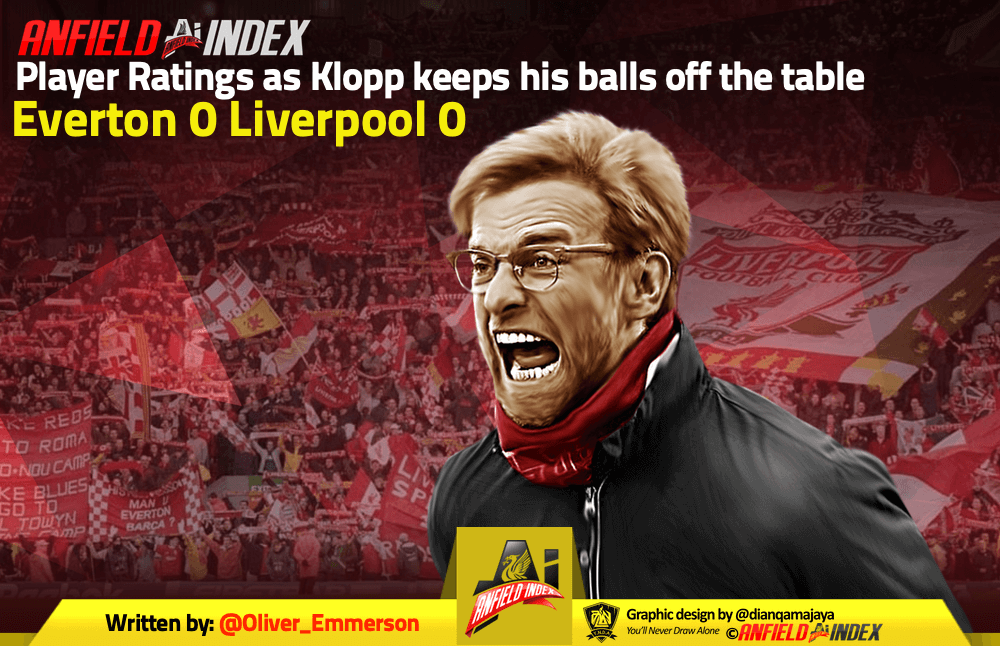 Player Ratings as Klopp keeps his balls off the table
Training's cancelled on Tuesday, sorry lads. Klopp's got to go and attend a maths lesson, in order to learn that 1 win and 1 loss = 3 points, whereas 2 draws = 2 points.
Honestly, I understand the conservatism to an extent but we had Everton. We had them. Forget the second half for a moment, in the first 45 we had two or three excellent chances, they didn't have a shot on target. They were bullied, pegged back and crowd quietened. And then, we started kicking the other way.
Adam Lallana for Mané? Milner on, but not for Henderson? Christ above. Good thing one particular player had a stormer, which brings us on to the ratings…

Virgil Van Dreamboat
Alisson Becker (7): Makes a couple of tidy saves, very proactive getting us on the counter-attack with quick releases. Good display from the Brazilian, another clean sheet to be proud of.
Trent Alexander-Arnold (7): A rare occasion where he was better defensively than going forward. Not to say he was poor in the attacking third, but his key moments came in being switched on to sweep away dangerous crosses.
Joel Matip (6): Mostly fine but had his feathers ruffled a few times and was fairly inept in bringing the ball out from the back with any sort of quality.
Virgil van Dijk (9): One-man band in terms of composure and leadership, had a head or leg on the end of absolutely everything could throw at him – and they threw a ton in the last half an hour. Player of the Year.
Andy Robertson (6): Fed up of him lately, to be honest. Has dropped a level or two from what we saw in the first half of the season, at exactly the wrong time. He wasn't terrible, he just wasn't the Andy Robertson we're all in love with.
Nervous midfield?
Fabinho (6): Good in the first half with one particularly impressive pass to set Salah away, seemed to fade a little in the second half as the game got away from the Reds.
Jordan Henderson (6): A couple of good passes early on but hid as soon as the game got feisty. Should have been taken off.
Gini Wijnaldum (6): The midfield were all very 6/10, weren't they? Why we didn't change shape or at least introduce Keita I can't really comprehend.
Salah disappoints
Mohamed Salah (5): I love you Mo, I really do. But you can't miss all those chances and not expect a 5/10, regardless of how good your movement and touch is. Should have won us the game, will know that himself. Should've put it on a plate for Milner, too.
Sadio Mané (6): Can't score backheels every game I guess.
Divock Origi (5): Didn't work for him today. Tried and tried but I can't rate him above Salah.
Subs
Roberto Firmino (6): One excellent ball in for Mané. Looked lively, probably could have played the full 90.
James Milner (5): Poor.
Adam Lallana (N/A): Honestly. Really. Lallana?