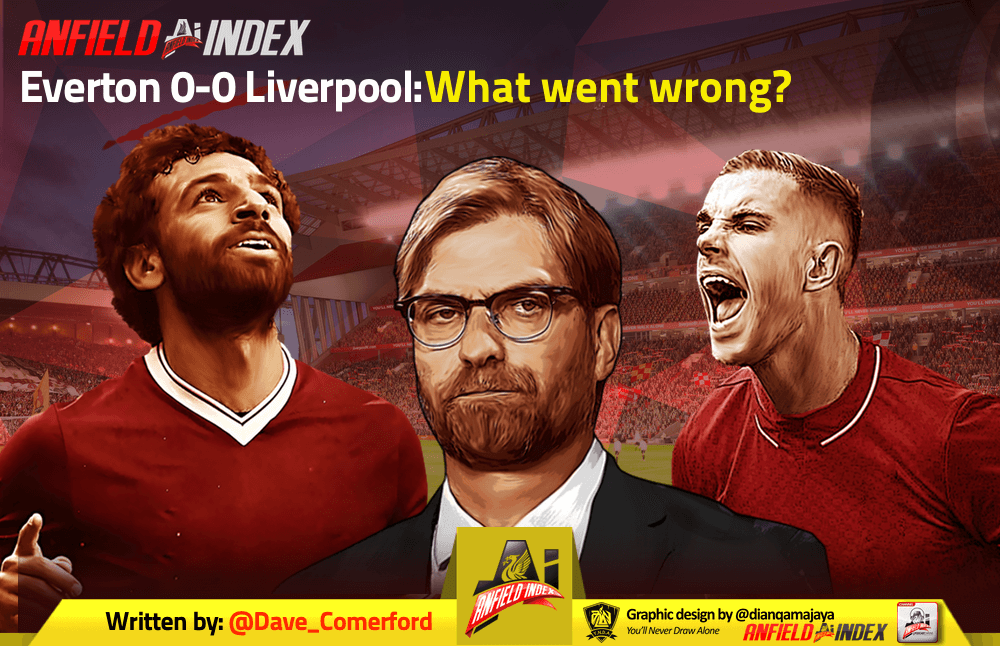 Everton 0-0 Liverpool: What went wrong?
A goalless draw at Old Trafford last weekend meant Liverpool's once-comfortable lead at the top of the Premier League table had been whittled down to nothing. They no longer had any margin for error. But it was a case of mistakes aplenty in the Merseyside Derby, and now the title race is out of their hands.
The Reds preserved their 17th clean sheet with relative ease, but paid for a lack of creativity and, most of all, composure. In truth, it was an agonising watch.
Best player squanders best chance
We'll come to discuss problems with Liverpool's midfield and Jurgen Klopp's bizarre calls, but it's important to start by focusing on Mohamed Salah's awful first-half miss.
Frankly, had the Egyptian converted when set through one-on-one with Jordan Pickford, nothing else would have mattered.
Salah was guilty of narrowing the angle for himself, allowing the England no. 1 to make a fairly simple stop when he really ought to have been picking the ball out of his own net.
Later in the game, he had another great opportunity when Joel Matip's ball deflected into his path, but his first touch let him down and Michael Keane was able to intervene.
The misses mark the continuation of a worrying trend for Salah, who has failed to deliver in almost all of Liverpool's big games this season. In other matches, one could blame a lack of service, but there is no such excuse this time. His team needed him to step up and he couldn't.
Salah's achievements since his arrival at Anfield have been remarkable, but to be considered one of the very best players in the world he has to produce some big, big moments.
A lack of control
A midfield trio of Fabinho, Jordan Henderson and Georginio Wijnaldum may not offer much in the way of ingenuity but would be expected to exert a sizeable degree of control.
Liverpool needed to take the sting out of a raucous atmosphere by dictating the tempo and being intelligent in possession. Yet too often they stupidly conceded possession or mishit a ball into touch. The Goodison faithful, and indeed the Everton players, were revelling in the scrappiness of the affair, roaring with each throw-in they won.
They started the second half quickly, just as they had flown out of the blocks in the first, and Reds fans were left waiting and waiting for their team to stamp their authority on the game and expose the gulf in class.
Both Fabinho and Henderson have been in good form of late but neither did what was required, while Georginio Wijnaldum was largely ineffectual.
Where was the game management which was so important earlier in the season?
Klopp's baffling decisions
Supporters may question Klopp's initial selection – they have repeatedly vented their frustration with conservative midfield choices in big games – but as indicated above, he had the right to expect much more.
What they will be most angry about, and with good reason, is the German's substitutions.
Roberto Firmino for Divock Origi just after the hour mark made a lot of sense – some might say it should have been done earlier, others that the Brazilian's impact was limited – but James Milner's introduction did not.
Milner has turned in plenty of battling displays this season, but it was clear against United, when he proved to be Liverpool's main outlet, that he is not an individual who will be able to alter the pattern of a scrappy game.
Still more inexplicable was the decision to bring on Adam Lallana as Xherdan Shaqiri, Naby Keita and Daniel Sturridge all watched on from the bench. Lallana has failed to provide even a hint of end-product since returning from what looks to be a career-defining injury and, far too predictably, he offered nothing.
This game, in particular, was crying out for the class of Shaqiri, who appears to have been somewhat frozen out. Meanwhile, Keita's absence after discovering his best form in a red shirt is puzzling to say the least.
Those who were on the pitch didn't step-up, but Liverpool also need their world-class manager at the top of his game if they're to prevail in this title fight.
Reds faltering at important moments?
I myself have subscribed to the 'you'd have taken this in August' school of thought for a while now, but still, I can't help rue this succession of setbacks.
In January, we had a chance to go ten points clear, or even just maintain a seven-point lead, when we faced City. Yes, they were fantastic on the day, but to a large extent they fed off our palpable anxiety.
We then squandered the chance their defeat at Newcastle gifted us, and this week we've been a shadow of our usual selves in two potentially season-defining games.
There has not been a proper champions' performance as the tension has ratcheted up. One is needed very soon.
But to end on a possible note of consolation, there's a reason to believe this team will thrive as the hunter after somewhat struggling as the hunted.