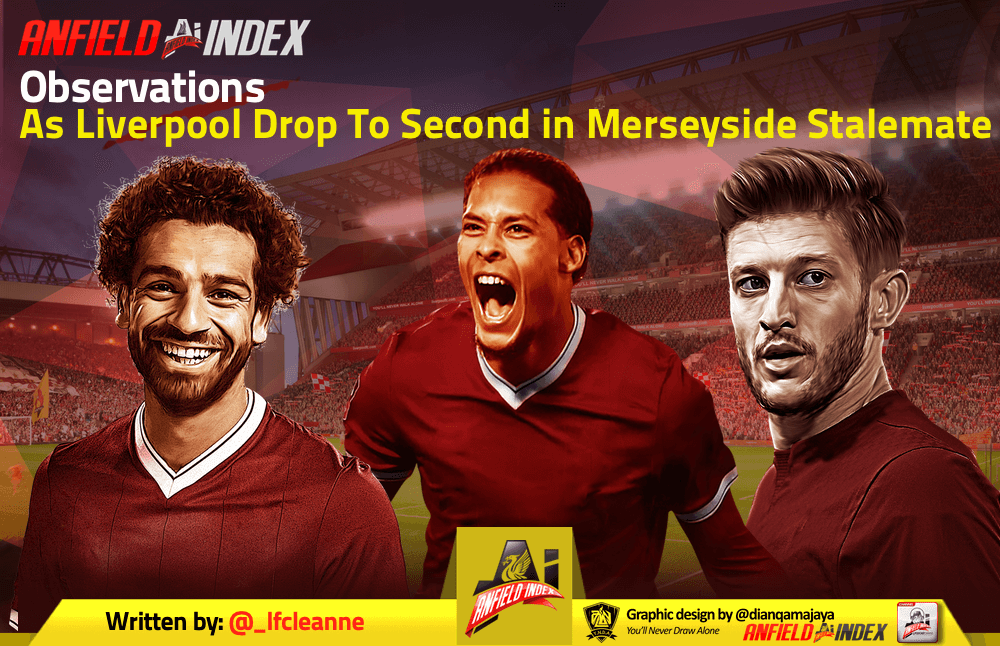 Observations as Liverpool Drop To Second in Merseyside Stalemate

Although extending their unbeaten record against local rivals Everton, Liverpool missed the opportunity to return to the top of the Premier League table with another 0-0 stalemate, marking their third draw in the last five games in an afternoon marked by frustration.
Much like their performance against Manchester United last weekend, this wasn't ninety minutes fuelled by the electric freneticism of a Jurgen Klopp side. Instead, such was Everton's impressively fast start, Liverpool had to ride out an early wave of pressure, settling the tempo of the game in an attempt to silence the crowd. A task they did well, many would've expected the team to kick on and assert their dominance but a combination of poor decision-making and a lack of creativity in the final third saw the Reds stutter to another draw – a result that places Manchester City in first place.
Mohamed Salah misses golden opportunities
It's fair to say Mo Salah hasn't enjoyed the best patch of form of late, having delivered a sub-par performance against Manchester United alongside Sadio Mane and Roberto Firmino. Last weekend, the Egyptian forward looked a touch off the pace, struggling to deliver the kind of deft touch that became so customary last season. Indeed, there was little room for him and his teammates to make inroads against United's defence.
Yet, at Goodison Park Salah had countless opportunities to make his mark. First came a curling left-footed effort on the edge of the box that should've threatened Jordan Pickford much more than it did before an interception by Fabinho in the middle of the park enabled the winger to storm through for the game's biggest chance.
Of all the players on the pitch, Salah would be the man you'd have wanted it to fall to. Bearing down on goal unopposed, his effort would again prove to be little more than a tame shot straight into the 'keeper's midriff. It was a chance spurned by his inital touch, narrowing the angle for himself after a run that required him to venture slightly further infield and open up his body to the shot. Failure to do so made it an easier task for Pickford than it should've been, with the goalkeeper's decision to stay on his line typifying what a golden opportunity it was.
A goal there would've changed everything.
Salah would have further opportunities but none would deliver the positive end Liverpool so desperately craved. This was a game to forget for last year's Golden Boot winner on an afternoon when Klopp needed his big players to step up and deliver.
Van Dijk a cut above the rest
Albeit a frustrating game, the defence deserved huge credit for another imperious performance as the Reds secured their 17th clean sheet of the campaign. Virgil van Dijk continued to impress, providing another ninety minutes evidence of why he should be in the running for PFA Player of the Year.
This could've been a far worse result had the Dutchman not been present, with Everton threatening to take all three points in the latter stages of the contest. Aerially dominant and while barking out orders to his teammates, the former-Southampton man was level to everything Marco Silva's side threw at the back-four, clearing his lines while providing the usual long-racking passes to set his team on the attack.
A cut above the rest, it was a performance of the highest order from a man who has helped revolutionise Liverpool's defensive picture. It's just a shame his teammates couldn't rise to his level.
Bemusing substitutions from Klopp
A bench containing Xherdan Shaqiri, Naby Keita, Roberto Firmino and Daniel Sturridge, Jurgen Klopp had plenty of options to call on when the game wasn't going his way. In Shaqiri and Keita, Liverpool had two players capable of breaking the lines of defence to create a chance out of nothing and provide much-needed impetus while Firmino's return from injury offered a huge boost ahead of kick-off.
What ensued, however, was a series of bemusing tactical decisions from Klopp, suggestive of a team afraid to bring the game to their opponents in fear of losing. James Milner's introduction for Georginio Wijnaldum was reasonable given the 33-year-old's role in the 5-0 win over Watford but it also represented a sideways move at a time when Liverpool could've used more creative impetus.
Then there was the decision to introduce Adam Lallana with ten minutes left, taking off the club's most in-form goalscorer in Sadio Mane. A player with no goals or assists in over a year, it was certainly a head-scratcher to see Jurgen Klopp opt for the 'Adam Lallana vs Norwich' moment over Shaqiri or Keita. The England international did fine don't get me wrong, but it was hardly a substitution that made you think Liverpool would bag a crucial winner.
Time to respond, Liverpool
Much in the same way they did after the 0-0 draw against United, Liverpool must now regroup and respond after a frustrating draw that saw them surrender control of the title race. Manchester City are now at the top of the table with nine games to go, making the room for error small for the Reds. However, if the frantic nature of this season's title challenge has proven anything its that there are unpredictable twists and turns around every corner. Guardiola's side still have Spurs and Manchester United to come; this title race has still got plenty of life in it.