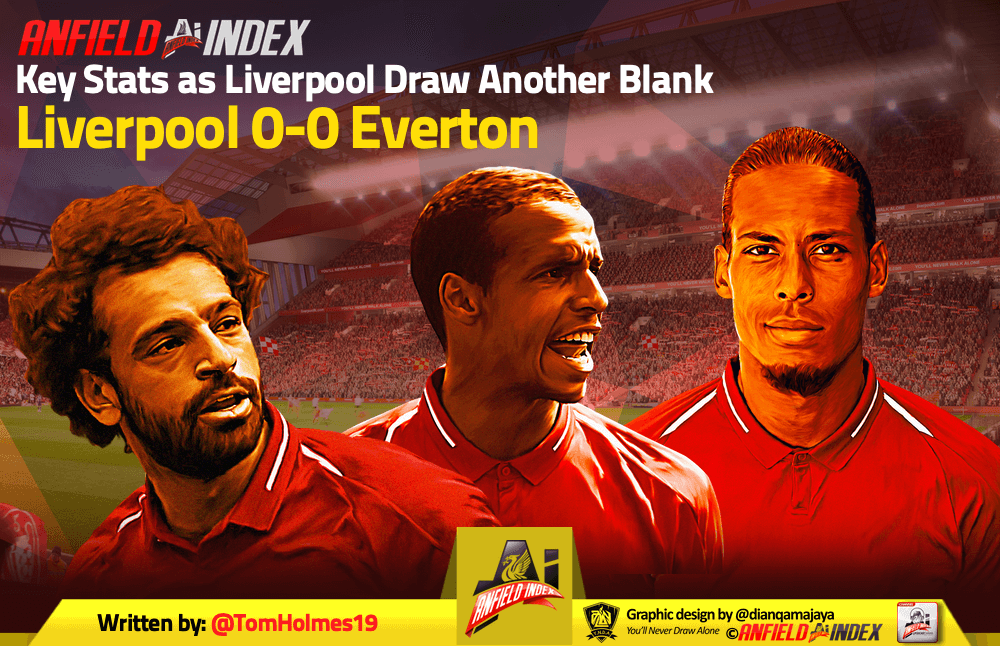 Key Stats As Liverpool Draw Another Blank - Liverpool 0-0 Everton

Liverpool were held to a frustrating 0-0 draw by Everton that dented their title hopes further and saw them slip behind City in the table. But what were the key stats from a disappointing performance at Goodison Park?
Goodison Blues 
Whilst Liverpool's unbeaten record over the Blues remains intact, with Liverpool having not lost since Roy Hodgson travelled to Goodison in 2010, but nevertheless, they've now drawn six games at the home of Everton since that game, winning just twice. Whilst Klopp's own record against Liverpool's Merseyside rivals is also strong – five wins and three draws, his team have now scored just one goal in three trips across Stanley Park. That's simply not good enough.
Defensive Strength Continues
If there are some positives for Liverpool to take, it remains in the defence, where they are still the best team in the league, having now conceded just 15 goals from 29 games – keeping their 4th league clean sheet in a row and 5th in all comps.
Everton created almost nothing in truth, an xG of 0.24 from seven shots, albeit with five inside the box. Zero big chances and very little reason for Liverpool to worry. As usual, so much of that was down to the colossal performance of Virgil Van Dijk – who won 10 aerial duels, 2/2 tackles, made 13 clearances, and three interceptions. If Liverpool do go on to lift the title, there'll be no doubt that VVD will have done more than anyone to ensure that it gets lifted.
Salah Blows His Big Chance
Liverpool's most reliable attacking player will find himself with a few irate fans tonight, as he contrived to miss the game's only big chance, a shot that led to over half of Liverpool's meagre 0.97 xG. Salah himself had another great opportunity to score, as did Fabinho, but neither were able to get a shot off.
Other than that, however, it was another pretty toothless attacking display away from home, with Liverpool having now scored three goals in their five away league games in 2019. Just ten shots, just one big chance, and back to back failures to score away from home. It feels like the Reds aren't doing enough.
And it's harsh to blame Salah for his team's lack of creation and imagination. Jordan Henderson ended up with 0 key passes and an XGBuild of 0.04, Gini Wijnaldum ended up with 0.03 xA but 0 xGBuild and nobody created more than one chance from open play. Fabinho was one of Liverpool's best players again from the deepest midfield role, but ahead of him, there was absolutely nothing to shout about in terms of creativity, and James Milner and Roberto Firmino, who were brought off the bench to rectify that situation, ended up with creating 0 chances, with a combined xGBuild of 0.04.
All in all, a pretty atrocious attacking performance, lit up by one moment – which Liverpool's best-attacking player failed to take.