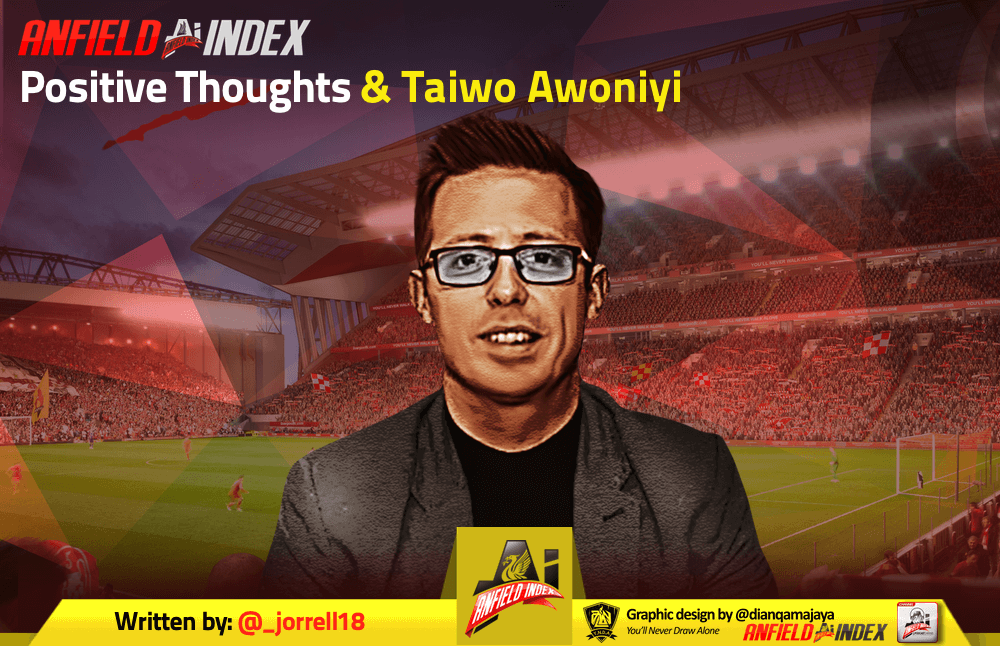 Positive Thoughts & Taiwo Awoniyi | Reflecting on Liverpool's Transfer Nous

In the midst of trying to wrap up an abysmal Bundesliga campaign, reports from German sports outlet Spox indicate that Schalke 04 have lodged preliminary interest with Liverpool in bringing youth forward Taiwo Awoniyi into their ranks over the summer.
But this article, while dancing around the topic, concerns something broader than that simple fact.
Moving on
During a week of roller coaster emotions, it's time for something lighter. Although this will require a bit of a dreary look into Liverpool's recent past, ultimately there are multitudes to be positive about. Some have to do with the Reds and their chances to end a title drought this season, but there's been plenty on that this week to peruse. Instead, let's look at transfers and how they've developed since 2010.
Liverpool have become far more adept at not only recognising and acquiring talent in their youth academy but have also dramatically improved at moving players on that are too far off the first-team level. Awoniyi's link with Schalke 04 is just further evidence of the Reds' newfound strength at the negotiating table.
One of the most consistent and, for a time, bang-on accusations of John Henry and Liverpool's ownership group Fenway Sports Group was their seemingly unrelenting policy of buying young, promising players that could work their way into the first team. That policy has altered in such a way that transfers are the least of Liverpool supporters' worries at the moment. But, once upon a time not too distant in the past, transfer windows terrified Reds home and abroad.
Nightmares from the past
Liverpool's first foray into a transfer window under FSG's administration came in January 2011 and seemed to put Liverpool in a good position with fans with their end-of-window purchases of Luis Suárez and Andy Carroll. One turned out to be brilliant, the other…let's discuss him over drinks rather than here.
The following year, some of the deadweight was trimmed around the squad as well – a promising move that, viewed alone, showcased some business nous that the Reds' new owners were pointing in the right direction. Raúl Meireles, Paul Konchesky, Christian Poulsen, Milan Jovanovic, and Daniel Ayala were all moved on after only a short time with the club.
Incoming players during the 2011-12 season were some of the least regarded players in the club's recent transfer history, damning FSG's early reputation with supporters. Stewart Downing, Charlie Adam, José Enrique, and Sebastían Coates were all brought in alongside current club captain Jordan Henderson. Young, promising players, almost all of whom didn't quite come close to panning out at Anfield.
Money wasted, talent unnoticed
Since 2012, there have been iconic signings, though few: Phillippe Coutinho and Daniel Sturridge came to Liverpool during the same January 2013 window. Too many transfers around that time brought players that, admittedly, shouldn't have even been in contention for first-team places at Liverpool.
Two common threads seem intertwined throughout Liverpool's transfer business from 2010-2016: many players that have come and gone were either supposed to be the 'next big thing' and never were, or the backroom staff failed to recognize talents that have gone on to perform elsewhere.
Failed young talent Liverpool is nothing new to supporters over the past several years. To take a brief look at some of the anti-highlights, here's another dreadfully simple spreadsheet.
On the other side of the coin, it would shock new Liverpool fans to discover that Suso, for AC Milan, was untested at Liverpool and eventually sold for a paltry fee of just over £1 million. Or that Iago Aspas, a subject of mockery due to his poor performances at Liverpool, has scored 51 goals in 84 appearances since joining Spanish side Celta Vigo. Or Luis Alberto, who nearly never saw the pitch in a red shirt, pairs quite well with Ciro Immobile and Sergej Milinković-Savić at Lazio.
Who never saw that quality? The answer is more relevant in this season's title race than ever.
Brighter Futures
This topic has been debated endlessly in the past, and Liverpool are assuredly not under the same transfer guidelines in today's transfer market. What should be noted is not just that player acquisition has improved in the last three years – which, of course, it has – but a change more subtle to transfer policy.
Young talent is still a priority, but in cases like Taiwo Awoniyi, a new form of Liverpool transfer business has emerged really just in the last 18 months: offloading players not cut out for Liverpool for a proper compensation package.
It began with Jordon Ibe moving to the south coast, becoming Bournemouth's then-record transfer for a fee of £15m.
Smart moves
Reds revelled in a few aspects of the deal that seemed to indicate a different tone – or, rather, what felt like newfound fortitude in the transfer market – was going to be set in player negotiations going forward.
Ibe's transfer paperwork included a buyback clause that allowed Liverpool to bring the youngster back into the fold should his development at Bournemouth prove satisfactory. That alone was a strong step towards change, not only at Liverpool but across the top teams in the Premier League as well.
Loans sometimes feel like "we don't want you here right now" for young players, especially those untested in the first team. Ibe's buyback option, however, felt as a supporter more along the lines of "you're not good enough to be here right now…but prove us wrong."
While the Reds have monitored his progress at Bournemouth, it's been clear that his buyback option need not be exercised. Much of Ibe's issues on the pitch for Liverpool have been directly related to the reasons why he was sold in the first place.
Just as important as the buyback clause, though, was the fact that Liverpool received £15m for a player that was determined to be surplus to requirements. Considering the puny sums received for players that are succeeding a good clubs elsewhere in Europe, it's hard not to consider that a positive.
And beyond
Since then, Reds have seen some pretty kosher moves. Dominic Solanke, a promising striker unable in his time at Liverpool to showcase why he should be Roberto Firmino's backup, was sold on for nearly £20m. Danny Ward, who never got the chance to dislodge Simon Mignolet or Loris Karius, let alone Alisson Becker, was sent to Leicester for £12m. Lazar Markovic, though for no fee, was finally offloaded to Fulham and off the wage bill.
And, finally, Danny Ings, who found love from supporters despite his long-term injury issues, was moved on to Southampton for almost £20m.
Not bad deals, again, for players deemed outside the first-team options on a consistent basis.
Working out future business
In the end, what matters most is not that these players are off Liverpool's books. Solanke could've been used in the title run-in, as Dave Hendrick and Karl Matchett discussed on the most recent A-Eye Scouted podcast. Ings might have found more goals had a 4-2-3-1 formation been employed when he was on the pitch.
Without that assurance, those players were sold to other clubs. If it means Liverpool do business differently in the future, then all power to that process. It should, in theory, mean that bringing new players in during the summer transfer window puts Liverpool in a position of negotiating power.
In an era where Premier League clubs are haggled with differently due to their buying power, some semblance of prowess could be the difference between getting fleeced for mediocre quality and buying smartly, as Reds have seen during the last 18 months.
If that means Taiwo Awoniyi, whose price tag has reportedly been set at £11.5 million, is sent abroad to fund future transfers that further guarantee Liverpool are in and around the title race year-on-year, then both good on the club for moving on from said player and proper farewells to a footballer like Awoniyi for having an opportunity in the first-team elsewhere.