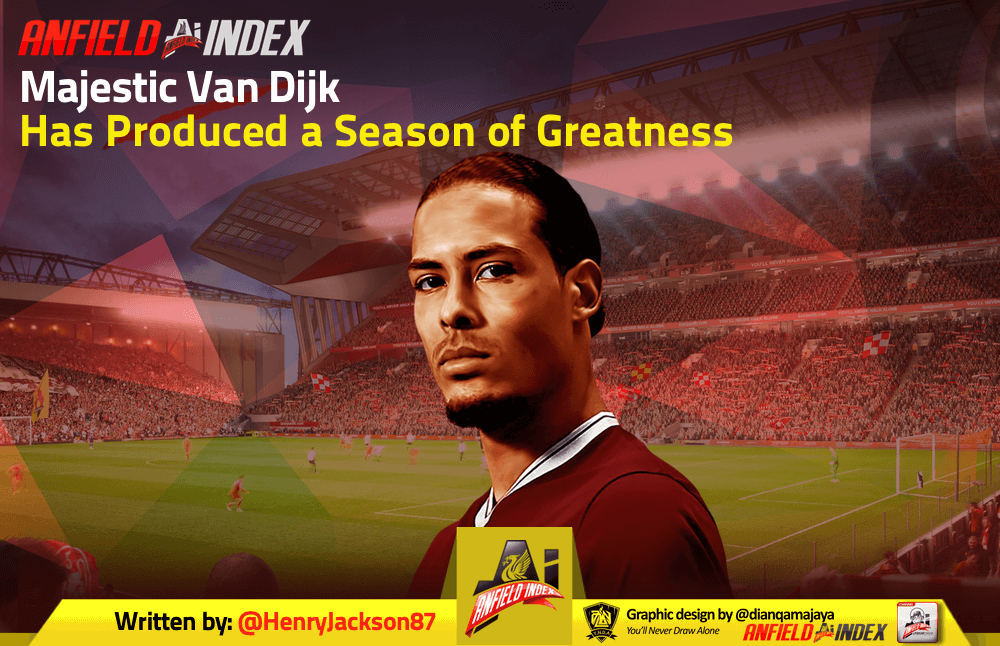 Majestic Van Dijk has Produced a Season of Greatness
Even when Liverpool leave you tearing your hair out, Virgil van Dijk still manages to come away blameless.
At Everton, the Reds played with the kind of intensity on show at Goodison Park last season, when thoughts were more on Champions League duty rather than derby affairs, as a drab 0-0 draw was played out.
Last Sunday's performance wasn't of a team desperately trying to win the Premier League and return to the top of the table, with a lack of attacking quality and impetus on show from the first whistle to the last.
But then there was Van Dijk, strutting around the pitch like an overly-competitive dad having a kickabout with a bunch of children, essentially playing a different sport to everyone else on the pitch.
If Liverpool's display was insipid, the Dutchman's was majestic. Then again, we're used to it by now.
Van Dijk joined the Reds with a huge reputation, amid much delight from supporters, but did anyone really envisage him being this good?
He has put together an almost perfect Liverpool career to date – the odd rare error has arrived, but footballers aren't robots – and has been the inspiration behind their superb 2018/19 season.
Without him, there is no chance Jurgen Klopp's side would find themselves on 70 points after just 29 matches, with only 15 goals conceded along the way.
It would be like taking Luis Suarez out of the 2013/14 side, or Steven Gerrard out of numerous teams during the 2000s.
Football supporters can be guilty of under-rating players in the present, only looking back and appreciating them fully once they are gone.
We are seeing a truly great individual campaign from Van Dijk, though, and one that should be enjoyed while it is happening.
The argument about winning trophies before being put on a certain pedestal is fair in many ways, but has any Liverpool centre-back ever performed with such immaculate consistency?
That is a lazy assumption to make in some ways, considering I never saw many greats such Alan Hansen, Mark Lawrenson and Ron Yeats play every week, but you only have to listen to older fans to realise how special Van Dijk is.
Many are already saying he is the best they have seen represent Liverpool at the back – it is hard to imagine how any former Red could have been much better, barring the slightly tiresome silverware argument.
Jamie Carragher and Sami Hyypia were both great modern day centre-backs, but they are a noticeable step down from Van Dijk's faultless current level.
While it can be easy to pick holes in areas of a player's game, including even world-class individuals, Van Dijk really does have the lot.
First and foremost, he is a formidable defender with unlimited reserves of pace and strength, who hasn't even been dribbled past for a year. That's bordering on unfair.
Aerially he is monster, as Dominic Calvert-Lewin found out firsthand last weekend – he has won an average of 4.4 aerial duels per game this season – and his technical ability is effortlessly smooth and unruffled.
The Netherlands captain is also a natural leader who spends his time organising and constructively berating teammates, holding the side together in times of need.
The Everton game was a perfect example of this, with Van Dijk marshalling the troops during a rocky spell in the second half. Without him on the pitch, there is every chance Liverpool would have lost their first Merseyside derby since 2010.
Jordan Henderson is a good captain who is valued highly by his colleagues and Klopp, but there is no doubting that Van Dijk is the unofficial skipper at Anfield these days.
He is nailed-on to usurp Henderson at some point.
There is no superior defender in world football at the moment and no better player in the Premier League, which is why the 27-year-old should cruise to numerous end-of-season awards.
He will win Liverpool's Player of the Year without question, but he has been way ahead of any player in the entire country, too, let alone just at his own club.
Figures such as Sergio Aguero, Bernardo Silva, Raheem Sterling and Son Heung-min are also worthy contenders, but none have been fit to lace his boots in 2018/19.
No defender has been named FWA Footballer of the Year since Reds legend Steve Nicol bagged the award back in 1988/89, but this is surely the year that changes.
Similarly, John Terry (2004/05) is the only defender to have won the PFA Player of the Year award in the last 25 years – Van Dijk would be a worthy person to end that drought, too.
If Liverpool are to wrestle their way back ahead of Man City in the next two months, Van Dijk will have to stay at his unrivalled level.
The Reds' attack is failing to consistently fire, which is becoming more galling by the game, and pragmatic wins look more likely to be the order of the day, rather than free-flowing goal-fests.
Nobody deserves to be a title winner more than Van Dijk this season and it would be an injustice if his campaign finishes trophy-less.
Past Reds greats such as Kenny Dalglish, Ian Rush, John Barnes, Gerrard and Suarez have all had mesmeric seasons that have become the stuff of legend – Van Dijk is closing in on one of his own.