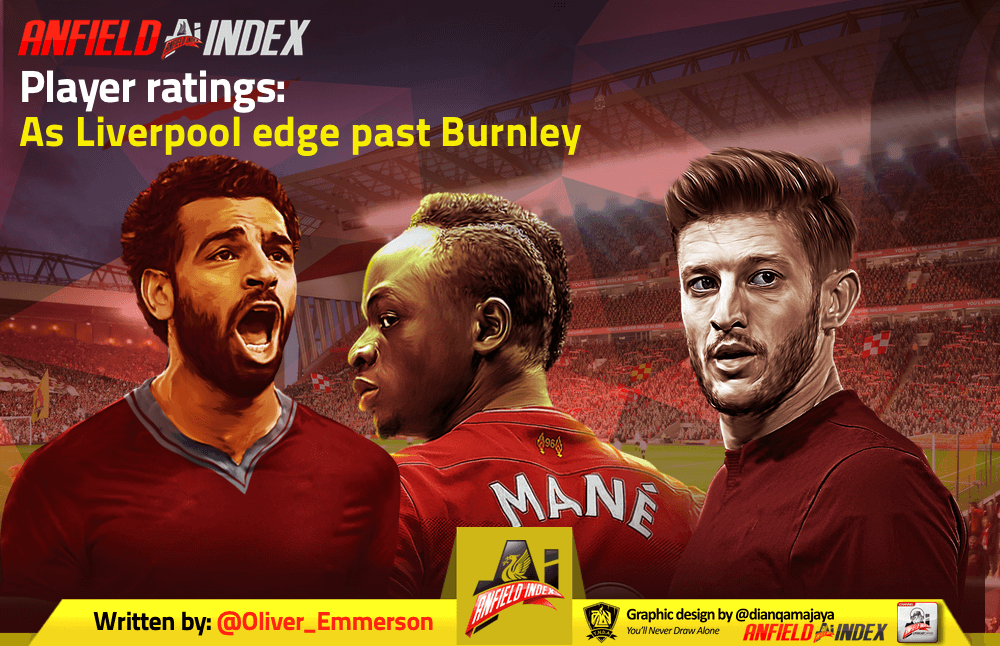 Player ratings as Liverpool edge past Burnley
I'll be honest with you, about 10 minutes in I thought this was going to be a foul mouthed rant about officials with some '5/10: Didn't do enough to break Burnley down' for good measure.
Alas, the Reds did their job and close the gap on City to one. Get past Bayern, see off Fulham and we can all go into the international break feeling a little merrier.
Here's your ratings from today's game.

Alisson Becker (6): Wasn't troubled too much legally, the clear foul on him for Burnley's opener needs some explaining from the officials. Thankfully didn't let it flusher him and was fine there after, tried to give me a heart attack with one flick over the leg of Woods. Can't do much about the second goal.
Trent Alexander-Arnold (5): Was given abit of a roasting by that winger with the biggest nose I've ever seen. Delivery wasn't alright either but we've got to allow the odd bad game given all our kids are going to have posters of him on their walls in a few years.
Virgil van Dijk (7): Fed up of praising him to be honest, it gets boring. Go on Virg, drop a clanger. I dare you. He forever looks imperious. Imagine being his partner? You'd hear a bump in the night, lean over to see him get up and nod off back to sleep. Wish they'd have tested him more so I could give him more than 7.
Joel Matip (6): Absolute 50 pence head, but he defended just fine. 6/10 kinda fine. I am starting to miss lovely Joe a little though.
Andy Robertson (6): Better defensible that in recent weeks which is very welcomed, hopefully a return to form for the final stretch of the season. Should he do better for the second goal? Maybe, but I need to get in my car so I'm not changing the 6/10 I had locked in a few minutes ago. Oh look, we've made it 4-2… *scrolls down to Mane*.
Fabinho (7): Absolutely elite 'taking one for the team' tekkers with his yellow card. You just need them sometimes. Nice and calm on the ball after we conceded, didn't let the nerves get to anyone.
Gini Wijnaldjm (6): Nothing particularly extraordinary in the good or bad sense. Looked like he was saving himself a little which is fair enough given you'd expect him to start nearly enough every game from here on in.
Adam Lallana (7): Twitter is going to drive me bonkers talking up his 7/10 at home to Burnley, but I will admit that he played well despite my selection reservations. Excellent tackle for the second goal, keep it up please Adam.
Mohamed Salah (6): Just looks like he needs to score. Still involved, involved in the goals, just needs some of his own.
Roberto Firmino (7): Good performance but come on lads, I'm not giving him an 8 for two tap in's. Especially when he didn't no-look any.
Sadio Mane (8): Overwhelmingly Liverpool's best attack's at the moment. At the heart of everything, producing in big moments. That first finish is stunning, so much harder than it looks. Not happy with him scoring a second mind, as I'm not typing this instead of driving. You go get that Golden Boot, Sadio.