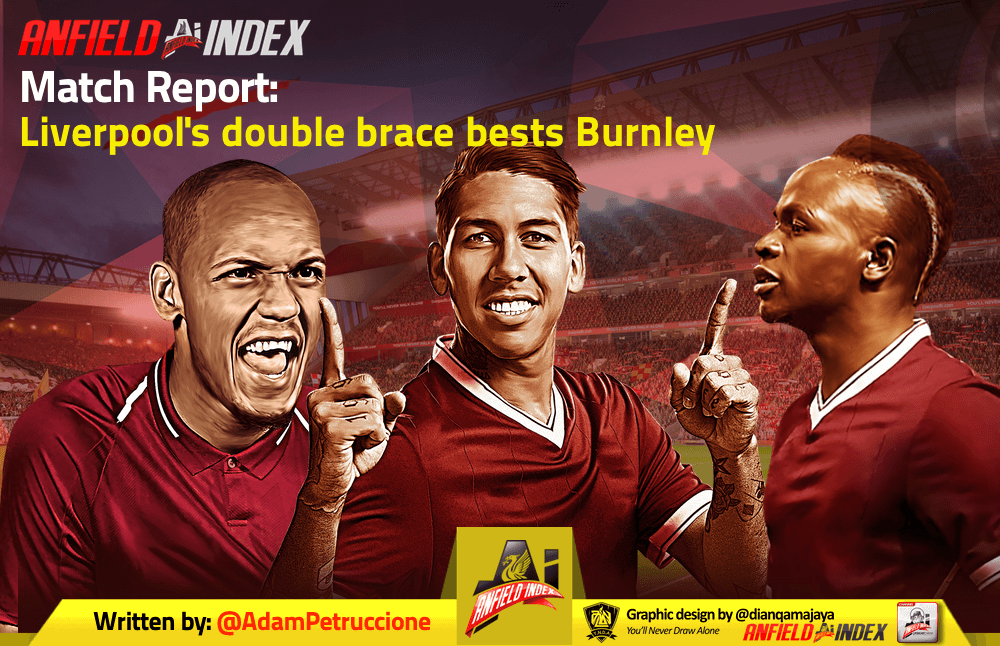 Liverpool's double brace bests Burnley

As the early kickoff time neared, Reds supporters were concerned about two things, that dastardly wind our manager keeps going on about and the refs who seem by their recent actions to be party to Manchester City's slush fund bonanza. We'll come on to those refs in a bit, but when the line-up card came out, that was all that Liverpool fans could talk about.
Adam Lallana. Adam Lallana? Adam Lallana!
The player who perplexed us all with his late addition in the Goodison derby was going to start at Anfield with more accomplished options looking on from the bench. Basically a wasted year for Naby Keita then? After waiting a year to bring him in from RB Leipzig, the way he has been slowly assimilated into the club as if by osmosis… well it boggles the mind.
Klopp mentioned something about set-pieces being a concern when either Keita or Shaqiri were involved in the eleven… You know what's coming don't you?
Goal. Ashley Westwood. Yes, from a set-piece, and we're down 0-1 at Anfield to a club fighting to stay clear of relegation spots. To be fair, Tarkowski pulled a WWE move on Alisson who was carded for the privilege of speaking to Andre Marriner.
Thankfully, with Liverpool supporters around the world losing their collective stuff, the eleven on the pitch were made of stronger stuff. A one-two between Salah and Gini befuddled Tarkowski and Heaton, allowing Bobby Firmino to score a simple finish.
Ten minutes later (29′) Liverpool added another through their most prolific forward of 2019. Sadio Mané scores from Mo Salah, finishing in the top right corner, but the story of the go-ahead goal is that it came from… an Adam Lallana press. It's going to take another ten of those for the average Liverpool supporter to be convinced that Lallana should be getting minutes ahead of all of our other options.
The half ended without any other goals, but not for lack of effort. Salah and Firmino combined for a close call, but The Reds would go into the second half up 2-1.
In the 67th minute, Tom Heaton decided to stop wasting time and passed the ball directly to Mo Salah. The Egyptian intercepted the ball like an NFL cornerback, waiting along the sideline in front of an unwitting receiver. Again Salah was able to push the ball to a teammate through the tackle of a Burnley player. This time Firmino was on the receiving end to make it 3-1.
Substitution time is always interesting for Liverpool and this day did not disappoint. Jordan Henderson came on for Gini Wijnaldum, resting the Dutchman for Bayern. Naby Keita replaced Adam Lallana… sensible. And, finally Daniel Sturridge jogged on for Trent Alexander-Arnold, but hey there was only a handful of minutes left at that point…
Goal to Burnley! Klopp tempted fate and got slapped again as Gudmundsson fired home to keep us from completely relaxing, but thankfully, we have Sadio Mané. Sadio scored a fourth in injury time, his 50th for the club, coming from a Sturridge cross. So, all-in-all, mixed results from Jurgen Klopp's choices for a starting eleven and his substitutes. At the end of the day, it's another 3 points, making it 73 on the season. Only 8 times in the Premier League era have we bested 73 points over a whole season. One more win and we'll have surpassed last year's total and we seemed to have gotten plenty of joy out of that one.
An unconventional win from Jurgen Klopp's Reds, but would you expect anything else at this point?
Up the weird Reds.
https://twitter.com/footballjoe/status/1104742181884051459?s=21