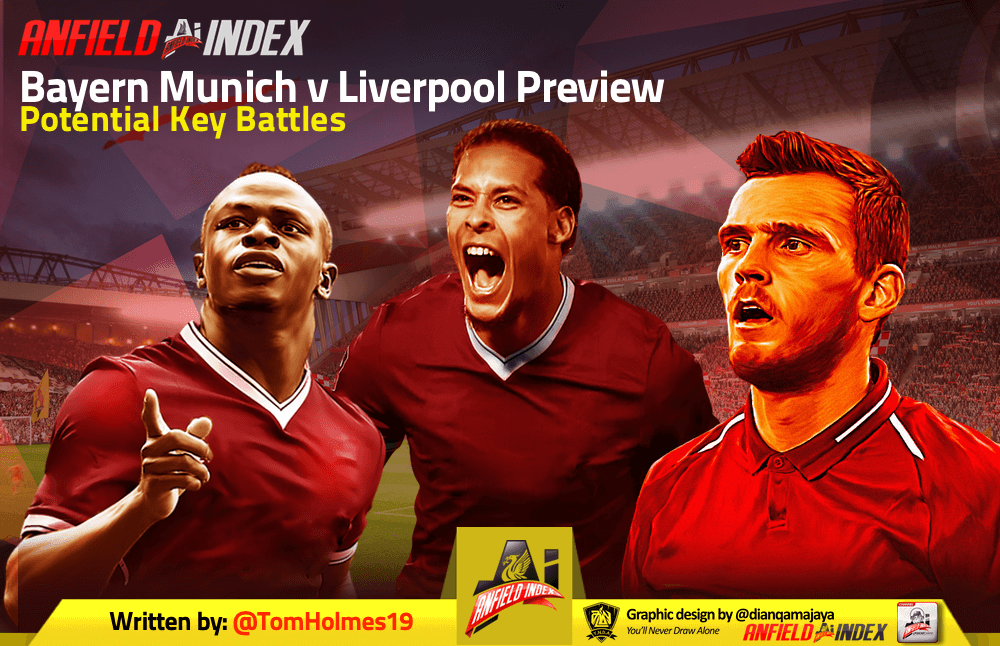 Liverpool vs Bayern Second Leg Preview - Potential Key Battles
Liverpool travel to the Allianz Arena with their Champions League hopes well and truly in the balance. It's harder to imagine a fixture that could be harder to call, with just about every conceivable measuring stick suggesting that this is a 50/50 game. After the 0-0 draw at Anfield, Liverpool have the advantage of knowing they don't need to win, a score draw will see them through, but equally, Bayern will have home advantage behind them, something Liverpool failed to take advantage of. So what are some of the key battles that could influence an absolutely pivotal Champions League tie?
Virgil Van Dijk v Robert Lewandowski
I singled out Lewandowski before the first leg, but – especially without Thomas Muller – he really is an absolutely pivotal attacking player for Bayern, with 25 goals in all competitions compared to 7 for Serge Gnabry, their second top scorer. Luckily for Liverpool, the best defender in Europe will be back at the heart of the best defence in Europe, which is really lucky because Bayern warmed up to this game by scoring six against Wolfsburg and five against Borussia Mönchengladbach – Lewandowski scoring twice in each game.
Bayern will find Liverpool to be an entirely different prospect defensively than those two sides, but equally, Liverpool will find that this Bayern side could be harder than any team that they've faced this season except Man City to keep at bay. VVD will need to be absolutely imperious.

Andy Robertson vs Serge Gnabry
I mentioned Gnabry already but he's Bayern's second top scorer and gave Robbo a few horrible moments to contend with at Anfield. In the absence of Muller and the suspended Joshua Kimmich, Bayern will be reliant on Gnabry – their best-attacking player in the first leg – to supply the bullets for Lewandowski. And Robertson is a player who is in slightly patchy form, especially defensively, which means that it will be a matchup that Bayern might favour.
However, on the other hand, Robbo remains one of the best-attacking left-backs in Europe, and that means that Gnabry will have to track him as well as pin him back, especially with the aforementioned suspension of Kimmich, or Bayern could find themselves getting overrun down Liverpool's left-hand side. Speaking of which…
Sadio Mané vs Rafinha
It's expected to be Rafinha who fills in for Kimmich and there's no denying the size of the shoes that he has to fill, particularly as he'll be asked to do a job on Sadio Mané, who is not only the most in-form attacker in this Liverpool side but one of the most in-form in the Premier League. If there was a single individual battle that Klopp would be looking at to target Bayern, it would be this one, with Kimmich out and Mané as hot as he is at the moment.
Nevertheless, Rafinha is a top player and an experienced pro, and won't make it easy for Mané. Moreover, he's very useful in possession too, which will help Bayern offset the issues they face without Kimmich. It's a big area for both teams this one.