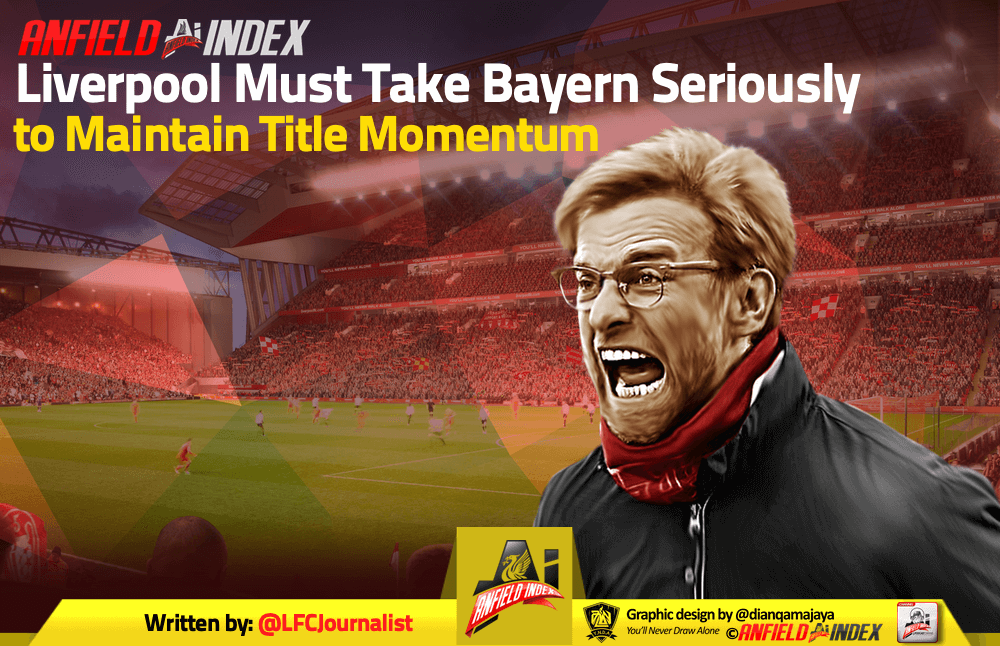 Liverpool Must Take Bayern Seriously to Maintain Title Momentum

Having successfully dispatched of Burnley 4-2 at Anfield, Liverpool continue their Champions League quest against Bayern Munich on Wednesday in the decisive second leg.
The tie is delicately poised at 0-0 from the first leg which could be seen as an advantage to Bayern that they avoided defeat away from home, or a positive for Liverpool that they prevented the away goal.
It also means that a score draw would take Liverpool through to the quarterfinals.
Team News
Liverpool have a near fully-fit squad to choose from. The return of defender Dejan Lovren to the substitutes bench against Burnley at the weekend puts the Croatian in contention. Meanwhile, James Milner will be looking to shrug off a slight hamstring issue he sustained in the draw against Everton.
Joe Gomez and Alex Oxlade-Chamberlain are the only two major absentees who are more likely to return to first team action in April. Whilst, midfielder, Xherdan Shaqiri, will be desperate to start against his former club.
Buoyant Bayern
Niko Kovac's side will be confident ahead of facing Liverpool as their 6-0 triumph at the weekend against Wolfsburg took them back to the top of the Bundesliga. Having seen Dortmund drop points lately after enjoying a five-point lead, the Bavarians are first on goal difference with nine games still to play. This has boosted the mood around the Allianz Arena that they are indeed in a position to potentially win both the Bundesliga and the Champions League. The change at the top of the domestic German league has now given Liverpool an even tougher test than was previously anticipated.
The Champions League is wide open
After Ajax, Manchester United, Tottenham and Porto all went through to the quarter-finals of Europe's elite competition last week, there is a growing sense there could be an unlikely winner this year. Liverpool did not take the FA Cup seriously and subsequently lost to Wolves in January.
The FA Cup quarter-finals has only Manchester City and Manchester United as the top 6 clubs left standing, which indicates Liverpool would have had a huge chance to win a trophy had they stayed in the competition. Now, it would be plain foolish to make that same mistake twice.
The Champions League is as wide open as it has been for a long time and that is something manager Jurgen Klopp and his players should be wary of. If they can get past Bayern Munich in Germany, in the Germans' own back yard, they have as good a chance as anyone.
The victories over Manchester City last year in the Champions League quarter-finals, 3-0 at Anfield and 2-1 at the Etihad were arguably Liverpool's finest games last season. So, it would be wise to invoke that spirit again and attempt to go as far as possible in the competition.
Impact on their title aspirations
One school of thought is that losing to Bayern Munich would give Liverpool a unilateral focus on the Premiership title that remains so elusive to supporters since the club last won it in 1990.
Meanwhile, a stronger argument would be that beating Bayern Munich would give Liverpool huge confidence and momentum to put into their title challenge.
It would also act as a failsafe option that Liverpool would be fighting on two fronts and actually gives a relaxing break from the vigour of the Premier League.
In that sense, the pressure on the players in the title chase is diminished slightly knowing they have a shot at silverware elsewhere.
Another shot at Guardiola and Man City
It is also possible that Liverpool could set up a match against Man City AGAIN in the Champions League. If Liverpool were to hand City defeat again in Europe and knock them out of the competition which Liverpool thrive off and City desire like no other, it could have a massive psychological effect on the title chase.
Of course, Liverpool could lose which wouldn't be favourable but the possibility of beating Manchester City on a stage Liverpool Football Club loves would give Liverpool a psychological edge in the title race if they were to meet in a quarter-final/semi-final potentially.
Liverpool as 5-time winners
As mentioned, Liverpool play some of their best football on Europe's biggest stage. Whilst the two-legged knockout format has long favoured Liverpool as opposed to the long marathon Premier League season which the club has found a lot harder.
Winning another European crown to add to the trophy cabinet wouldn't be the same as winning the Premier League, Liverpool's holy grail, but it would certainly be a nice way to finish the season.
Verdict
Liverpool fans will be hoping for a strong performance on Wednesday.
Whilst, the extra European matches might help keep Liverpool on their toes in the Premier League and sharpen their focus.
That's why Jurgen Klopp's men should be targeting a morale-boosting victory to bring down one of Europe's heavyweights and seize the opportunity.