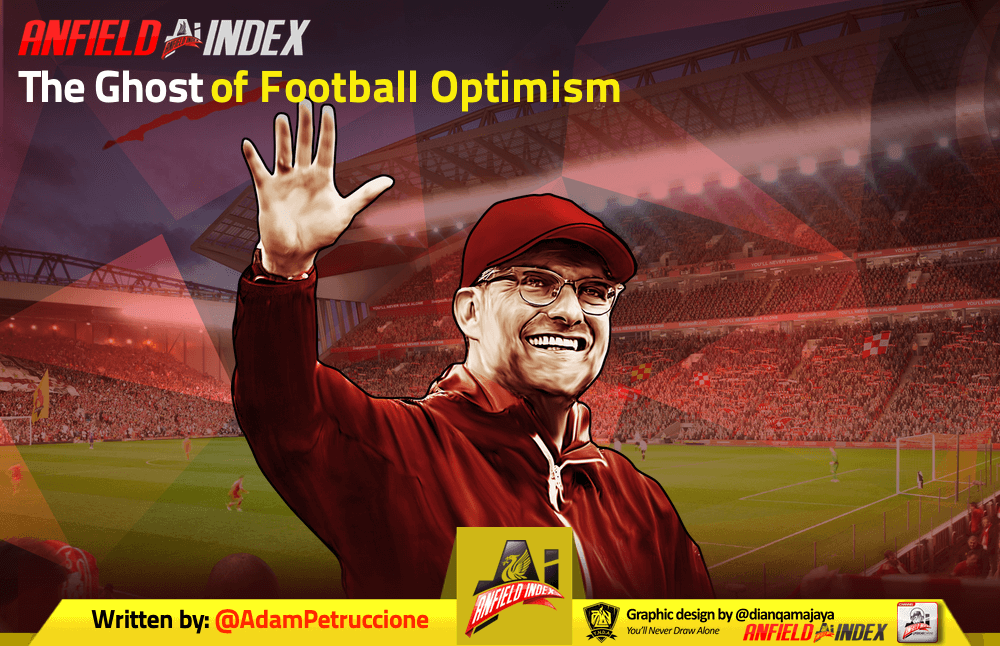 The Ghost of Football Optimism
Anfield Index listeners and readers will know that I assemble some of the more negative verbiage in the Liverpool universe, even in a season where the club are making a run at their first title in the Premier League era.
Like most supporters, the transfer windows always leave me wanting more while the moves by the manager often confound my admittedly limited American, brain. My perspective changed though after a recent trip to England, the real England; past Ramsbottom and Oswaldtwistle to a little town called Burnley.
Why Burnley? The scheduling gods were not kind to our original plan, but in the end we got to see this plucky purple side undress their North London counterparts. If you travel to England to see a Premier League match and can't get a ticket to Liverpool, seeing Spurs blow their "title chase" has got to be the best possible alternative.

A group of ten current and former New Yorkers; we studied Burnley songs on the ride up from Manchester, concerned that we'd be seen as those foreigners if we were too quiet, inadvertently giving the opposition an advantage. The odd thing was that on an unusually gorgeous spring day, with the home side controlling their supposedly superior foe, the place was… well, like a library. A brief, "no-one likes us" chant broke out, but other than that there was no noise to speak of apart from the goals. The same meh attitude was seen from Burnley's away support at Anfield over the weekend.
We headed to the bars… er, pubs, with Burnley having bagged a 2-1 win, a top-six scalp, and priceless separation from the relegation scrap. After a few rounds at the Royal Dyche a rotund local introduced himself, clearly curious as to what the hell we were doing in Burnley. Quickly the conversation came around to the crowd and the lack of enthusiasm from what we expected.
He looked down through the bottom of his pint, shook his head and told us that he had waited 40 long years for his club to get to this level, and that many of the locals just didn't appreciate this unique moment in time for their team. A hardscrabble town of 60,000 where the best place to eat is a meat-pie stand in an abandoned mall, competing in Europe and going toe-to-toe with the best clubs in England.
And that brings us back to Liverpool. The Reds are massive and a big slice of the fabric of football history. However, that was an abnormality in the 1970's given the size and relative prominence of the city versus their rivals in England and abroad and it is especially mind-bending from that perspective today. In a sport where money is everything, The Reds are the little engine that could. With a population of less than 500,000, Liverpool is not even in the top-four of the UK's biggest cities, let alone Europe's.
We are hanging in, a point shy of first, trailing the petro-state owned, perpetually cheating Manchester City. The club has so much money that football's governing bodies seem genuinely afraid to confront them despite a laundry list of financial violations. Now, normally, to be in this position, the residents of a city like Liverpool would be overjoyed. Yet, because of the unlikely success the club had in past generations, there is an expectation that we're always just around the corner from the good times returning even though the business of football has changed immensely.
I asked the old man from Burnley if he thought there were parallels between their supporters and The Reds not appreciating the level their respective clubs have reached. "Liverpool are football royalty," he scoffed.
That is true, and thanks to Liverpool's legions of global supporters, The Reds may be a part of football's elite for the next century, but pre-FSG that was not guaranteed. Liverpool could have easily fallen down the ladder like Newcastle, Sunderland or Aston Villa.
Paris, Madrid, Munich, London and Milan are the key urban centres of Europe and it requires notably negligent management for the major clubs in these cities to struggle. Conversely, clubs from Seville, Dortmund and yes, Liverpool require the stars to align to compete at the highest level. The fact that the stars have aligned many times, for decades at a time for us, is something we supporters should really appreciate as we look back, but especially when we're in these moments.
Three points against Fulham and there will only have been 4 Premier League campaigns better than this after 38 matches. Fulham is game-week 31. The only thing keeping this season from being a year-long celebration is the fraudulently funded, faux fan club to our south. Second place United trailed City by more than a month worth of points at this juncture in 2018. We're one mistake away, one deflected goal, one off day from being at the top again and the club we're chasing have lost to Palace and Newcastle in recent memory. Their invincibility is pure pundit manufactured legend. City can be had. It's just not in our hands.
The best that Stevie, Xabi, Masch, Torres or Owen ever put together will soon be in the rear-view mirror of Mo, Virgil, Sadio and Bobby. Regardless of where Manchester City end up, and no matter what tweaks and trimmings you think we have missed out on along the way this year, appreciate what you're watching. Because, when we're old men talking to the kids at the pub about the good old days and they ask us what it was like to watch this team, I would hope that our prevailing memory is the enjoyment, the great performances and not the mean tweets.