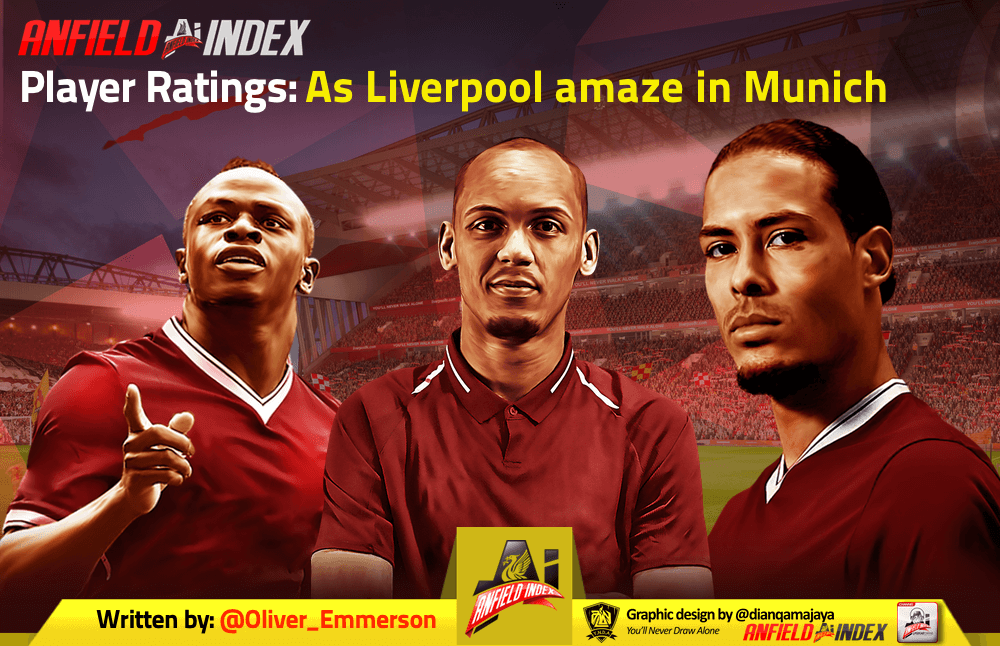 Player Ratings as Liverpool amaze in Munich
VIRGIL VAN DIJK. THE NUMBER 69. SAY NO MORE.
No, no. I promised Gags I'd have a week off from the Virgil van Sex God references, so let's talk about how good the Reds are / were / will continue to be instead.
Going to the Allianz Arena and coming away with a 3-1 win despite looking in third gear all night is evidence of the unit Jurgen Klopp has put together. Oddsmakers erroneously had the Reds as 1×2 underdogs. Their victory was a windfall for Liverpool punters who knew better. Into the Champions League quarter finals with a bang and no team in Europe will want to face the Reds.
Ratings!
Did Alisson make a save?
Alisson Becker (7): Yeah, he did make a save or two so he's getting a seven. As usual did everything with composure, I doubt he'll need to wash his kit though. Some excellent kicking, standard really.
Trent Alexander Arnold (6): Thought Ribery had him on toast in the first half but grew into it after the interval, probably a word in the ear from Van Dijk reminding him that he's one of Europe's biggest prospects. The kid is living the dream.
Joel Matip (7): You could look at it and say he's been booked, chucked an own goal in and given away a few silly fouls but realistically, the own goal was almost inavoidable and Bayern spent 180 minutes chucking the ball at the zone around Matip and didn't get anything from it.
Virgil van Dijk (9): Oh captain, my captain. An absolute behemoth of a performance from our Dutch gladiator. Composed and assured as ever at the back as he copes with some ropey performances from his full-back's, then goes and gets his big noggin on the ball with a bullet header to power the Reds into the last eight. Give him all the money he wants, whichever teammates he wants and probably a key to the city too.
Andy Robertson (5): Feel harsh going lower than five as it wasn't a disasterclass but a lapse in concentration from the Scot allowed Bayern in to score and then he goes and gets himself booked to miss the quarter final first leg. On recent form, that won't be a huge miss. However, he was alright going forward and tested Neuer with a decent effort.
A Ribena for Milner
Fabinho (8): Yeah, I could list Henderson (N/A) here and put Fabinho in a 'subs' bit but when you come on after 15 what's the point? The Brazilian should've started and showed why, calming the game down as soon as he came on and playing a pivotal role all night. Took a yellow when he needed to but never looked like getting a second, the sign of a top player.
Gini Wijnaldum (6): Felt the game passed him by a little in the first half, similar to Trent he picked it up after the break. Some really nice combinations with the front three in the latter third.
James Milner (7): I'd obviously rather have seen a fit and firing Naby Keita in the line-up, yet it's impossible to deny Milner's experience shining through on nights like these. Hard yet fair in the tackle, mopped up some sloppy passes and sends a brilliant ball in for Van Dijk to score.
Mané magic, Salah on the way back?
Mohamed Salah (7): Alright yeah it's another game without a goal but he had Bayern absolutely frazzled in that last half an hour. Shows the fear he puts in defenders by David Alaba barely proving an attacking threat from left-back. Stunning ball in for Mané's header with the outside of the foot.
Roberto Firmino (7): Did what he does. Pressed, kept it. Dragged defenders about. Just good, isn't he?
Sadio Mané (TEN OUT OF TEN!): I mean, how could I not? To go away to Bayern Munich, one of the best teams in the world on the biggest stage of them all and produce such a performance is masterful. Everything about his first goal is perfect. The touch, the agility to turn, the composure and execution of a dink on his weaker foot. Sublime. Runs Bayern ragged all night and collects a second to seal the tie with a lovely header. That's the second 10/10 I've given in three years so feel blessed, Sadio.