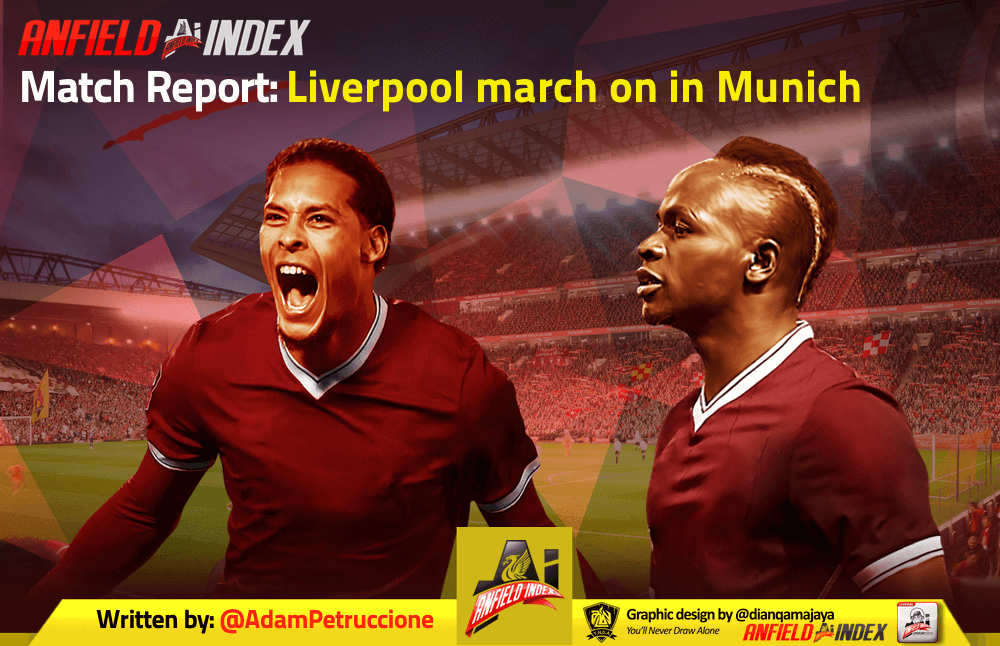 Match Report: Liverpool march on in Munich

In the days leading up to the match, all of the talk was about Naby Keita's lack of playing time and then his reported injury. Then the line-up card came out and it was lacking the other midfield addition, sending Liverpool supporters into meltdown. Even the captain was upset that he got picked ahead of Fabinho, apparently.
With a Henderson, Milner, Wijnaldum midfield everyone expected us to come out pressing our arse off, but a collision with that colossus, James Rodriguez left Jordan in a clump on the turf. The bump to back injured Henderson's ankle and after giving it a go for a few minutes he took a seat in favour of Fabinho. After a few Henderson-esque passes, Fab settled in and ran the show.
After a feeling out period, none other than Virgil van Dijk took things into his own hands, lobbing a ball into Sadio Mané that drew Neuer out. A slick Sadio spin and shot later and Liverpool had their away goal, 1-0. Neuer was poor on the play, charging out despite numbers in his favour.
Joel Matip had been trying for an own-goal for a few weeks now and he finally got one, late in the first half, to answer Mané's opener. To be fair he was stuck with some sloppy play from our left side for once with Robertson getting beat by Gnabry and Van Dijk missing the block. If Matip hadn't touched the ball it would have been a sure goal for Lewandowski.
Just before half time, there was a scary moment as Lewa was put through for a one-on-one with Alisson. He fired just wide and was offside anyway, but in our minds, it was as real as a heart attack.
Virgil created our first, let their first through so it was fitting that he put our second into the net all on his own. After a Trent argument with the ref and a corner just over Matip's head, Milner put in another great corner (is that allowed?) and found Virgil, who powered the ball into the net at the back post. Bayern would need 3 to get through and with Liverpool allowing only one shot on target over the two legs, that was always going to be a tough ask.
Sadio Mané played maybe the headiest match we've ever seen from him. Every play he made was the right one and he was involved in just about everything. At 70' he was standing at the back post and took a header, but without a real angle to fire at goal, he headed the ball straight down at a group of Bayern defenders, nearly forcing an own-goal.
At 73' "Allez, Allez, Allez" broke out and you knew we would take this one home. Sure enough, within a few minutes, there was that man again. Mo Salah, having been frustrated on the evening, lifted a beautiful ball across goal with his left foot and found Mané for an emphatic header.
Liverpool is some team. We haven't had the chance to appreciate them enough with City having a legendary season and the group stages going as close as they did. At this point though, Liverpool are headed for their highest points total in Premier League history and are through to the final eight of the Champions League after reaching the final the previous season. Incredible stuff for a team that was searching for a foothold a few seasons ago.
Up The Reds!
Allez, allez, allez!