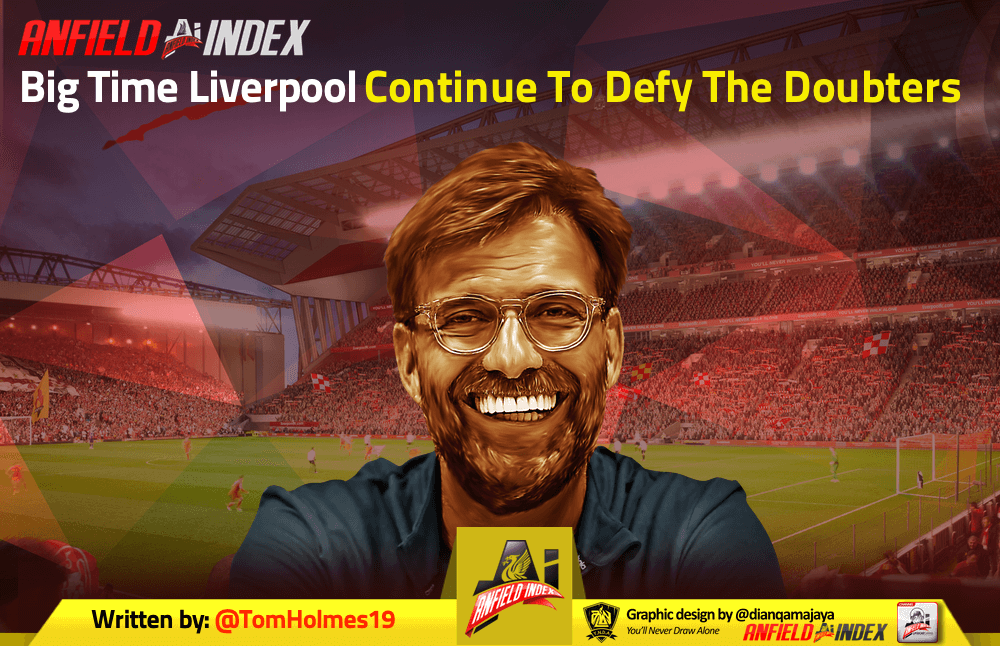 Big Time Liverpool Continue To Defy The Doubters

Liverpool continued their resurgence towards the top of Europe's elite with an incredible 3-1 win at the Allianz Arena over a Bayern Munich side that were never allowed to get going. And what for me, is potentially interesting about the victory is how low-key some of the celebration and conversation is at the moment – especially compared to say Manchester United vs PSG.
Obviously, Liverpool didn't have to come back from two goals down, given how comprehensively they shut Bayern down over two legs, but the more salient point for me is that this Liverpool performance isn't necessarily being given the proper due because it's expected.
The first thing to note is that this shows how far this Liverpool team have come under such a short time in Jürgen Klopp. In only their second season back in the Champions League, they have gone to one of the giants of European football, turned them over in their own backyard and nobody seems surprised. Impressed, yes. But surprised? Not even slightly.
Bayern, of course, were nowhere near their best. Despite scoring eleven goals in their previous two games, they were shorn of arguably their most important player in Joshua Kimmich, and another big player in their team in Thomas Muller. And yet, this is a Bayern side full of quality, with a starting eleven that is capable of mixing it with another of Europe's best teams. And they were completely and utterly neutered.
This shouldn't come across as a huge surprise. Liverpool have manufactured the best defence in Europe, and that defence has been the bedrock of both their Premier League and Champions League forays this year. Having comfortably kept Bayern at arm's length in the first leg, Liverpool did largely the same job in this leg, which was always going to give them a chance.
Bayern realistically had two good moments in the match, both of which came from Serge Gnabry, who on paper was always going to be the biggest threat to supply Lewandowski, especially against a struggling Andy Robertson. Twice Gnabry was allowed to get in behind the Scot, and twice he delivered, forcing the unfortunate and otherwise immaculate Joël Matip into scoring an own goal, and on the second occasion narrowly unable to find anyone with his cross.
But the truth is that over two legs, one of Europe's best attacking sides were completely and utterly shut down. Bayern had just three shots inside the box in the second leg, managed just two shots on target in the entire tie, and created less than one expected goal across 180 minutes.
And that's how this Liverpool side are operating now. If you don't give your opposition a chance to score goals, all you need is one. And whilst they ended up scoring three wonderful goals, Liverpool put themselves in a situation where one goal across 180 minutes against Bayern would have been enough to at least force extra-time. And we know that they have far more quality than that.
It's fitting in this game then, that the two stars would be the two men who have been Liverpool's most important players in 2019. Virgil Van Dijk was absolutely immense, giving Bayern nothing to sniff at in defence and marshalling his side brilliantly. Robert Lewandowski will be having nightmares about VVD and his equally impressive central defensive partner Matip for a while.
But whilst Van Dijk was exceptional in defence, as he has been for some weeks now with Liverpool's defensive record well and truly back on track in the last month or two, he almost made an explosive impact on the game at the other end too, showing the full range of his talents.
It was his excellent long ball that freed Sadio Mané for the game's first goal, but that wasn't the moment that VVD won the tie for Liverpool. That came midway through the second half, when the best header of the ball in the Premier League scored his 4th goal of the season, a sensational header to put the Reds in front on the night for the second time and give Bayern a mountain to climb in the final 20 minutes.
It was a mountain that was only made bigger by Van Dijk himself. Bayern hadn't really looked like scoring one goal in the 70 minutes that had proceeded that, let alone scoring two in the final 20. And so it came to pass, as Liverpool dominated the final proceedings and systematically took Bayern apart on the counter.
Which brings me to Liverpool's second match-winner, the explosive, irrepressible Sadio Mané. His first goal was undoubtedly the best moment of the tie, a moment of such gobsmacking quality that it almost defies explanation. Sadio's first touch to trap the sixty yard pass was delightful, his second to turn one of the best goalkeepers in world football and make him look like a complete fool was ingenious and the finish to beat two defenders and find just about the only available inch of goal was nothing short of surgical.
Mané is in the form of his life and it shows. Even six weeks ago it would be hard to imagine a goal of such sheer audacity and confidence being so emphatically struck, but right now Sadio is willing to try anything and everything and it's coming off with aplomb. His dribbling was electrifying, his decision making in the final third has been excellent and it was again here. His second goal, and Liverpool's third to kill the tie owes a lot to the genius of Mo Salah, but once again Mané's movement was excellent and his finish clinical.
Superlatives aside, the numbers speak for themselves. Ten goals in ten games, three braces in his last four games, and now nine Champions League knockout goals, adding two more to the seven he scored last season – netting against Madrid, in both legs against Roma, against City at Anfield and a hat-trick in Porto. Scoring goals anyway, anyhow, in the big games with supreme quality.
But this result, this performance, was about more than two, three or even four players. Firmino worked his socks off, Salah hurt them consistently on the counter, Matip was downright outstanding, Trent Alexander-Arnold was terrific, Fabinho came off the bench to deliver a big performance, and even those who struggled slightly like Milner and Robertson still played a big part in the result.
The truth is, this was an absolutely colossal performance from Liverpool, and the kind of result that is up there with not just anything Jürgen Klopp has delivered, but anything Liverpool have delivered in Europe period. This is up there with Benitez's masterminding a win at the Camp Nou, it's up there with beating Bucharest in 84, and it's up there with the 4-0 over Real Madrid.
To travel to one of Europe's biggest stadiums, to face a side that is top of one of Europe's big five leagues, and to turn them over, comprehensively in the end, shows just how far Liverpool have come. A lot of people have described this as a mature performance and it definitely feels like that's the right word to use. The one I prefer is professional.
This wasn't Liverpool at their free-flowing, destructive, explosive "best". This was Liverpool at their stodgiest. At their hardest, at their most calm, precise, clinical. They worked to frustrate Bayern, to impose their own tactical game-plan and to ensure that the home side never settled or dictated the tempo. Whilst Bayern dominated possession, they were seldom able to isolate any of Liverpool's defenders and found creativity very hard to come by. And as Bayern toiled, Liverpool looked increasingly dangerous. The front three were largely reserved and didn't see much of the ball, but when they did, they looked very dangerous.
The opening 20 minutes allowed Liverpool to bore the game to a tactical standstill, and then they were able to impose their will on the German Champions, scoring a quality goal and creating a couple of decent chances as Bayern began to struggle.
Frustratingly for Liverpool, they did switch off in the final five minutes of the first half and had to ride a minor storm after Robertson's error allowed Gnabry to get in-behind him and deliver the killer ball. But it was clear within five minutes of a superb second half that Liverpool had the game right where they wanted it. They were causing Bayern problems, harassing them and more importantly, giving them no chance to impose their game on the Reds, or create anything.
Set-pieces were looking an increasingly useful option and so it proved as Van Dijk scored from a succession of strong set-pieces, and by putting Liverpool back in front, effectively killed off Bayern. What the Bundesliga side will have found so frustrating was that in the pivotal parts of the game, the first 20 minutes, the start of the second half and then when they really needed to bounce back from Van Dijk's winner, they were utterly insipid and toothless, and Liverpool deserve a lot of credit for that.
Instead, as the game progressed towards its inevitable conclusion, there was only team threatening to score again. Now Liverpool could play the counter-attacking game that they thrived on, and Salah started to wreak havoc, unlucky not to score himself or win a penalty before finally delivering the death blow with his sala(h)cious cross to Mané to score the goal to seal the game, and the tie.
This was a warning shot across the bow of Europe's elite. Nobody will want to face Liverpool now, who faced arguably the toughest opposition of any of the quarter-finalists and emerged composed, comprehensive winners. In a tie that was tense, tight, and above all else well-fought, Liverpool showed more class, more quality and more tactical nous.
Teams have seen Liverpool blow away the likes of City, Porto and Roma. They've seen them decompose PSG and tear strips of Napoli. But this was something else. This was a display of intelligence, dominance and completely and utter control against a team that are not just pretenders for the crown but outright European pedigree. This is probably the toughest team that Liverpool have faced under Jürgen Klopp over two legs in Europe, and they were no match for the Reds.
Who amongst Europe's elite will be looking forward to playing Liverpool now? Pep Guardiola's City will be dreading them above all others, you can't imagine that Juve or Barcelona want to face the Reds and frankly, only the Spanish Champions would be favourites over Klopp's Reds now.
As for Liverpool? They themselves will fear no-one, welcome any challenge and be absolutely up for anything that comes next. Questions have been asked about priorities. Questions have been asked about bottle. And questions have been asked about quality.
These are all questions that Liverpool emphatically answered at the Allianz Arena. This is one of the biggest wins Liverpool have secured under Jürgen Klopp and the most exciting thing is that it doesn't feel like that at all. It feels like the logical next step. Liverpool are good enough now that these sorts of wins don't feel like as big a deal as they potentially ought to. Up the big time Reds.