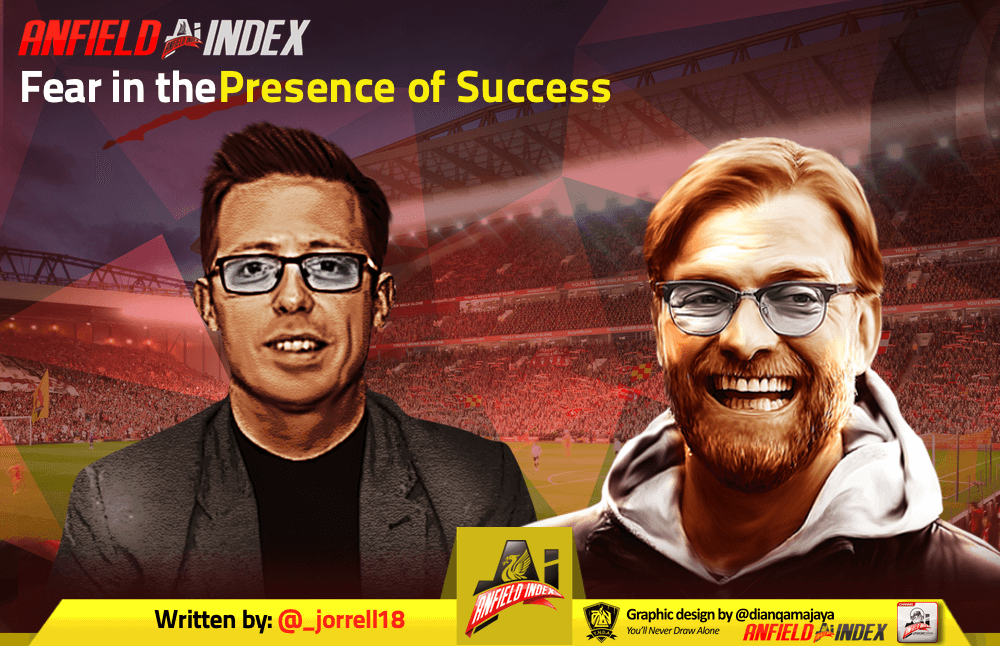 Fear in the Presence of Success

Like it or not, fear, in many forms, has been riddled throughout the supporter ranks since January. Looking at a Premier League title and a Champions League trophy hanging in the balance of the next two months, understandably so. What's needed instead, however, is an emotion that seems to be lacking in most corners of the internet at the moment.
Calm.
This isn't an article about heavy statistics like expected goals or Premier League schedule analysis. Instead, a plea: let's breathe a bit.
As it stands
Liverpool are, at the moment, free and clear of all but one club in the Premier League in terms of title competitors. There's no squad that can come from behind in the table to put extra pressure on the Reds as May fast approaches.
Unless there's an absolute bottoming out of performances in the last eight matches of the year, Manchester City present the only threat to Liverpool grasping the Premier League trophy. Admittedly, after another massive away performance in Europe this week against Bayern Munich, there's not much evidence of that happening.
With Manchester City, there's also little left to the imagination in terms of how they'll perform for the rest of the year. Their squad is deep, though battered somewhat by injuries that don't seem to affect them on the pitch. They've pushed teams aside in unanticipated ways just as they've walked away with nothing in matches against the least likely competition.
At the end of the day, their quality means Liverpool clutching the title will be a tough ask, but supporters need not bite fingernails down to cuticles waiting for their results – City will almost assuredly win most of their games, and so will Liverpool.
Who handles the run-in with the most composure will determine the champions. Having only lost once, Liverpool still arguably hold more in that department.
From the beginning
In truth, Liverpool being in this position after Manchester City's season last year is still refreshing, despite having shifted the pole position out of the city. The Reds, not only in the first eleven but throughout the squad, have improved immensely. The benefits of that uptick in quality are showcased in there even being a title race at all.
The overhaul in defence without bringing in loads of new players has been nigh unfathomable at times. Last year, Liverpool allowed 38 goals during the course of the season, 34 after thirty matches played. During the last title challenge, 50 were sent into a Reds' net.
Liverpool are also exactly on par with goals scored as they were last year, netting 68 in both seasons after thirty games. The club has won five more matches, however, drawing two less and losing three fewer in that time.
The state of play at the club, despite a few results slipping from the squad's fingers earlier in 2019, is fine. Better than fine, really.
Contracts and the new transfer market
The most important players are tied down to long-term contracts, furthering aiding the squad improvement in the long run. All three of the forwards that supporters love and opponents loathe have four years left at the club. Fabinho, Naby Keïta, Virgil van Dijk, and Jordan Henderson also all have four years remaining on their contracts.
Trent Alexander-Arnold, Andrew Robertson, Alisson Becker, and Joe Gomez are tied to the club for even longer.
Coupled with the drastically inflated prices of transfers in the last two years, prying these players from the club's clutches will be quite difficult. All thanks for that primarily go to Neymar's Paris Saint-Germain move and Philippe Coutinho's subsequent switch to Barcelona. The ceiling for bringing in the world's best and brightest has domestic and foreign clubs alike thinking twice before paying skyrocketing fees.
Robertson has a market value of nearly £43 million. Roberto Firmino? Just over £72 million. Mohamed Salah? Almost £130 million.
And imagine, for a moment, letting any of those three go for just their market value in today's transfer arena. If that doesn't steady the hands of Liverpool's English and European competition…
As season's end approaches
Supporters, including myself, will be at seat's edge for every remaining match this season. The Champions League is within reach. Liverpool have not won that competition since 2005.
The Premier League, never won by the Reds who have waited 29 years for a top flight title, is so close supporters can smell the shine on the trophy's metal.
And, if research was done properly for this article, Liverpool haven't won the domestic and European title in the same season since 1984.
It's been a long, long while that fans have waited.
There have been close calls in recent memory that have left Liverpool too close for comfort – a truth that pains supporters looking at the final eight matches of the season. 2009 was one of the best sides Liverpool have put on the pitch in the Premier League era.
2014 made supporters fall in love with Liverpool football again after several years of torment. Dave Hendrick and Karl Matchett spoke to this on AI:Pro not too long ago, and the memories of those seasons bring back both joy and sorrow.
What's the guarantee, then, that there won't be a large gap in title-challenging campaigns like there has been in the past?
Moving on from history
What's changed since those near misses is less the performances on the pitch right now, and more what remains moving forward. Liverpool may very well come away with the Premier League title by the end of 90 minutes at Anfield against Wolverhampton.
They may not – a reality that's just as possible.
As little as anyone wants to at the moment, looking forward to the next season and beyond will prove crucial to gauging continued success. This season is the first since 2014 during which Liverpool have had even a fighting chance at Premier League glory. It's the first shot at the title under the management of Jürgen Klopp.
In the last nearly thirty years, Liverpool would have a moment, a standalone season, where their performance nearly ended "the wait." Afterwards, for reasons both numerous and various, there's never been a follow-up challenge.
More than ever, the evidence stated in this article should indicate that, for the first time, there's almost a guarantee of being in the title conversation throughout 2019-20.
That may not concern every Liverpool fan right this very instant, sure. But, come June, and with or without a Premier League trophy, it'll be the most encouraging, exciting feeling among supporters across the globe.
Breathe
Reds have been taunted for ages with the repetitive positivity of "next year's our year." But, for the first time in Premier League history, the squad, manager, and ownership are all tuned to the same key – continued success for Liverpool F.C.
This Reds team is built for an era of both improvement and maintaining its status as a European force for a number of years.
So, title or not in 2019, let's breathe a bit. Liverpool will be around, if not in, the top spot for a while.